Six episodes down and four to go - the fifth season of Game of Thrones is now winding down, and season 5 episode 6 - Unbowed, Unbent, Unbroken - was a tense hour of television. In the last episode, Kill the Boy, the action had focused on the Wall and Mereen, but we'd also seen the Sansa storyline play out in Winterfell, as her husband-to-be Ramsay Bolton started showing his true colours early.
That story features heavily in this episode as well, and while the show's creators have departed from the way events play out in the books, it made for one of the more disturbing closing sequences in the show so far.
The episode started off with another Stark though - Sansa's younger sister Arya - who is now living in the House of Black and White in Braavos. Arya is training to be a Faceless Man, a cult of assassin's.
The episode starts off badly for Arya as well, as she's repeatedly caught in lies and punished for it, but then, in her next scene, things somehow get even darker. A man brings his daughter - who is dying of some unspecified causes - to the temple, and Arya is the only initiate present, scrubbing the floor. The man talks about how much pain his daughter is in, and how much he wants her suffering to end. Since there's no one else around, Arya takes it upon herself to "free" the girl. She does this by telling the girl a story about how Arya's own father had also come to the House of Black and White, when Arya was suffering, and how the water of the fountain had cured her.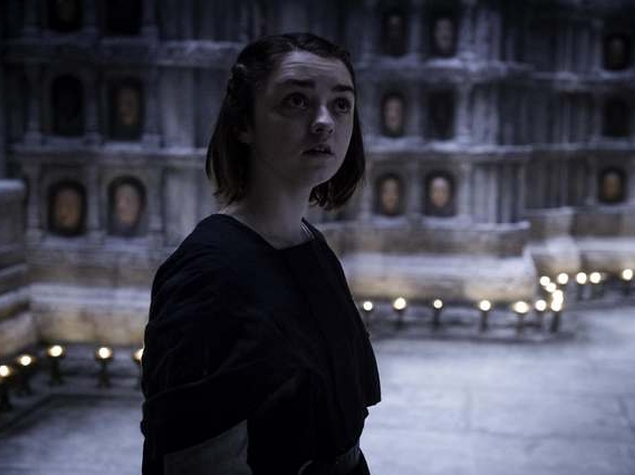 Of course, that's a lie - we've seen people drink that water in order to die in earlier episodes - and once the girl is dead and we see Arya standing over her body. Jaqen H'gar arrives in the doorway, and Arya follows him out into a dark room, the hall of faces from the books. The room is filled with these large pillars, and each one is lined on all sides with niches that go up the length of the pillar. And each niche has a different face in it. It's eerie and disturbing, and looks far more impressive than the description in the books. Finally, Jaqen says Arya might not be ready to be no one, but she could be ready to be someone else.
It's a pretty creepy scene, but powerful as well, and shows us how far Arya has come since the first season. There's some jumps and cuts between the depiction on the show and the way things happen in the books, but for the most part, things are pretty much as expected.
Meanwhile, the oddest-couple that is Jorah Mormont and Tyrion Lannister, are continuing their trip up to Mereen on foot ever since they lost their boat in Valyria last episode.
Jorah's only just realising that Tyrion doesn't ever shut up unless he's given a few barrels of wine to drink, but then Tyrion in turn learns that Jorah isn't up to date on current events and catches him up with the fate of both their fathers. The scene could also be foreshadowing that Lord Commanders (like Jorah's father, Jeor Mormont) sometimes get killed by their own men, but we don't get to know what Jorah would say next, because while the two have been walking, they come across a slaver ship. Jorah realises that the slavers must have stopped to take on water, and that's when the ambush is sprung.
Jorah and Tyrion are taken as slaves, and they're going to be sold at Volantis. A chance mention that Danaerys has re-opened the slave pits at Mereen gives Tyrion an idea, and he immediately tells the slavers about Jorah's skill at arms, and that the knight will fetch a good price at the pits. The ploy doesn't work at first, but then Jorah talks about killing one of the Dothraki bloodriders, and this convinces the slavers. The ship's bound for Mereen, and that finally brings things more or less in line with the events of the books.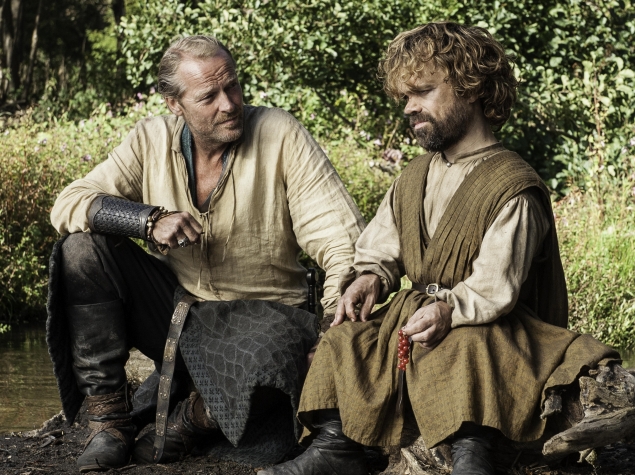 The Jorah-Tyrion storyline has been compressed and conflated with many other events in between, so it's hard to say what exactly will happen next, but we're predicting that much like the Sansa storyline, the Danaerys storyline is also about to hit fast forward.
In King's Landing, Littlefinger is back and in the streets he's quickly confronted by Lancel and the warriors of the Faith. He's quick to realise how much chaos Cersei is causing, and tries to talk some realpolitik with the Queen Mother, but that's ignored as usual. Cersei isn't interested in advice from anyone, but then Littlefinger plays his trump card, and tells her about the situation in the North, and how Roose Bolton's son is about to marry Sansa Stark.
He knows that Cersei doesn't have any troops at hand to take the North, and offers to lead a force from the Vale, where he's acting as Regent to the Warden of the Vale, the young Robin Arryn. Littlefinger has already killed Robin's mother to secure his own hold on the Vale, and has been named Lord Paramount of the Trident, giving him control of two of the seven kingdoms. Now, he offers to drive the Boltons out of Winterfell, and Stannis out of the North, using the military power of the Vale, asking only that Cersei name him the Warden of the North.
If this goes as planned then Littlefinger is slowly making himself the most powerful man in the seven kingdoms and most people don't even seem to realise what he's doing yet.
This entire plotline is a pretty big departure from the books, but actually, fits in line with what we know about the character and the events we're seeing unfold more slowly in the books.
The Queen of Thorns, Olenna Tyrell, also arrives in King's Landing, to get her grandson Loras released. There's a fabulous exchange with Cersei early on, full of barbs and rejoinders, ending with Cersei starting to say "As for your veiled threats -", to which Olenna just says, "What veil?"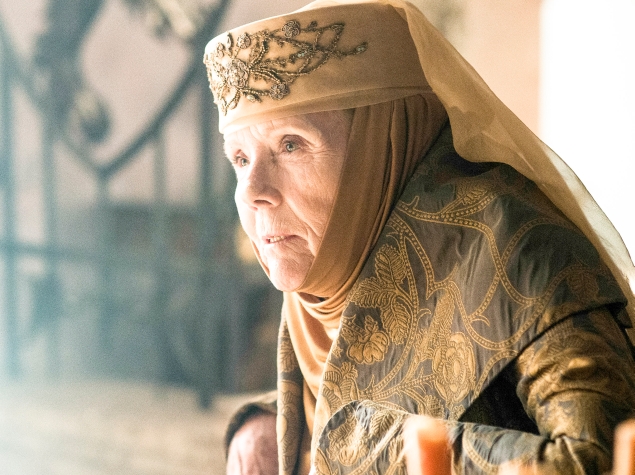 This is followed by Loras' inquest, and until that point, it looks like Olenna has things under control. Both Loras, and Margaery swear that Loras hasn't been sleeping with men, and that seems to be the end of that, but then Olyvar, the squire that Loras was sleeping with, turns up as a witness for the faith, and doesn't just testify to sleeping with Loras, but also that Margaery was aware, and had seen the two men together in bed. Now, the queen is arrested as well, while Tommen goggles dumbfounded, and Cersei smirks happily.
Olenna Tyrell has the might of Highgarden behind her - her people are supporting King's Landing with gold, with swords, and with food - so Cersei really should think twice about antagonising them, but then she's never been one for thinking through her actions. We know that one famous scene from the books makes it into the show, so it's pretty clear that this whole business with the Faith is going to backfire pretty spectacularly, but for now, things are looking grim to Olenna's family.
Dorne meanwhile continues to disappoint - there was a pretty heavy hint at the start of the episode when Doran Martell tells the captain of his guard Aero Hotah that his son Trystane, and his daughter-in-law to be, Myrcella Baratheon (Cersei's daughter) need to be kept safe - but in the end nothing much happened.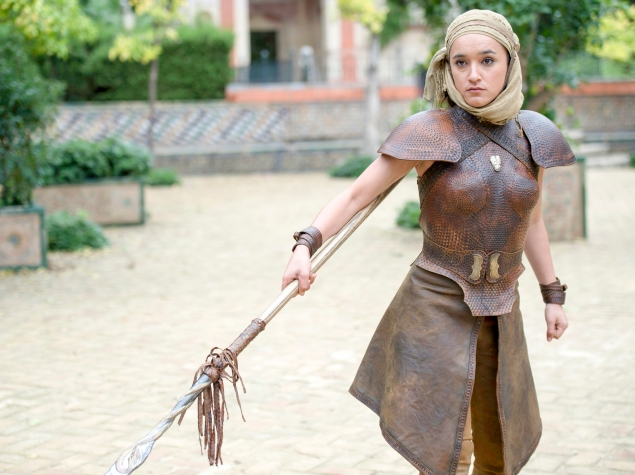 Jaime Lannister and Bronn have been making their way into Dorne and arrive at the Water Gardens at the same time as Oberyn Martell's illegitimate daughters, the Sand Snakes. Both groups want to find Myrcella - Jaime wants to kidnap her to bring her back to King's Landing, while the Sand Snakes presumably want to kill her as revenge for Oberyn's death. In the books, at least one of the Sand Snakes instead wants Myrcella to make her own claim to the Iron Throne, since she's older than her brother Tommen, but that hasn't really been explored on the show.
The two groups both reach Myrcella at the same time, and a fight breaks out. The action is pretty bland, and goes on for too long, a far cry from the tense and beautiful duel between Oberyn Martell and Gregor Clegane. At the end, Aero Hotah just shows up with a bunch of guards and orders everyone arrested. It's pretty much an anti-climax, though we do see Bronn take a small cut on his hand. The Dornish are known to poison their blades, so this could be an ignominious end for a character that's become a fan favourite. We'll know soon, but that's all that happened in Dorne this episode.
The episode ends in Winterfell though, and while the story there has changed a fair bit from the books - it's Sansa instead of a fake Arya, for one thing; the Lords of the North aren't present either, only the Boltons; and Mance and his spearwives are missing as well - but the overall arc seems to be similar.
Things start with Ramsay's lover Myranda coming to draw a bath for Sansa. While washing Sansa's hair, Myranda tells her about the women that Ramsay has loved in the past, and how he has hunted and killed them after he got bored. Sansa keeps up a brave front and dismisses Myranda haughtily, but then cries when she's left alone.
Theon Greyjoy comes to escort her to the Godswood, where she is to be married, and the scene plays out like in does in the book quickly. He then walks her to Ramsay's room, but when he is about to leave, Ramsay orders him to stay, and watch.
Ramsay then has a very creepy conversation with Sansa, asking her why she's still a virgin, and then ordering her to undress. When Theon looks away, Ramsay orders him to watch, and Theon's actor, Alfie Allen, does an amazing job of showing how completely terrified he is. The rest of the scene is mostly played as a reaction shot of Theon's face, and it was enough to make you feel sick.
Ramsay's honestly terrifying in this sequence, and when Sansa is taking too long to remove her clothes, he just grabs her and starts tearing her clothes off. The camera cuts to Theon at this point, but you can hear Sansa crying out loudly in pain as she's being raped by Ramsay. The scene is hard to watch, and the episode fades to black here.
That sequence is somehow both more brutal and humiliating in the books, but even this was pretty hard as a viewer, and we saw Sansa, a character that has very slowly been built up over the last five years, broken down to square one in no time at all again. Whether she'll be able to come back from this is something we're going to find out soon, hopefully, but her character is in a much better place in the books for now.
Overall, this has been a pretty slow episode as well, but there was some fun to be had in King's Landing, while the Winterfell scenes were so full of pressure that you were sure to be engrossed.
With only four episodes left though, we're a little worried that Dorne has become just unnecessary filler, and there are some big events we're expecting for Jon Snow, Cersei, and Danaerys as well, so the last few episodes really need to be as streamlined as possible now.
We'll be watching with white knuckles to keep you up to date each week if you miss the episodes, but did you watch this one already?
Did you watch the episode already, and if so, what was your favourite moment? Tell us via the comments.