The second episode of Game of Thrones Season 5 - The House of Black and White - was a slightly slow one, focusing more on setting up the action to follow. In the second episode, we got to see what was happening with the surviving Starks, while Brienne's doomed quest continues to go around in circles.
At the Wall, Sam gets some good lines in as well as he reminds his fellow rangers of Jonos Slynt hiding from the Wildling attack in "a puddle of his own making". In one of the memorable departures from the books, Jaime Lannister shows up to meet Tyrion's mercenary friend Bronn, and recruits him for a mission to travel South and kidnap his niece/ daughter Myrcella, who is supposed to marry the prince of Dorne.
Mereen, meanwhile, just gets a single dragon this time, and Drogon doesn't even do anything cool, unlike the first episode where the other two dragons nearly toasted Danaerys. Which, while obviously not something we were rooting for, but wouldn't it have been a fun twist? So, what about episode 3 - High Sparrow? Read on for our spoiler heavy recap.
The action is mostly taking place in four locations in this episode. First, there's Braavos, where we see Arya settle into the House of Black and White and start (very slowly) on her quest to become a Faceless Man. At King's Landing, Margaery, who has been married to two kings so far, gets to know her newest husband, Tommen, a little bit better and he is clearly happy about things. This sets off the events of this episode that brings us to the High Sparrow, but more on that later.
The episode also spends a bit of time in Volantis, where Tyrion finally gets tired of playing are-we-there-yet with Varys, and decides to cut loose and get a drink. As relatable as the notion is, we have to say that it was a really stupid move by the Imp, and it draws a lot of unwanted attention from two unexpected faces.
Finally, there's action that takes place at Winterfell in the North, and at the Wall beyond it, which also includes one of the big changes from the books in this season.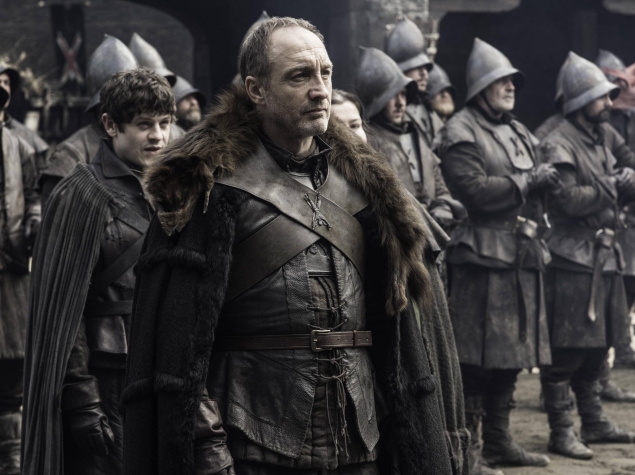 The episode kicks off with Arya learning about the Many Faced God of the Faceless Men. The Braavos plot is merely treading water for now, to keep Arya in focus while the rest of the story moves forward. The books also take a really long time to get the Braavos storyline moving, but as we've seen from the released sample chapters of The Winds of Winter (the sixth books in the Song of Ice and Fire series that is the source for Game of Thrones), there's a pretty solid payoff coming down the line.
There's one pretty emotional moment in Braavos that is worth noting. Arya has been trying to become No One, as the Faceless Men call themselves. The plan hasn't been going very far though, because she's still clinging to her identity as a Stark. Throwing away her old clothes and money are easy enough, but Needle, the sword that Jon Snow gave her, is a lot harder to part with. She finds a compromise by hiding it under a pile of rocks, and is initiated into the Temple.
Her first job is to start cleaning up the corpses of people who come to die peacefully at the temple. The prospect doesn't seem to bother Arya much though, driving home just how much she's had to suffer in the last few seasons.
At King's Landing meanwhile, we get a pretty funny scene between a post-coital Tommen and Margaery. It's a little disturbing since Tommen looks to be just a teenager while Margaery is an adult, but setting that aside for a second, his excitement after their first night together is quite funny. When he happily declares that he never wants to do anything else again, you can't help but laugh a little. The fun ends pretty quickly though, as Margaery starts to talk about how Tommen will always be his mother's little boy, even when he's King.
The little King picks up the hint and immediately tries to convince his mother to ship off to her ancestral home in Casterly Rock, but let's face it - Tommen is too much of a child to tell anyone what to do. His mother Cersei just deflects him, realising that Margaery is behind this, and heads over to have a showdown with the queen.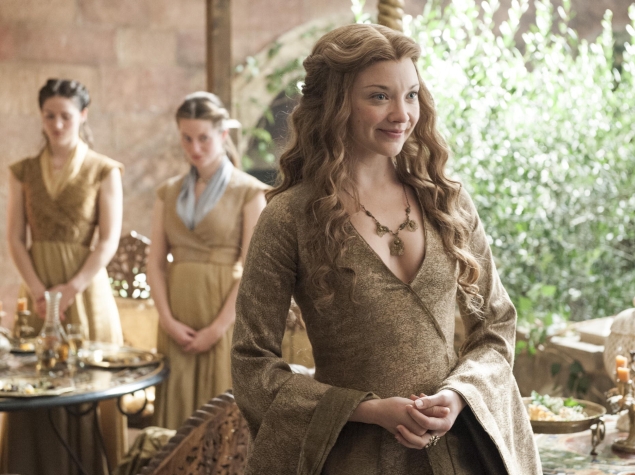 The chat between Cersei and Margaery is suitably dramatic, and at any point you think the Queen Mother is just going to snap and do something terrible, but she's able to keep it together. Margaery even feels cocky enough to make a few digs at Cersei, and while she ends the conversation with a smirk, you know she's going to pay for that down the line.
At the same time, you can see the King's Landing itself is due for some big changes. The High Septon - sort of the Pope of Westeros - is treating himself to a party in one of Littlefinger's brothel's when he's set upon by a group of religious fanatics called the Sparrows, and paraded naked down the streets. In the books, the High Septon wasn't actually marched naked, but rather one of the candidates that was expected to get the job after the last High Septon died. On the show, the High Septon goes to the Queen Mother to complain about his mistreatment, but ends up in one of her cells because she sees an opportunity to strike at Margaery instead of paying attention to what's happening to the kingdom.
Cersei goes to meet the High Sparrow, and talks to him about re-arming the faithful - something that had been outlawed many generations ago - in a move that is going to backfire so much harder than Margaery's cockiness will. We already know some of the fallout thanks to the books, and based on the controversy around filming one famous scene, we know that the show is going to stay fairly close to the source here.
In the North, things start to look grim as Roose Bolton tells his son - you know, the crazy psycho torturer - that it's time he (Ramsay) got married. Cut to Sansa and Littlefinger outside Winterfell, and the moment of dawning comprehension. Sansa knows this can't end well, but as book readers we have reason to believe that it's going to be a lot worse than she could have ever imagined. In the books, Sansa and Littlefinger are still in the Eyrie - there's a chapter from the sixth book which shows that she's still in hiding, pretending to be his illegitimate daughter "Alayne" - and the Lannisters are the ones who send a bride to the Boltons.
They actually send Jeyne Poole - she's the daughter of the Steward of Winterfell, and a friend of Sansa's - whom the Lannister's claim is Arya. Horrible, terrible things then happen to Jeyne thanks to Ramsay, until she's reduced to a bleeding, whimpering wreck by the end of the fifth book. It's honestly one of the more disturbing plotlines in a series of books that are always hard to stomach, and we're really hoping that Sansa has an easier time in Ramsay's Winterfell than Jeyne did.
When Sansa and Littlefinger arrive at Winterfell, we see Ramsay looking very eager and keen to please his new wife, but how long can that last? Making things worse, we see Myranda - Ramsay's girlfriend, whom we saw last shooting another woman full of arrows for being too pretty - glaring daggers at Sansa. Unless Sansa is being sacrificed for a bigger play here, this could be a pretty big misstep on Littlefinger's part. This is all pretty much uncharted territory as far as the books are concerned so we're just going to worry about Sansa quietly here.
At the Wall, Jon Snow has one of his many heart to heart's with Stannis. The Baratheon army plans to march South and take the battle to Winterfell in two weeks' time, so if we're lucky we might see the Battle of Winterfell. That's supposed to take place near the start of the sixth book, so there's a (very small) chance that it might actually be shown in this season of the show.
There's one more scene at the Wall though, and it is a big one. Jon knows that he has two major enemies in his own ranks - Alliser Thorne and Jonos Slynt. He names Thorne First Ranger, in a move that surprises some of his friends at least, and then he orders Slynt to take command of Greyguard, one of the ruined castles along the Wall. Slynt refuses though, and says he won't go anywhere.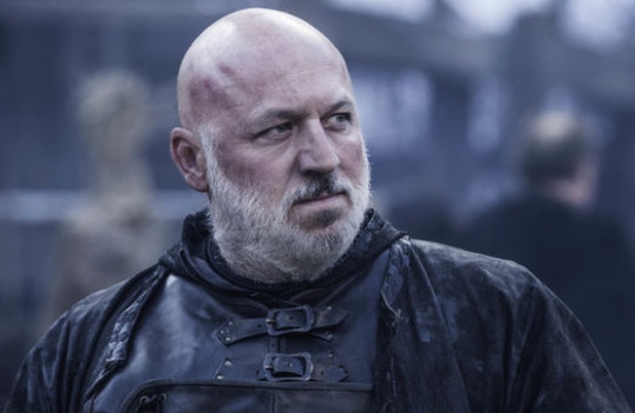 Left with no choice, Jon orders Slynt to be taken outside by the guards, where he would be executed. Things nearly come to a head as Thorne initially blocks the guards, but then good sense prevails and he steps aside. That's when Slynt realises how much trouble he is in, and starts to bluster, and then beg to be pardoned.
Jon's not having any of it though, and steps out and beheads Slynt himself. It's a strong scene in the book, but here, there are some strange moments such as Jon finishing his drink before following the men out, which just looks weird. And then there's Kit Harrington - he might be a fine actor, but Jon Snow certainly isn't proof of it. From his usual sulk, he graduates to a full scowl, which again ends up robbing the scene of any real emotion.
The last part of the show is set in Volantis, and actually stays somewhat close to the events in the book - though Tyrion was not traveling with Varys there. In Volantis, the two men walk through a slave market and listen to a Red Priestess (played by Rila Fukushima, whom you might remember as Yukio from last year's The Wolverine) talking about Danaerys, and urging the slaves to be free. As the sermon winds down, she stops and stares at Tyrion across a huge crowd, and even he finally realises that he should probably keep a low profile.
That means heading to the nearest brothel and getting very drunk, of course. But in the brothel, who should we see but Jorah Mormont, who was exiled last year from Danaerys' circle when it was revealed that he was spying on her for Varys. When Tyrion goes outside to answer a call of nature, he ends up getting captured by Mormont, who ties him up and gags him. That's all we see so far, but if the events in the show don't deviate from the books too much then we know that Jorah is going to take the Imp to Mereen to try and get back into Danaerys' good graces. Which is quite funny, when you consider that this was where Tyrion was headed all along.
There's no sign of Jaime and Bronn in this episode, and so we're left wondering what's happening in Dorne, and frankly, since that's a storyline that's not in the books, we're really keen to see how it plays out. Jon Snow actually got to do something this episode though, King's Landing and Volantis are both shaping up to have interesting events take place in the near future, so we're glad to see that the tempo of the season is building up after the last episode slowed things down a little.
Next week's episode should finally reveal what's been going on in Dorne, and also deliver the payoff of today's manoeuvring in King's Landing, though it's probably going to be a while before anything important happens in Mereen.
Did you watch the episode already, and if so, what was your favourite moment? Tell us via the comments.