The biggest show for comic book lovers, Comic-Con, finally ended over the weekend, and there was so much news that was given to the fans that we wouldn't be able to recap it all even if we tried. The biggest news from San Diego was all about the movies, of course.
Batman v Superman showed a new trailer, and the first teaser for the Hunger Games was shown too. And while there was no new trailer for Star Wars: The Force Awakens, a special reel for Comic-Con looked exciting, and stressed that the film will focus on real effects, and not just computer generated imagery.
The Warner Bros panel also included footage from the upcoming Suicide Squad movie - the clip was leaked though the tiny, slightly blurry video with bad audio is not really a good way to get your first look at the film. Suicide Squad is supposed to release in August next year, and we're hoping that Warner Bros will release the official version of this trailer soon, but it looks like a more enjoyable film at this point than Batman v Superman. The clip shows Harley Quinn, the Batman, and the Joker.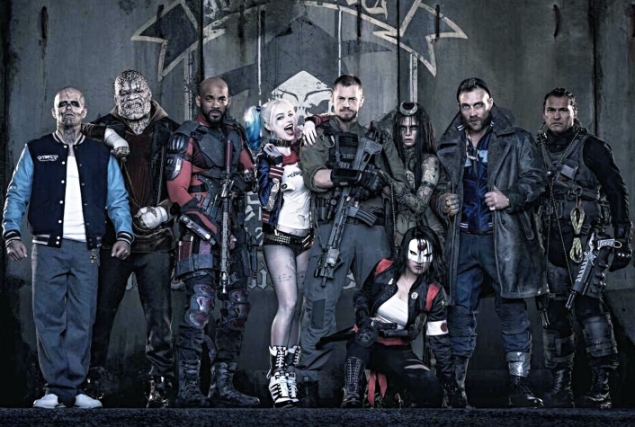 In other Batman related news, it was revealed that Batman: The Killing Joke - one of the most famous Batman stories, which was written by Alan Moore - is also getting made into a movie. This one is going to be an animated movie, releasing in 2016, DC Comics' Bruce Timm announced. So far, the DC animated movies have been some of the best superhero movies around, and honestly, we're much more excited about this one than Dawn of Justice.
There's also going to be a new Green Lantern movie, but with Ryan Reynolds now playing Deadpool, it's clearly going to be different from the 2011 film. The new movie is called Green Lantern Corps, which is basically a group of heroes in space, and our Green Lantern is just one of these intergalactic enforcers.
There was also a trailer for The Man From U.N.C.L.E., which looks like a cheesy spy action movie from the Roger Moore era James Bond. There are some cool gadgets and snappy one-liners, and it stars Henry Cavill (Man of Steel) and is directed by Guy Ritchie, whose various heist films like Lock, Stock, and Two Smoking Barrels, and Snatch, were an excellent blend of action and comedy.
Marvel's Cinematic Universe kept away from Comic-Con this year - Ant-Man is releasing later this month, and the next film from the MCU is going to be Captain America: Civil War, which will release in May 2016 - but there were plenty of Marvel superheros around, including the omnipresent Hugh Jackman as Wolverine. X-Men Apocalypse had a behind closed doors screening as well, and Deadpool also showed a trailer. Deadpools' leaked trailer is also shaky and blurry, and you're definitely better off waiting for the official trailer to come out, there's one gag that was hilarious. Ryan Reynolds previously acted as the Green Lantern, and the movie had put him in a completely animated super suit. In this clip, Deadpool jokes, "Please don't make the super suit green... or animated!"
Marvel's TV side was also present, with the casts of both Agent Carter and Agents of SHIELD at Comic Con; not too much was revealed as the stars mostly talked about the previous season, but it was revealed that Agents of SHIELD will introduce the Secret Warriors storyline, which is pretty exciting.
The Warcraft movie was also revealed, through a wraparound VR presentation, but fan response seems mixed. We'll know more in November once the footage is released online.
Meanwhile, Avengers Director Joss Whedon is taking a break from the big studio movies, and at comic book publisher Dark Horse's panel, announced that he will next be working on a comic called Twist. It's apparently based on a Victorian female Batman-like character, but we don't know much more at this point.
Heroes Reborn also got a trailer - the TV show is getting a new lease of life, and it seems to continue on the storyline that the first Heroes established, because you can see Hiro Nakamura and Mohinder Suresh in the trailer too.
There were plenty of other cool moments, like audition reels for Game of Thrones and X-Men, and HTC also used Comic-Con to show more people its Vive virtual reality experience, though this hasn't really changed since the device was first shown off at MWC Barcelona this year.
Those were the highlights for us from Comic-Con this year. What things really caught your opinion from Comic-Con? Tell us, via the comments.
Affiliate links may be automatically generated - see our ethics statement for details.