Tata Sky and Videocon d2h have been broadcasting select matches of the ongoing ICC Cricket World Cup in 4K and we got a chance to check their 4K services out. Both operators have a wide selection of HD channels and a single 4K channel each. We set up Videocon D2H on the
Vu LEDN50K310X3D
, which did a good job with the demo 4K content we tried it with earlier. The 4K channel on Videocon runs a small amount of repetitive content for the time being, with the same two shows of Discovery Channel's Overhaulin' playing on repeat. There is other content, but the list takes some time to change.
Tata Sky's service was set up on a 65-inch Sony 4K television, and has similar content. Tata Sky has informed us that it has varying content provided by the Discovery network, including nature and science shows. Both are broadcasting key games of the 2015 Cricket World Cup in 4K, and we had a chance to watch the India-Bangladesh quarter-final match in 4K.
For the first time we can truly say this: There is 4K content to watch on TV. It isn't just cricket; the 2014 FIFA World Cup in Brazil had select matches broadcast in 4K, while a group of Japanese broadcasters have already outlined ambitious plans to
broadcast the 2020 Summer Olympics in Tokyo in 4K and 8K
. And more content beyond sports is on the way.
So, with 4K broadcasts now in India, is it time for you to invest in a 4K set? Before we answer the questions, let's find out what exactly is 4K - and is the jump in image quality as big as the one from standard content to HD, or bigger?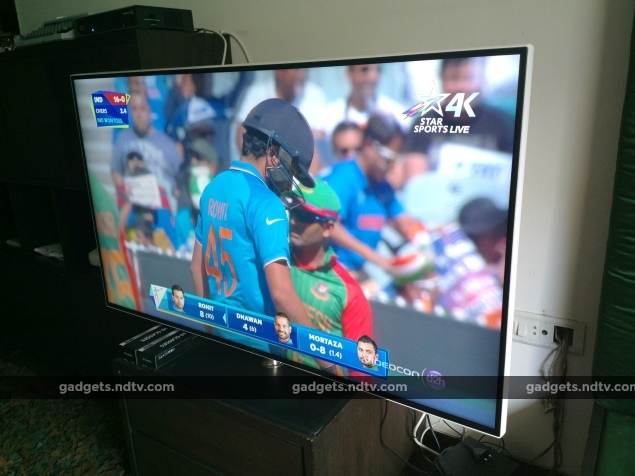 What is 4K?
Most video-based content today is broadly categorised into three resolutions. Standard definition is the oldest so it isn't really standard, ranging from 640x480 pixels and 720x576 pixels. A resolution of 1280x720 pixels is usually labelled HD-ready, and Full HD is a resolution of 1920x1080 pixels.
Ultra-HD, 4K content usually uses 3840x2160 pixels, four times sharper than HD. The catch is that while 4K visuals look stunning, getting the content is a challenge. DVD video uses standard definition and Blu-Ray video uses Full HD; you can't just get a 4K movie on disc. YouTube and other streaming services offer all kinds of content ranging from 144p to 2160p in resolution, while downloaded video can be in any resolution imaginable.
The problem is that downloading or streaming 4K video is next to impossible, particularly in India, thanks to Internet speeds, Fair Usage Policies, and other bottlenecks. With the exception of a few demo videos, you're unlikely to find any serious 4K content on the Internet or in stores.
That's why the two 4K set top boxes are important. The DTH providers are offering one channel each - the feed for the channel is divided into four quadrants, and each quadrant has its own relay. The satellite dish accepts the four separate feeds and sends the signal to the 4K set-top box, which compiles them into a single image and sends it to your 4K TV. Any drop in bandwidth - either from the broadcaster or the satellite operator - will result in occasional flaws in the picture. Occasionally, we spotted momentary errors in the transmission, which cause a quarter of the screen to freeze, while the other three quadrants continue to telecast smoothly. This usually fixes in a few seconds, and on the whole the picture is smooth and flows cleanly.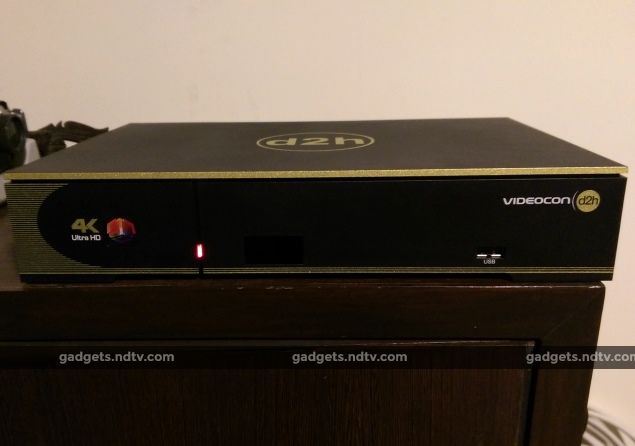 How does it look?
Both Videocon and Tata offer a similar product, identical services and a similar picture consistency. The only differences we could find between the two can be attributed to the fact that the two products were tested in different set ups. What we saw is that compared to HD, there's a clear improvement in the quality of images on the screen. The sharpness of the picture is a notch above anything else we've ever seen, and colours feel vibrant and lifelike. Slow motion shots have the most dramatic effect, especially the ultra-motion shots that Star Sports occasionally uses.
The overhead helicopter shots are amazing, as every individual on the field, all of the colours in the stands and every advertising banner around the stadium showed clearly, along with their movements. Even when we came close to the screen, there was no evident flaw in the picture. Images remain sharp, with even the sweat on the faces of the batsmen clearly visible. Of course, if you come close enough to the 50-inch TV, you can see the individual pixels, but you'd have to practically stick your face to the screen before that happens.
To us, 4K feels like as big a change as the jump to HD. It is exciting to see the standards of what was not-so-long-ago considered to be cutting edge now being completely overshadowed. The picture is so sharp and lifelike that we found it hard to go back to HD. The colours, the lack of judder in the motion and the sharpness are almost drug-like for a videophile.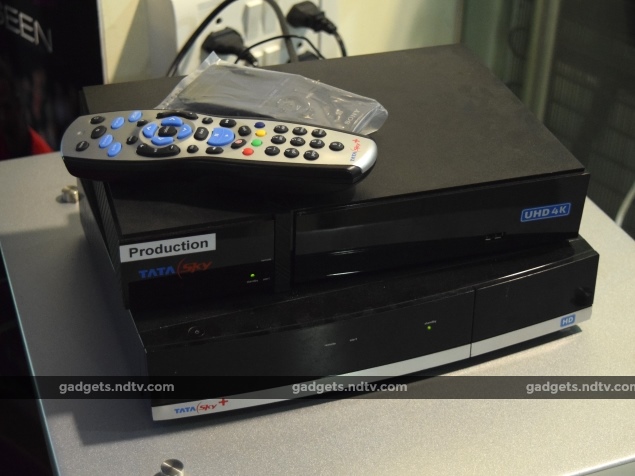 What do I need?
The first thing you need is a television. Sony and Tata Skybelieve that 4K is best viewed on TVs 50-inches and above. There are also 4K projectors, but these are significantly more expensive.
TVs that are smaller than 50-inches will not be able to reproduce the detail and the scale as well, though this entirely depends on the viewing distance. Practically, most people are seated about 10-12 feet away from their TVs, and a 50-inch 4K screen looks great at this range. If you're not getting close to the screen like a monitor, then don't go for anything smaller than this.
The larger your screen is, the greater the impact on sharpness from the higher resolution. If you're planning on getting a TV over 50-inches in size, we'd suggest at least taking a look at 4K resolution TVs.
These are still pretty expensive. A 65-inch 4K TV from Sony costs almost Rs. 4 lakh. This is changing though. Brands like Micromax have been aggressively pricing their TVs much lower than the competition (available from Rs. 39,900). Big-screen smart TVs like the Vu LEDN50K310X3D (available at Rs. 90,000) prove that you can get a decent 4K TV without shelling out big bucks.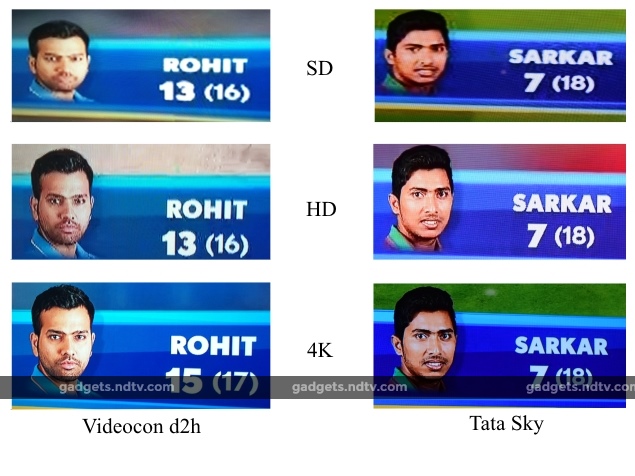 Streaming content is free, but there's not much available and most Internet connections in India aren't up to the mark for it either. That's why TV is still the best way to get this content. Videocon d2h and Tata Sky's offer 4K set-top boxes with a single functional 4K channel each. Videocon's STB retails at Rs. 6,590 (Rs. 5,990 for existing subscribers), while Tata Sky sells their device for Rs. 6,400 (Rs. 5,900 for existing subscribers). Both companies are working to get more 4K content to India, including television shows and movies.
Do we really need 4K? Probably not. The content is finally there, but it's hard to get, and there still isn't much. But if you're buying a TV which you're going to use for five to ten years, then it makes no sense to get one that doesn't support 4K. As we noted above, the difference in quality is simply stunning, and both Tata and Videocon - as well as other providers - are working to bring more content to India.
Sharp, Panasonic, LG and Samsung have already showcased
8K-capable TVs
as well. Not that any of this is about to hit the local electronics store near you any time soon, but it's an indication of where the technology is headed. With good content finally beginning to trickle in, maybe it's time you invest in the future.