Shows like Friends, which originally aired in India a couple of decades ago, aren't shown on TV today without cuts, blanked out words, and subtitles that aren't related to what's being said. Welcome to a modern India, where television censorship is ruining shows you want to watch. In the past, we've explored why TV channels are overzealous in their censorship efforts and this time we wanted to know more about the process of censoring television shows - how it works, who does it, and how long it takes. We reached out to most of the major entertainment channels to find out, and while most weren't willing to talk about it openly, a few did reveal some details.
According to Saurabh Yagnik, EVP and Business Head English channels (Sony PIX & AXN) at Sony Entertainment Television, the process of censoring TV shows takes place in a department of the company called Standards and Practices (S&P). "For series content - which is what goes on AXN - the content is subject to self-regulation in India," says Yagnik. The Indian Broadcasters Federation has a set of self-regulatory guidelines that all non-news channels follow. "All content that has to be put on air is passed through the S&P team - they have a good understanding of the guidelines - they suggest edits and cuts for content which is considered to be unsuitable as per guidelines," he adds.
The S&P team at Sony consists of roughly 5 to 7 people. It's their responsibility to go over all the content that's going to be aired by the channel, and make the changes that they feel are required to meet the different guidelines. For a small team that has to oversee a lot of content on a daily basis that's an obvious challenge. A former Star executive who spoke to Gadgets 360 says, "We had only three people who were doing this job. There was a single room in which all three were sitting, and they'd get all the latest feeds on their computers, and they would watch it and they had to mark time-codes for cuts into the system."
"If someone stopped to argue - this cut isn't really needed, or is that really offensive, it would waste a lot of time - and for a small team, the target was to work really fast and get all the content ready in time," he adds.
Sony does actually have a little more time for back and forth, claims Yagnik. "Once the S&P team goes through content, it will be reviewed by us [the content team]," he says. "If certain cuts aren't required, they will discuss that - then someone from their team will cause the edits and subtitling to happen - then the show will go on air." This does end up taking even more time though.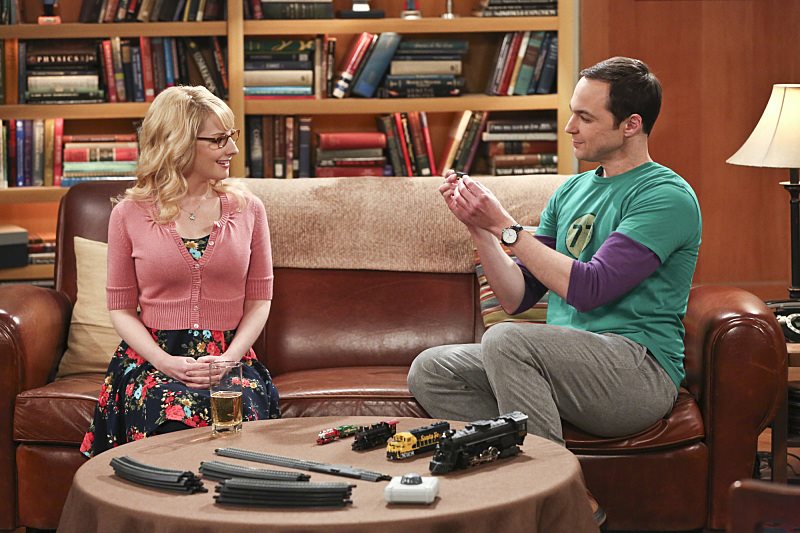 Melissa Rauch as Bernadette and Jim Parsons as Sheldon in a still from The Big Bang Theory. Image: CBS
Sony's team, for example, takes 6-7 days to go clear a single episode of a show. Now start doing the math to figure out how much content needs to be cleared, and you can start to see why it becomes a problem if anyone needs to take the time to really think and debate what's being censored. The guidelines are pretty clear - the channels need to avoid profanity and nudity, show no disrespect to the national flag, and can't air anything that could hurt religious sentiments - but no one wants to risk complaints, the could bring huge fines, and worse, blackouts of the channel. And so, asked to bend, the channels crawled, and suddenly Sheldon can't say "coitus" in Big Bang Theory, and while a character can say "bitch", the subtitles will read "witch", while "hell" and "Jesus" are both equally off limits.
"As a responsible broadcaster, we will judge on the safer side," says Sony's Yagnik. "If we think something could potentially be offensive to any particular community or religion, we are sensitive towards it - we are a large broadcaster so it's important we don't offend anyone - that's very important to us."
That's also incidentally one of the reasons why so few shows air in India on the same day as their US release. "We have to follow the guidelines - US studios are wary about sharing content in advance as they are scared about leaks," he adds.
The same process is also followed for subtitles. "US broadcasters share the scripts - SEN then translates that into subtitles taking in any cuts they have had to make," he says. According to the Star Executive who spoke to Gadgets 360, subtitles can be more challenging, because "the written word is more impactful, so something that is okay to keep in the audio might get changed in the subtitles."
Small steps
Even today, the channels do follow different rules for different time slots. Sony's Yagnik explains that 11pm to 5am are "watershed hours", and that the rules are a lot more relaxed in this slot. The reason why the 'watershed' is so late is because, according to him, 85-90 percent of the households in India share a single television, and consumption is more of a family occasion.
"The way I look at it, India is a very diverse country. There are two very distinct mindsets - one is a much more urban mindset which says why can't I watch the content just the way the US watches it," he says. "But on the other side, the sensibilities are not that liberal. And you need to accept both sensibilities. When you're broadcasting, you'll always have the least common denominator because you're catering to such a large population. And that's how these considerations come into being."

Image: Zee Cafe / Facebook
That's why Zee Cafe, for example, now has a segment called Uncut, where it airs the uncensored versions of the TV sitcom The Big Bang Theory. It's a fairly tame, 'family' show in the US, but in India, even this show gets blanked out. With Uncut, the show is aired without changes - but only after 11pm.
"With the kind of exposure Indian viewers have towards English entertainment, we thought it would be the right opportunity to bring them the shows they love in a way they would want it to be," wrote Ali Zaidi, business head, Zee English Cluster in a statement to the press. "Uncut is our first step towards that innovation and we are hopeful the impact would be positive."
It might be the first step, but it's a very small one indeed. Right now, people are celebrating video on demand services at least in part because you're getting the full shows you wanted to watch in a format where half the story doesn't go missing in the quest for needless censorship.
(Also see: Netflix Is Here, and No, It Is Not Censoring Any Content)
It's something the channels are aware of as well. Sony itself shows the same content on television and on its streaming platform, but others such as Star, seem to follow different guidelines for their online version. "We have not started that yet," says Sony's Yagnik. "They are doing it with a subscription service - with warnings for at what age you can subscribe to it." But it could be a matter of time, he feels, and says that things could change even in the digital space, as more and more people start consuming video online.
For now though, it seems that the only way you can watch shows without people in S&P chopping rooms making them look jerky and skipping plot points, is going to be via the Internet - whether it's streaming services, or piracy. Either way, broadcasters lose out, so hopefully, we'll see more steps like Zee's Uncut in the future.