The third trailer for Avengers: Age of Ultron was released on Wednesday - and the first thing we should say is that this trailer really gives away a lot. If you don't like going into films with the spoilers revealed, then you should not watch this trailer - there are lots of things shown here that set up and explain plot points that are going to be important in the film, and there's also the reveal of a very important character in this trailer. If you want to go into the hall unspoiled, stop reading, and stay away from the trailer.
Comic book fans would probably already have guessed at some of the things that we see in the trailer below, but honestly, that's all the more reason to skip the trailer. With the added knowledge of the canon origins of certain characters, there are some conclusions you're going to reach which people who only follow the movies at least will not jump to.
Last chance to turn away from the trailer, and obviously, spoilers follow. The film is releasing early in India, and hits the halls on April 24, a week before the international release. This is the official third (and final) trailer released by Marvel, so now you've got to wait until April 24 to see more.
So, did you watch the whole trailer? It's brilliant and somehow even cooler than the previous one, though the music isn't as awe-inspiring as the slowed down version of No Strings on Me which was used in that trailer.
We'd pointed out that Captain America's shield was shown broken in the last trailer, and this time, we saw it bouncing off an Ultron robot - seriously, we're starting to really worry for Steve Rogers in the upcoming Civil War movie which will be releasing next year.
We also got to see Tony Stark coming up with the idea of Ultron program - you hear him say "isn't why we fight so we can end the fight and go home?" - which builds on the PTSD he'd been showing in Iron Man 3. Putting Ultron on Stark's shoulders instead of Hank Pym being its creator makes a lot of sense, and Marvel's movie team has built up the character in a way that this decision of his makes a lot of sense. A lot of purists are not going to be happy about this, but at least we're getting an Ant-Man movie this summer.
That Scarlet Witch and Quicksilver start off on the side of the bad guys was no surprise, and neither is the fact that Ultron decides that the only way to bring peace to the world is by removing the human race from it. The first fact is something everyone who reads comics knew was going to be the case, and the second is probably the most overused trope in storytelling about AI. James Spader does sound amazing as Ultron though, so we're not going to complain about that - and there's a point in the trailer where you can see Scarlet Witch fighting alongside the Avengers, so it's safe to say that she and Quicksilver also join the good guys.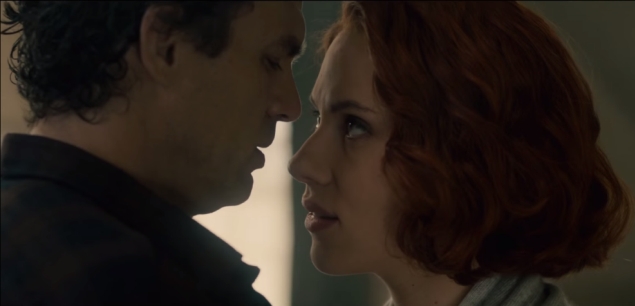 What we want to see is how they handle Quicksilver using his powers - super-speed is something that can look super silly super easily - and whether it can measure up to the scene stealing depiction of the character in X-Men: Days of Future Past.
There's a scene with Mark Ruffalo and Scarlett Johansson - the Hulk and Black Widow - looking like they're about to kiss. There's a moment in the previous trailer which seems to show Black Widow calming the Hulk down in the middle of a rampage and this seems to confirm that the two characters are in a romantic relationship now.
We see a little bit of the Scarlet Witch and Quicksilver fighting the Avengers in the trailer as well - Quicksilver is shown punching Captain America and Scarlet Witch is shown putting some sort of a spell on Black Widow - but we don't really know too much about Scarlet Witch's powers in the film. In one clip she seems to use red rays to mind control people, and in another clip she's firing these red beams like they're Iron Man's repulsor blasts, taking down Ultron robots. It looks like her powers are expandable as per the plot's demands, but we'll know more when the film actually releases.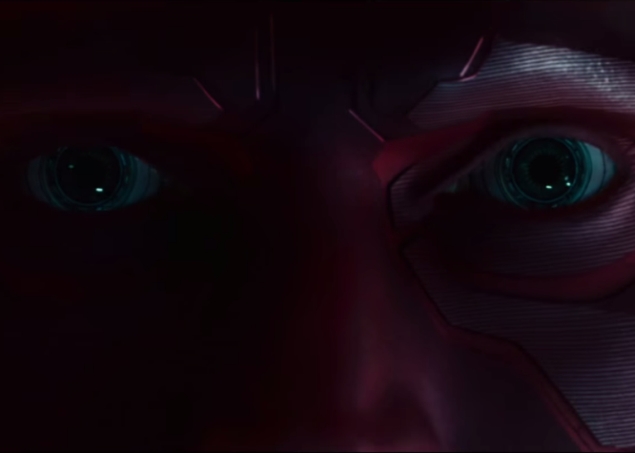 The best part might well be the last secret the trailer revealed, a look at Vision. We already knew that Paul Bettany was going to play Vision - a robot that Ultron created in the comics - and he looks spectacular. He's a very important part of the Age of Ultron storyline but we'd not seen anything of him so far, so this is really big.
All things considered, this trailer hits a lot of the right notes and has us really excited about the film. It gives away a lot as well, and we know that people sensitive to spoilers aren't going to like some of the details that have been revealed, but as for us - we're psyched up, and can't wait for April 24.