Were you thinking of using Skype to call up friends and relatives around the world to wish them a Merry Christmas and a Happy New Year? Make sure you're connected to the Wi-Fi network first, because a quiet change on Airtel's 3G tariff page suggests that such calls are going to get more expensive.
As first reported by Telecom Talk, on Airtel's 3G tariff page you can see that the company states that Internet plans which include bundled usage will not apply when you are making a VoIP call - that is to say, using a service like Skype, which allows you to send your voice over the Internet.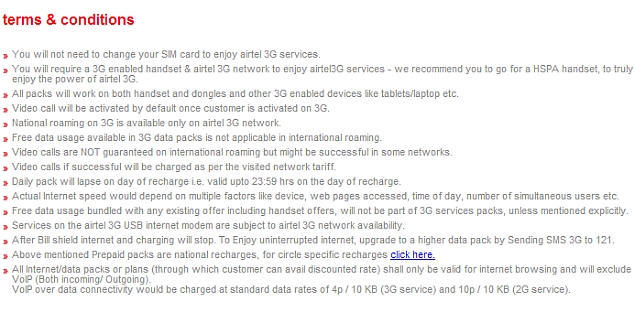 The Airtel page states:
All Internet/data packs or plans (through which customer can avail discounted rate) shall only be valid for internet browsing and will exclude VoIP (Both incoming/ Outgoing).

VoIP over data connectivity would be charged at standard data rates of 4p / 10 KB (3G service) and 10p / 10 KB (2G service).
At present, it is not clear which services exactly are identified by Airtel as VoIP providers, and it is also not clear how exactly Airtel is identifying the usage of these services. We have reached out to Airtel with some questions, and will update the story once the company responds.
Companies like Airtel and other Indian telecom providers have been speaking out against services like WhatsApp for some time now, claiming that these apps are not operating on a level playing field, and are unfairly taking away the telcos income.
Now, with WhatsApp apparently close to rolling out a free voice calling feature, it's not surprising that companies are trying to take steps to prevent these call services from having the same impact on their earnings, as messaging platforms are having on SMS earnings.
(Also see: Beyond Skype - 3 Apps for Cheap International Phone Calls)
However, this raises the much larger question of net neutrality. This is a dangerous practice which could have a far reaching impact on consumers. While the idea of restricting discounted plans for only certain uses sounds fairly harmless, it is easy to imagine a future where telcos can decide piecemeal rates for content.
For example, if a telco has a video streaming service, it could incentivise you to buy a premium account on that service by subsidising data used to watch videos. At the same time, it could also decide that watching YouTube videos on its network will be more expensive.
That's a fairly extreme example, and one that people would notice and speak out against. But what if, say, the same provider simply made access to YouTube slightly slower, and access to its own service slightly faster?That is the reason why this move by Airtel is raising concerns, as more and more telcos enter into multiple spheres such as video-on-demand, messaging applications, and more online services which compete with third party apps like Skype or WhatsApp.
When asked about this change, Divya Chug, Manager Corporate Communications Bharti Airtel responded to our email with the following statement:
"We have made some revisions in the composition of our data packs, and will offer VoIP (Voice over Internet Protocol) connectivity through an independent pack that will be launched shortly. Our customers can continue enjoying voice calls over data connectivity by opting for this VoIP pack, or simply use VoIP services on pay-as-you-go basis."
Affiliate links may be automatically generated - see our ethics statement for details.