Vodafone India and ICICI Bank, have announced the launch of 'M-Pesa' - a mobile money transfer and payment service. The service was initially announced in November 2012 when Vodafone India through its 100% subsidiary, Mobile Commerce Solutions Ltd. ("MCSL") had inked a strategic alliance with ICICI Bank for M-Pesa. Vodafone offers mobile payment services across the world under the 'M-Pesa' brand.
The service is initially being offered in Kolkata, West Bengal, Bihar and Jharkhand through over 8,300 authorized agents and will soon be rolled out across the country in a phased manner, according to the company.
To register for the service, Vodafone customers need to visit an 'M-Pesa' agent outlet, fill up a form, submit identity, address proofs and deposit a minimum amount along with it, to open their 'M-Pesa' account. Following the registration, Vodafone will activate the MCSL Mobile Wallet for the customer who will be able to use it as a closed wallet and make a variety of transactions including cash deposits, transferring money to any bank account, transferring money to any other 'M-Pesa' customer, recharge mobiles and DTH connections, and pay mobile and utility bills. The customers will also be able to withdraw cash and send money to any mobile number once the documents are verified and approved by MCSL and ICICI Bank. They'll also be able to pay online retailers.
Marten Pieters, Managing Director & CEO, Vodafone India said, "Vodafone is the world's largest and leading provider of mobile payment services using 'M-Pesa', which offers millions of people basic financial services, beyond the reach of traditional banking. Mobile technology has a critical role to play in servicing the unbanked and under-serviced sections of the society and we are delighted to introduce this world class offering in India in partnership with ICICI Bank. Using 'M-Pesa', we will provide people in remote areas a convenient way to bank, transfer money and make payments in a safe and secure manner. We have customised our offering to serve the needs of Indian customers while ensuring its compliance with all applicable regulations. Financial inclusion is a national priority and we believe that with 'M-Pesa', we now have the ideal offering to enable the same."
According to the ICICI Bank M-Pesa
website
users need to pay a minimum initial amount of Rs. 200 of which Rs. 100 is deducted as a one - time account activation fee and remaining credited to the user's account as balance. For fund transfers, the maximum limit per transaction is Rs. 5,000 which is also the daily fund transfer limit. The maximum limit for prepaid recharges is Rs. 2,500. Mobile wallets can have a maximum account balance of Rs. 10,000 while Mobile Wallet and Mobile Money accounts can have a maximum account balance of Rs. 50,000.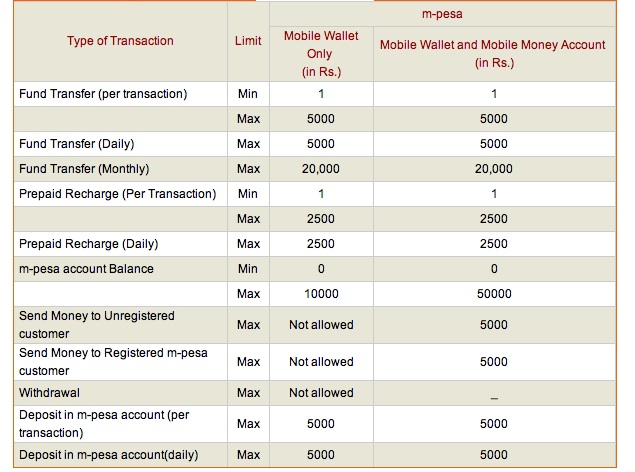 ICICI Bank and Vodafone also charge a fee when the user sends money to a registered or unregistered user or Bank Account. This fee ranges from Re.1 to Rs. 180, depending upon the value of the transaction.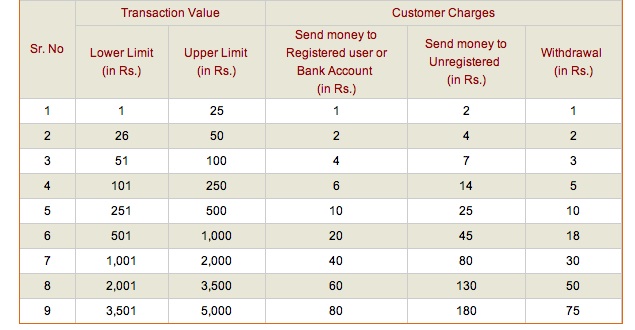 Users can send money to any mobile number. The recipient will receive an SMS along with details of the transaction and a voucher code. An authorised agent will facilitate the withdrawal request from his handset after verifying the user's proof of identity, mobile number and the withdrawal code.
The service can be accessed through USSD by dialling *400# or by dialling 55400 from the user's registered Vodafone mobile number.
It's worth pointing out that Airtel also
offers
its own mobile wallet solution, Airtel Money. Airtel offers two types of accounts under the service- Express account that comes with a daily limit as well as maximum account balance of Rs. 10,000, and a Power account that comes with an enhanced daily limit and maximum account balance of Rs. 50,000. While the Express account is free and enables the user to make utility payments and purchase rail/ flight tickets on various portals online, Airtel charges Rs. 50 for the Power account.
Users also need to submit KYC (know your customer) documentation at the nearest authorised Airtel money outlet or Airtel relationship centre for enrolling themselves. Power accounts get enhanced privileges like ability to pay for movie tickets, shopping and other extras like the ability to pay for insurance premiums, subscriptions & donations. Users with Power accounts can also transfer money to other Airtel Money customers as well any bank account via NEFT transfer. There are no minimum balance requirements. Minimum amount you can spend is Rs. 5 while minimum amount you can transfer to a bank account or Airtel Money customer is Rs. 10.
Airtel had also later launched Airtel Money Super Account powered by Axis Bank that supports cash withdrawals in Mumbai, Delhi, East UP and Bihar.
ICICI also offers mobile banking services including money transfer via IMPS, mobile recharge and utility bill payments via its iMobile application and *525# USSD short code.
While the move will help Vodafone and ICICI Bank to tap the unbanked segment, the ridiculous usage limits stifle the utility of the service. For instance, an annual DTH recharge can cost more than Rs. 2,500, which is the maximum limit assigned by Vodafone and ICICI Bank.
Also, a lot would depend on the capability of the authorised agents. Going by the current state of Vodafone customer touch points, we're not sure if you'll be able to withdraw or deposit cash without any hiccups, whenever you wish to do so.
We're still waiting for NFC technology to go mainstream and cover mobile wallets. That is when things will get really exciting in the mobile payment space, giving Airtel and Vodafone a ready-made customer base to tap into.