Idea Cellular, along with Opera Software, announced on Wednesday it is 'giving away' 200,000 hours of free Internet access over the next 20 days to subscribers via the Web Pass service on the Opera Mini.
The companies said the 200,000 hour offer is the 'easiest way' for users who have 'never experienced the Internet from their mobiles before' to shed inhibitions and get online. The Idea Web Pass lets Idea subscribers buy customised data packs within the Opera Mini browser, and is meant for people with short-term data requirements or don't wish to pay for a full time internet plan.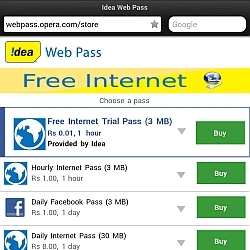 To be specific, the '200,000 hours of free Internet access for the next 20 days' offer is served on a first-come, first-served basis to users who pick-up the 10,000 Free Internet Trial Passes available daily that entitle them to one hour of free Internet, up to 3MB, during that day. Users can only avail 1 Free Internet Trial Pass during this campaign.
To use the Web Pass service, and the Free Internet Trial Pass, Opera Mini users have to go to the Speed Dial page in Opera Mini and click on Idea Web Pass. From here, they can select Free Internet Trial Pass (3MB) from the list of web passes.
In India, Web Passes are currently available only on the Idea network, starting at Rs. 1 for hourly Internet access/ daily Facebook access and up to Rs. 30 for a week's internet access. The Idea Web Pass was
first unveiled by the two companies
in February, with Opera Software partnering with Idea Cellular to offer Sponsored Web Passes.
For the latest tech news and reviews, follow Gadgets 360 on Twitter, Facebook, and Google News. For the latest videos on gadgets and tech, subscribe to our YouTube channel.
Related Stories