Last week, BSNL launched its mobile wallet SpeedPay. It comes with a cash withdrawal option so you can use it to send money to other people who can then use SpeedPay to withdraw cash from a bank even without an account.
The service was launched on Friday by Telecom Minister Ravi Shankar Prasad, and at the launch, BSNL Chairman and Managing Director Anupam Shrivastava said that the service will allow people without bank accounts to transact online.
"Loading money into wallet from a bank account is an option," said Shrivastava, speaking to PTI. "BSNL customers, who don't have bank accounts, can also load money by visiting any BSNL retail outlet and ask the retailer to recharge their mobile wallet account and pay for various services."
The concept is very similar to existing services such as Vodafone m-Pesa or Airtel Money, or even fully third-party systems like Paytm and Mobikwik, but the government backing that SpeedPay has might help it to bring users on board.
The core idea behind SpeedPay is the same as it is for other virtual wallets, or 'Pre-Paid Instruments'.
(Also see: Banking the Unbanked - How Mobile Wallets Can Bring Financial Inclusion)
You will get a SpeedPay account that's linked to your phone number, and this can be used in a number of different ways. For one thing, you could transfer the money to another user's bank account - even if they don't use SpeedPay. By doing this, you'll be able to remit money from one part of the country to the other using nothing more than your phone.
If the other user doesn't have a bank account, then the money can be transferred to his or her SpeedPay account instead. This money can then be withdrawn through a bank or from a BSNL outlet. You can also use the money stored in your SpeedPay wallet to recharge your phone, and pay other utilities like the electricity bill.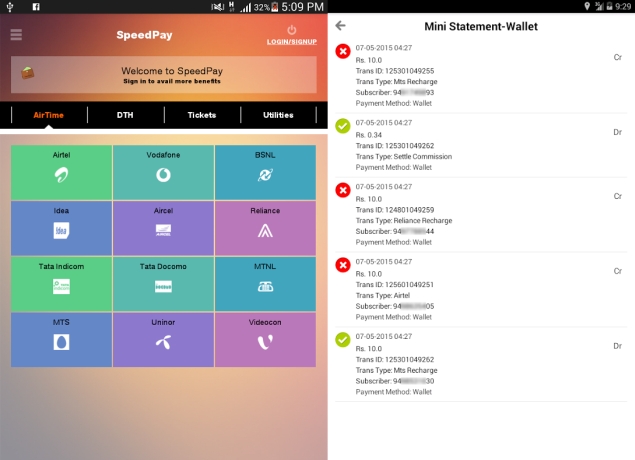 SpeedPay has announced a tie-up with Andhra Bank so you will be able to drop money off or withdraw it through this bank; more tie-ups are likely coming. BSNL has launched the service in partnership with IT company Pyro. "We have tied up with Andhra Bank and Corporation Bank to facilitate this service. We are in advance talks with Punjab National Bank and Bank Of India to expand its scope," Pyro CEO Paritosh Reddy said to PTI. "At present top up facility is available across 1,000 BSNL outlets in Andhra Pradesh and in three months we will expand it to 45,000 outlets in AP."
Of course, there are some caveats - for one thing, you'll be charged 1 percent for any bank transactions (depositing or withdrawing money) - and the daily spending limit without completing the KYC (know your customer) process is just Rs. 5,000. Once you've been verified the limit goes up to Rs. 1 lakh, but frankly, if you have the papers for verification, then you're likely to have a bank account.
But most of these features are already available to users who have bank accounts through the apps that the banks are now launching. On the other hand, SpeedPay (and other services like it) don't entirely erase the need for a bank account - because of the4 limited number of transactions, and relatively low limits on spending per day and per transaction - so it's not a real solution by itself. Yes, unbanked users can send money to other unbanked users to withdraw from a BSNL business correspondent, but that's pretty much the only case where you require such a service.
Couple that with the fact that the biggest companies in this space are announcing support for cash, and have also been heavily incentivising users; and the fact that the different wallets cannot be cross-linked; so either you have your money in various silos that you lose track of, or you keep just one account, and things look a little less rosy for SpeedPay.
Paytm has announced that it will be opening 50,000 retail outlets around India where business correspondents can accept cash or disburse it, and can transfer money to their bank accounts and other persons' accounts too. It's also partnered with Cafe Coffee Day and Dominos for offline payments.
MobiKwik has tied up with several e-commerce providers, and tied up with ICICI bank to allow you to deposit cash in the wallet through the bank, even if you don't have an account. It has also partnered with WHSmith - a books and stationary retailer with 55 outlets across Mumbai and Delhi - so users can purchase goods in retail stores using their mobile wallet.
With all this in mind, Speed Play is more a catch-up effort than a revolutionary step. In the face of the existing players, SpeedPay doesn't offer any unique benefits, but BSNL's reach extends well beyond the metros, and its government backing means that SpeedPay could still bring mobile wallets to the masses before its better established competitors.