Alcatel-Lucent said it would stay out of a brewing price war in the telecom equipment market and set itself apart with better service and new products, including those from a new partnership announced on Sunday with Intel Corp .
Chief Executive Michel Combes said Alcatel-Lucent wanted to gain market share but not at any cost, as it entered the second year of a three-year turnaround aimed at restoring regular profits and cutting 1 billion euros of costs.
Analysts predicted that competition could intensify this year among telecom equipment vendors after Nokia's NSN unit forecast lower operating margins as it tries to rebuild revenues lost after a bout of restructuring. A newly aggressive NSN could spark reactions from Sweden's Ericsson and China's Huawei .
"All the players in the sector have understood that competition based on price was not the right answer," Combes said on the sidelines of Mobile World Congress, the wireless industry's largest annual conference.
"Differentiation is the right way. Each company must find its areas of excellence and deliver on the services promised to customers," he said.
To that end, Combes unveiled a partnership with chip maker Intel, under which the two will share the costs of research and development on cloud computing and security.
Known as "network function virtualization", the technology allows telecom operators to rely more on software to run their networks and less on hardware, which can over time bring down costs.
It is the second R&D partnership announced since Combes took over as CEO in April 2012, and he pledged more to come.
Mobile chip maker Qualcomm took a undisclosed stake in Alcatel in July 2013 as part of a research partnership on so-called small cells, which are small mobile antennas to help operators cover urban areas.
The Intel partnership does not involve any direct purchase of Alcatel's shares, but Combes said the two would invest "several hundred million euros each" with the aim of possibly launching products for sale this year.
"We can be first to market with products by working with partners," said Combes.
Alcatel-Lucent halved its net loss last year as Combes' turnaround plan kicked in, helped by a capital increase and bond to shore up the company's balance sheet and 10,000 layoffs.
The shares have more than tripled in value in the past year and closed at 3.15 euros on Friday, giving the company a market capitalisation of 8.77 billion euros.
© Thomson Reuters 2014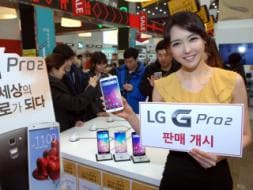 MWC 2014 in pictures