Telecom major Bharti Airtel on Tuesday re-launched a service in its Project Leap telecom network infrastructure expansion, calling it the 'Open Network' initiative. As launched back in December, the newly branded Open Network service shows users network coverage and signal strength across the country, apart from network site deployment status. Now available on app as well, it shows towers being upgraded, apart from locations where towers are needed, and where towers have been forcibly shut down.
"With this initiative, we are establishing complete transparency with regard to our mobile network and opening ourselves to customer scrutiny and feedback. Airtel customers can now take charge of network issues and be part of the solution," Bharti Airtel MD and CEO for India and South Asia, Gopal Vittal said in a statement, adding, "For us, the network experience is paramount and Airtel customers can now take charge of network issues and be a part of the solution, rather than waiting for it to happen. Today, getting permissions to put up a network site is perhaps the biggest challenge in delivering a seamless experience to customers. We hope customers will actively come forward and help us make our network better."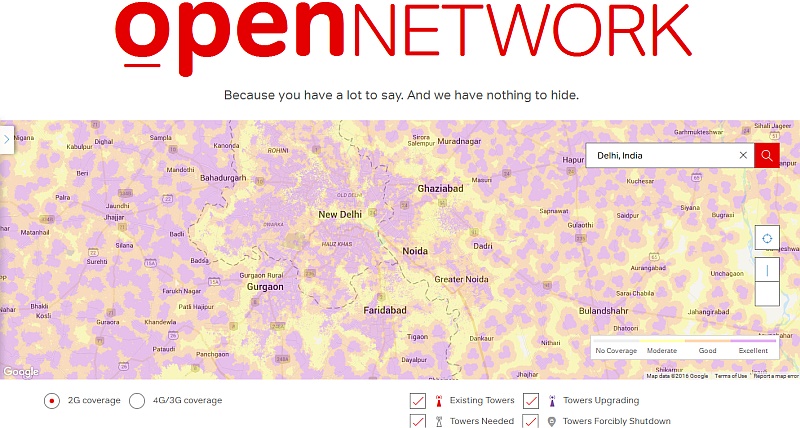 The service is being branded as the Open Network, with this tag line "Because you have a lot to say. And we have nothing to hide." The new interface is available via Airtel's website on the Open Network page and myAirtel app. When launched back in December, it did not have an app interface. It will also allow customers to report their network related issues, the statement said.
The company added, "Using a simple colour scheme, the interface will allow customers to check if the Airtel mobile network in an area is excellent, good, moderate or non-existent, along with the status of corresponding sites serving the area - existing, required, being upgraded or forcibly shut down. The interface uses geospatial tools and other technologies for accurate reporting of network coverage."
"In addition, customers can also contact the Airtel Call Centre or walk into any of the Airtel Flagship Stores across the country to report their network related issues. All Airtel call centres and Flagship Stores have been specially equipped with solutions based on the new interface to respond to network related issues," the statement added.
Airtel also boasted it had reduced call drop benchmark compliance voluntarily by 25 percent to 1.5 percent from 2 percent mandated by telecom regulator Trai. As per Trai's norm, not more than 2 percent call on a network should automatically get disconnected in a quarter.
Affiliate links may be automatically generated - see our ethics statement for details.