In a bid to boost its landline business, country's largest telecom operator Bharti Airtel will be launching unlimited voice calling schemes for its broadband customers.
The company will come out with two plans offering unlimited free local calls for Rs. 49 per month and unlimited free local and STD calls for Rs. 99 per month.
The company has about 1.49 million broadband customers at the end of December last year.
"In an industry first, it will announce that its broadband customers can enjoy free voice calls to any network in the country 24x7," the company said.
State-run BSNL has also announced free voice calling from fixed line phones during night hours starting from May 1.
"Customers can enjoy unlimited free local calls with the pack priced at Rs. 49 per month and unlimited free STD+local calls at Rs. 99 per month to any network, anywhere in the country to both landlines and mobile phones round the clock," the company said.
A fair usage policy (FUP) is applicable on the unlimited free calling schemes, with the company specifying a limit of 5,000 minutes of free calls. Airtel also adds consumers availing of the schemes will require active broadband plans, and that the schemes aren't available for commercial use.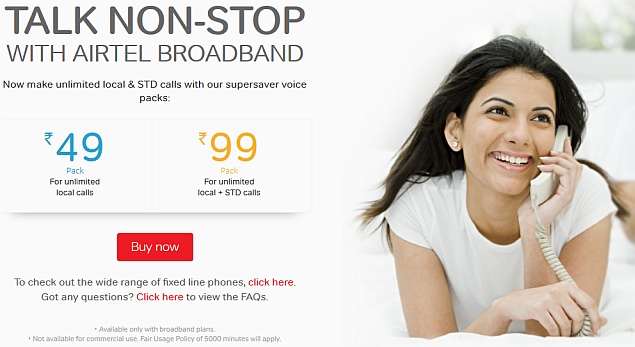 Airtel currently provides fixed-line telephone and broadband services for homes as well as offices in 87 cities across the country.
According to the latest Trai data, BSNL, which dominates the landline space, was the biggest loser of fixed-line customers in February whereas Airtel emerged as the top gainer.
BSNL had over 16.6 million landlines at the end of February whereas Airtel had 3.39 million.
Written with inputs from PTI