To help fully understand the upcoming spectrum auctions in India, we've created a series of articles about what spectrum is, and we're also taking a look at the history of spectrum auctions in India. Earlier, we talked about the auction of 900MHz spectrum, which was the first time that telcos started up in India. This spectrum would prove to be the backbone for the businesses that dominate the telecom industry in India today.
After that, we also covered the auction process of the 800MHz and 1800MHz band, the latter of which is now the main band being used for 4G by most of the operators in India. Now, we're going to look into the history of the 2100MHz band, which was instrumental in the deployment of 3G in India, and the 2300MHz band, which was initially meant for Internet services only.
2100MHz
2010: The 2100MHz spectrum auction was hugely anticipated by operators, and the first auction in 2010 was fierce as only three blocks of 5MHz spectrum were available across India, with just one additional block, only in Bihar, West Bengal, Jammu and Kashmir, Himachal Pradesh, and Punjab.
Seven operators were competing for just three to four blocks of spectrum; the result was that the government managed to raise Rs. 50,968.37 crores selling 3G airwaves alone.
Apart from this, BSNL and MTNL in their respective circles were allocated one block (5MHz of 2100MHz) in advance. The two had to pay the winning price in their respective circles once the auction ended.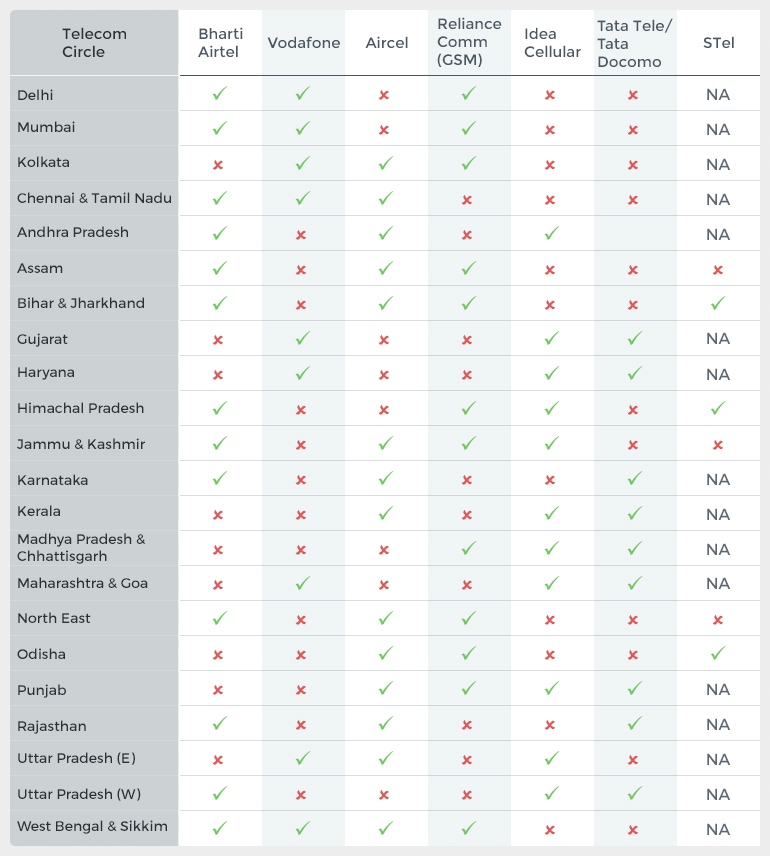 2015: The next auction for spectrum in this band did not happen for another five years. In 2015, only Airtel, Vodafone, and Idea managed to bag 2100MHz spectrum. Idea won 2100MHz spectrum in just Kolkata. Airtel won enough spectrum to give it a pan-India (sans Kerala) 3G presence. Vodafone also managed to get 3G spectrum in a lot of circles but still lacks 3G spectrum circles such as North East, and Jammu and Kashmir.
Winners of the 2015 auction are given in the table below: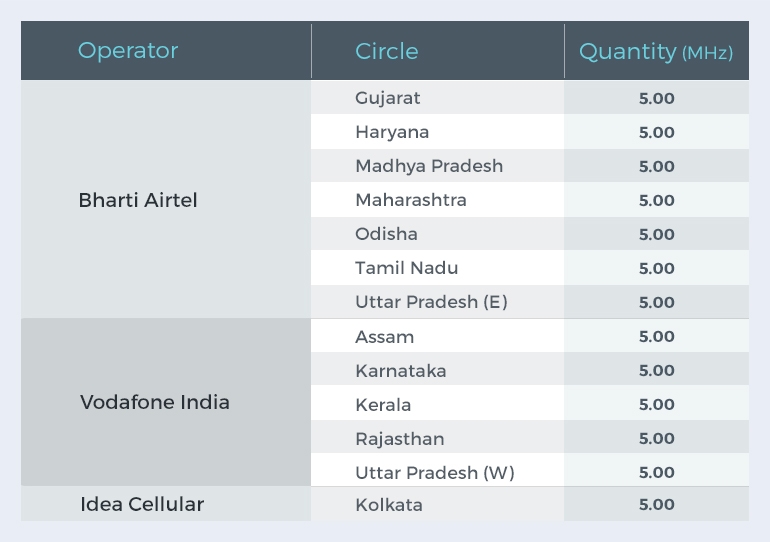 2300MHz
Things were quite different for the 2300MHz band, which was initially launched for Internet services, but ended up being converted to a different license by DoT after the auction, enabling telecom operators to provide voice and SMS services as well.
2010: Two blocks of 2300MHz spectrum were auctioned on a pan-India basis, and each block was of 20MHz. This spectrum was meant to be used only to provide Internet services.
Amongst the winners of the auction was Infotel, which bagged one block, and almost as soon as the auction ended, it was acquired by Reliance Jio. This spectrum was supposed to serve as the bedrock for Jio's long awaited 4G network.
The remaining block was won by Augere, Qualcomm, Airtel, Aircel and Tikona. Of these, Airtel has managed to buy the spectrum from Augere and Qualcomm. Auctioned under the ISP license to provide Internet access, the DoT allowed the conversion of the license to let operators provide voice and SMS services as well.
BSNL and MTNL were also allocated 20MHz of 2500MHz of spectrum at the same price as that of the auctioned 2300MHz spectrum in their various circles to provide 4G services. However MTNL has surrendered all its licenses in 2500MHz band and been given the money back. BSNL has also surrendered some of the licenses in 2500MHz band and has been refunded.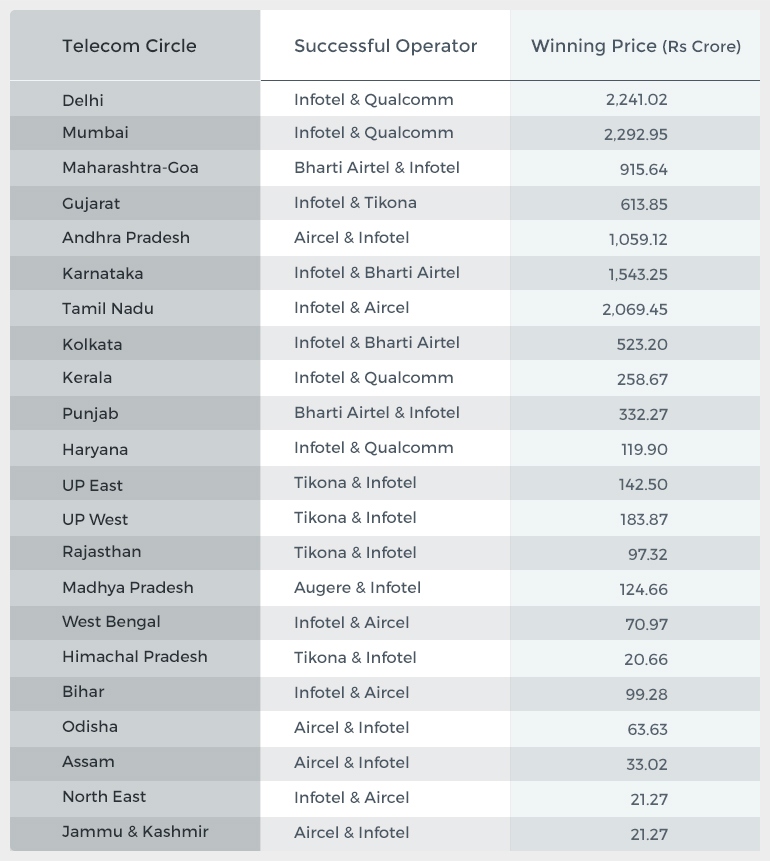 More in our telecom spectrum auction series