Telecom spectrum literally refers to radiowaves that are used to transmit your voice, messages and data through the air, as we've explained earlier. These waves are bundled into different frequencies that are then auctioned off to telecomm operators, who use them to deliver their services.
The auction of spectrum has seen a lot of ups and downs in India. We've also talked about the auction and allocation of the 900MHz band of spectrum, and the auction of 2100MHz and 2300MHz spectrum. This time, we're taking a look at 1800MHz, which was the second band to be utilised in India. We'll also look into the history of the 800MHz spectrum, which was initially meant for use by wireline service providers.
The 1800MHz spectrum band has been the most used for 4G deployment globally, and in India too, most telcos are currently operating on this band. After spectrum in 900MHz band was allocated to BSNL and MTNL, the government started to auction in the 1800MHz band instead. The process started in 2001, with a three stage auction. After the auction in 2001, the 1800MHz spectrum was largely used to allocate additional spectrum to operators as needed.
1800MHz
2008: Spectrum in the 1800MHz band was allocated to a vast number of operators in two blocks (one for uplink and one for downlink) of 4.4MHz, as before. In 2008's allocation, a large number of international operators such as Telenor and Etisalat DB made their way to India.Spectrum wasn't auctioned in 2008 but rather, allocated to the firms.
This would end up being known as the '2G spectrum scam' - in 2012, the Supreme Court cited irregularities in the allocation, and asked the government to cancel most of the licenses allocated under the tenure of the then Communications Minister A Raja.
2012: This was followed by a new spectrum auction in 2012, the first in almost a decade. In this auction 800MHz and 1800MHz spectrum were put on auction, and the list of winners in 1800MHz is given below. Many companies that lost their license did not bid again in this auction and as a result had to wind down operations. Telenor and Videocon had to downscale operations all over India.
2013 and 2014: In 2013, spectrum in the 1800MHz band was again put for auction but there were no bidders. This was followed by an auction in 2014. By 2014, the Reliance Jio launch rumours had started filling the media. The big three players did not want to lose data customers to Reliance Jio, and as a result, bagged 1800MHz spectrum in a lot of circles.
Apart from 4G, these operators were also facing the expiry of 900MHz spectrum in several circles in 2015, so the 1800MHz spectrum picked up in 2014 would act as a backup in case they were unable to renew their 900MHz spectrum holdings. Even Reliance Jio acquired spectrum in the 1800MHz band, to complement its spectrum holdings along with the 2300MHz band it had acquired in past (something we will look at in a future piece).
2015: Auctions for 1800MHz band were held in February 2015, but in a limited manner. Only three circles had a minimum of 5MHz of contiguous spectrum. As a result, not much spectrum was allocated in 2015, and the DoT is currently in a process to harmonise the band - that is to say, it's rearranging the frequencies allotted so that they become continuous. This is necessary for effective LTE deployment. A spectrum swapping plan is also in works with the Ministry of Defence. The final results of the 1800MHz auctions are below.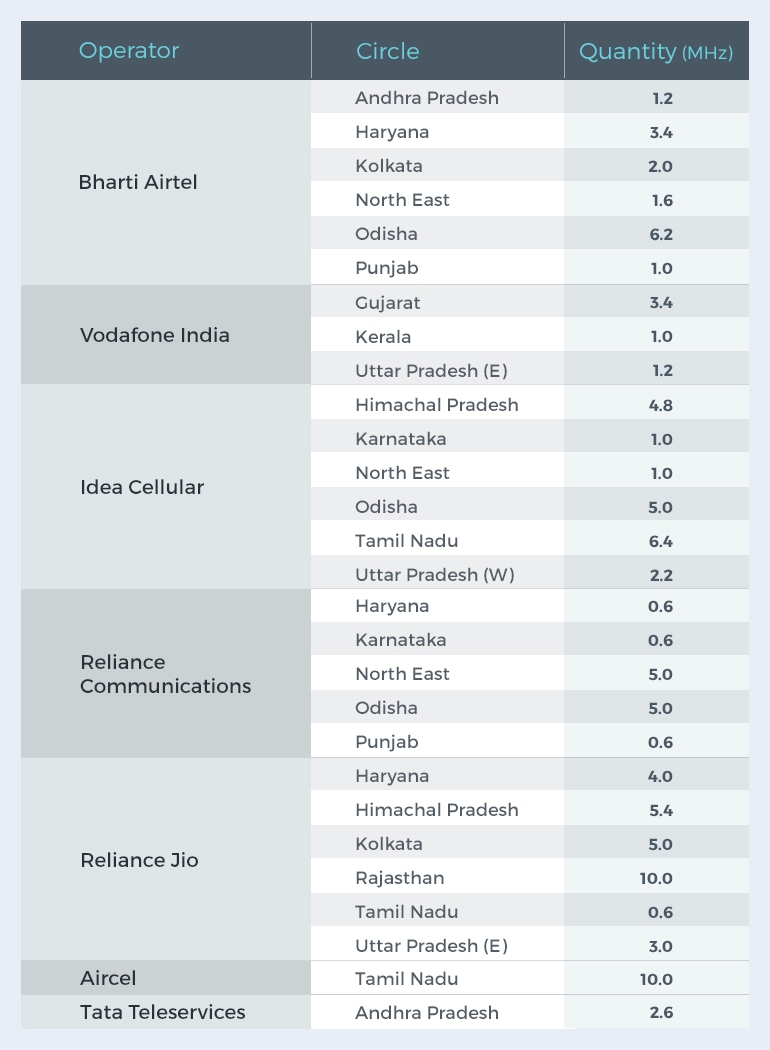 800MHz
The story of the 800MHz spectrum is a little different from the other bands - it was initially used not to set up a wireless network, but rather, to help with the rollout of wireline operators. CDMA technology operating in the 800MHz band was used for last mile rollout, and was first allocated to BSNL in the early 1990s. In 2001, operators were allowed to provide mobility through Wireless in Local Loop technology, but over time, the spectrum in 800MHz was opened up to all mobile services.
In 2008, when the sector was opened up for additional licenses, MTS was administratively assigned two blocks of 2.5MHz in the 800MHz band in all the service areas barring Rajasthan where Shyam (MTS's operator partner) already had spectrum. This assignment was later cancelled by the Supreme Court of India in 2011, citing irregularities in the assignment process.
The SC also ordered that all spectrum must be assigned through auctions, leading to the first spectrum auction for the 800MHz band, after decades of use. In 2013, MTS reacquired two bands of 3.75MHz spectrum in the 800MHz spectrum in 8 service areas (out of the total 22) as the sole bidder. It acquired 3 blocks apiece in Delhi, Kolkata, Gujarat, Karnataka, Tamil Nadu, Kerala, Uttar Pradesh (West) and West Bengal telecom circles.
After this, the next spectrum auction for 800MHz band was held in 2015. In this auction the 800MHz band was auctioned was picked up primarily by Reliance Jio. Tata also picked up some spectrum in the 800MHz band. This spectrum was primarily to be used for providing LTE services. The result of the 2015 800MHz auction is given below.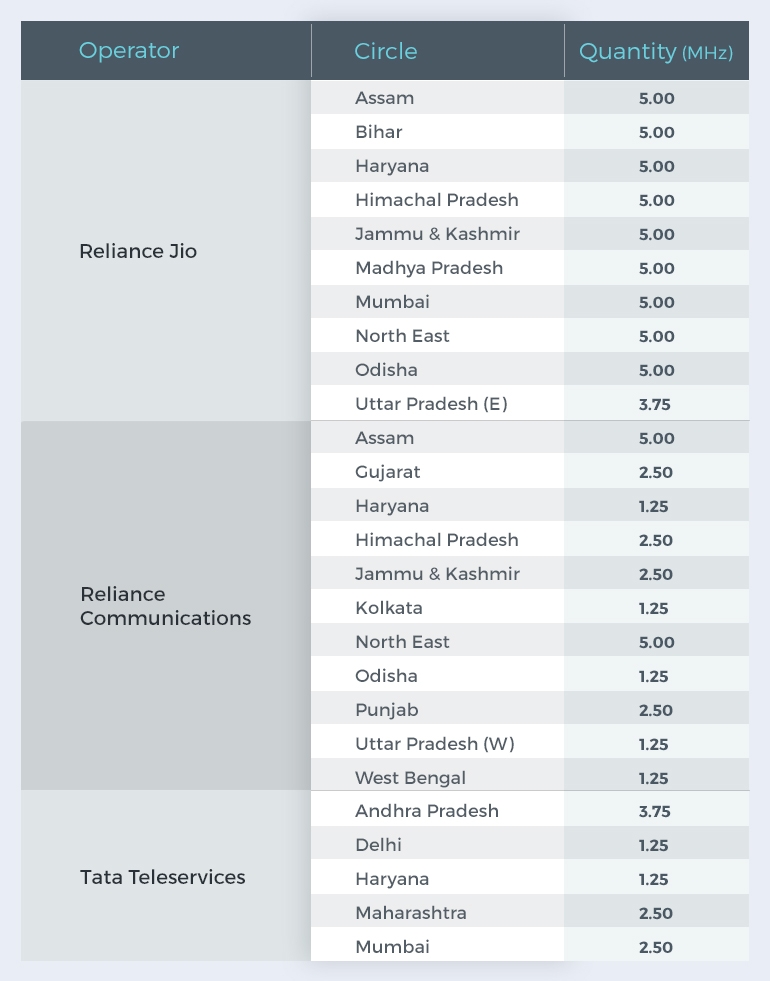 More in our telecom spectrum auction series