First things first: the Xolo Play Tegra Note is not purely a Xolo product. Xolo itself has had no involvement with designing and configuring it. The Tegra Note was created by Nvidia as a reference platform to show off the power of its Tegra 4 ARM processor. Despite it being the fourth generation of mobile silicon from Nvidia, no manufacturer has announced any plans to use it in any current or future device. With inventory lying around and no customers in sight, Nvidia changed its strategy and decided to create its own consumer products.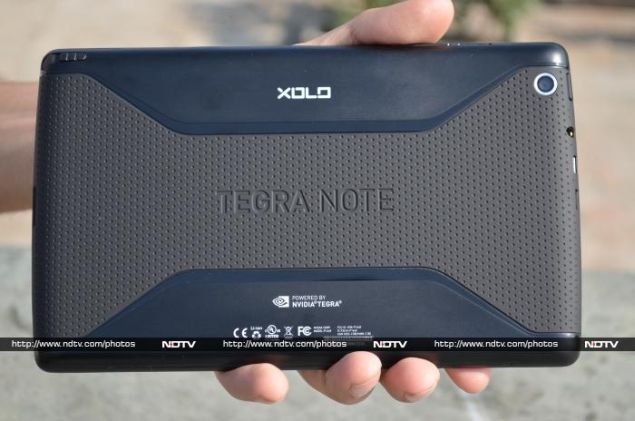 Thus, the Tegra Note and the Shield handheld game console were born. The Shield is an Nvidia branded product sold by the company itself, but Tegra Note is treated a little differently. Just like Nvidia creates reference graphics cards based around its graphics processors and allows all its partners to simply duplicate and put their own stickers on them, multiple brands around the world have simply licensed the Tegra Note design. In exactly the same way, these companies, including Xolo, mainly take care of sales and distribution with their own branding on the box and very little other customisation.
So the Xolo Play Tegra Note is out and out an Nvidia product, down to the colours and typography on the box. In other parts of the world, you'll find exactly the same tablet sold as a Zotac or EVGA product. This isn't a bad thing, since the tablet itself is not only extremely powerful, but also excellent value for money.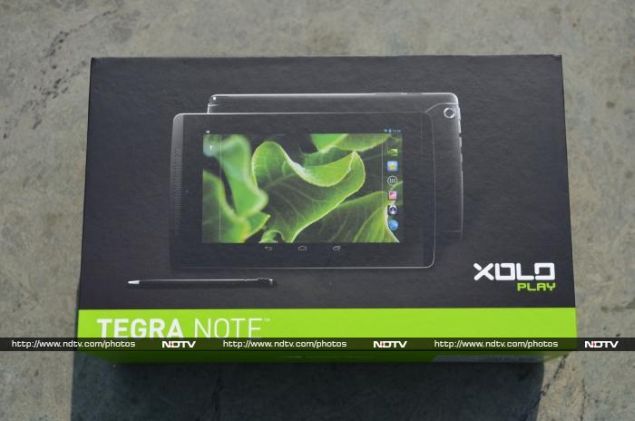 Look and feel
The first thing that struck us when we lifted the Tegra Note out of its box was its weight. At 320g, it's considerably heavier than the latest Nexus 7 and nearly as heavy as an iPad mini. You'll definitely feel it in your hands, especially if you hold it in a gaming or reading position for a long time. The body is made of plastic and there are rubberised grips around the sides and on the back. The tablet's front face is perfectly blank and symmetrical, apart from a tiny dot for the front-facing camera. When picking it up, it wasn't easy to know which way to hold it. The screen is flanked by two wide speaker grilles, and there are no capacitive buttons or logos of any kind.
The body has two rubberised pads for grip, which also lend the Tegra Note a heavy-duty look. We don't have any complaints about the Tegra Note's construction quality, though its body does flex a bit if you apply pressure to it.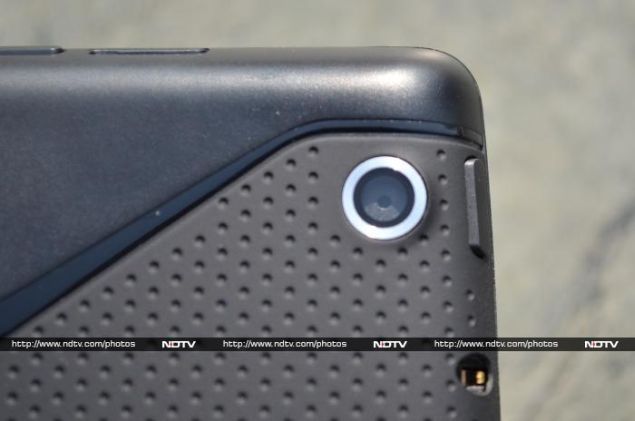 Around the edges you'll find quite a few buttons and ports: Micro-USB, Micro-HDMI, and a microSD card slot (exposed, without even a rubber flap or dummy filler for protection), power and volume buttons, and a 3.5mm headset port. The Tegra Note has no cellular data capability, so there's no SIM card slot. Wireless connectivity comes in the form of Wi-Fi b,g and n support as well as Bluetooth 4.0.
Nvidia has designed this tablet with stylus input in mind. The one that comes with it is slimmer than usual, and has a unique chisel-shaped tip. When you slide it out of the silo on the lower right, a prompt appears on screen asking if you want to open Write or Tegra Draw, the two preloaded stylus-optimised apps. You can add your own shortcuts to the launcher prompt if you like.
The one major disappointment is the screen. For a device created by a graphics firm to promote handheld gaming, the screen is actually quite awful. 1280x800 is not a high resolution by today's standard; the most obvious device to compare it with is the 2013 Nexus 7 which comes with a stunning 1920x1200-pixel screen. Colours don't really pop, and viewing angles aren't as wide as we'd like. Another odd thing is that at certain angles, whether on or off, you can see an array of thin horizontal bands running across the screen. We can't be sure whether this is part of the stylus digitiser or just a manufacturing quirk, and it doesn't interfere with watching movies or reading with the tablet held at arm's length. It's only while playing games, with lots of movement, that they sometimes caught our eyes and felt distracting.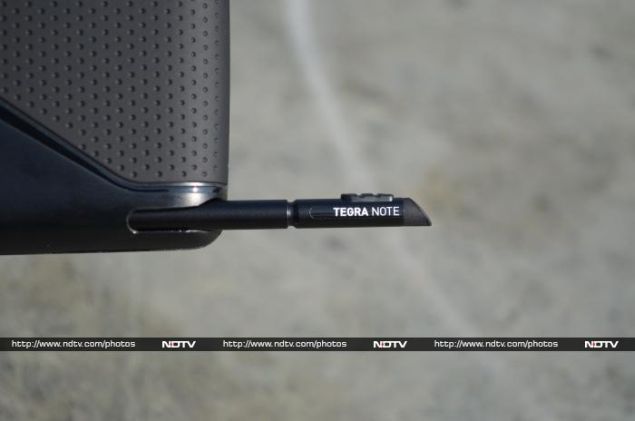 The Tegra 4
It really is all about the processor here. Everything about the Tegra Note has been designed to showcase its potential, although corners have been cut to ensure a low price. The Tegra 4 was designed for tablets, and is far beefier than processors from competing firms that also try to fit into smartphones. It has a few neat tricks up its sleeve, such as a fifth low-power "companion core" that kicks in to allow the four primary cores to go to sleep and consume less energy. While the four main cores are based on ARM Cortex A15 logic, the companion core is based on the lower-spec Cortex A9.
On paper, the Tegra 4 is quite a powerhouse. It has 72 "GeForce-class" cores which Nvidia describes as delivering "console-class gaming experiences". Its graphics pedigree is more apparent in the list of features supported: self-shadowing, HDR lighting, real-time physics, cloth simulation and particle effects. Another buzzword on the spec sheet is "Computational Photography Architecture". Nvidia says that its camera app harnesses the full power of the Tegra 4 processor by delivering always-on HDR without any lag, video stabilisation, and object tracking, though not all these features are available in the Tegra Note at launch time.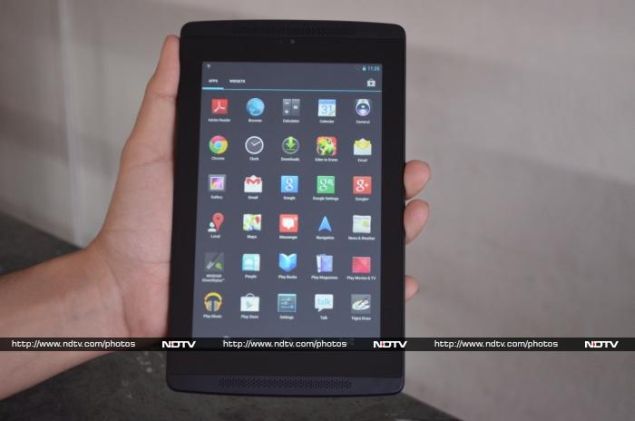 H.264 video decode is standard, and resolutions of up to 4Kx2K (4096x2160) are supported, though only at 24fps. 1080p decode can go up to 60fps.
Software
This is a fairly disappointing area: the Tegra Note runs Android 4.2.2, which is now a year old. Internationally, an update to Android 4.3 has been released, but our test unit didn't pick it up. Even that isn't the latest and greatest version, so we'd like to know whether Nvidia has a timeline in place for delivering updates and how long it's committed to doing so.
The Tegra Note is still quite usable though. The main annoyance is that Nvidia chose to go with soft buttons on screen rather than capacitive or physical ones on the device's face. This eats up a lot of screen space. When playing fullscreen games, there's a black band of wasted space running across the bottom of the screen, with only three faded grey dots in the middle to guide you where to tap.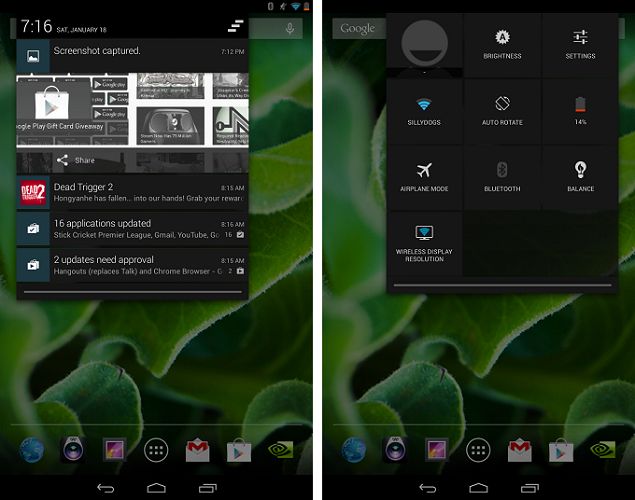 Nvidia offers a Tegra Zone app which handily curates all the games and utilities that show off the Tegra's power. We found a number of titles to sink our teeth into, across a variety of genres. The two stylus-oriented apps, Tegra Draw and Write, also come preloaded. Neither of these was particularly easy to use. Tegra Draw's interface offers no clue as to the various tools available, and we discovered by trial and error that the stylus is quite sensitive to pressure. There's also a potentially useful annotate tool that lets you draw a selection around any part of the screen in any app and copy it into Tegra Draw, but again, there's no direction about how to use it.
Camera
In order to tap into the aforementioned imaging capabilities of the Tegra processor, Nvidia has replaced the default camera app with one called Camera Awesome. It's a pretty full-featured app, with nifty features like a variety of grid overlays to help you frame shots, adjust settings, and quickly switch between still and video. The coolest feature is Focus Tracking, which keeps objects in focus even if they move around the frame or you reframe your shot. Always-on HDR is due to be added in a software update, so we haven't taken it into consideration.
The Tegra Play has a five-megapixel camera which we tested in a variety of lighting conditions. In daylight we were pleased at first with how well each shot seemed to be exposed, but on closer inspection, edges of objects were jagged and there was a fuzzy quality to everything. When scaled down, the shots were acceptable. Low light performance was not good at all. Even foreground objects were poorly defined, and there was excessive noise all over.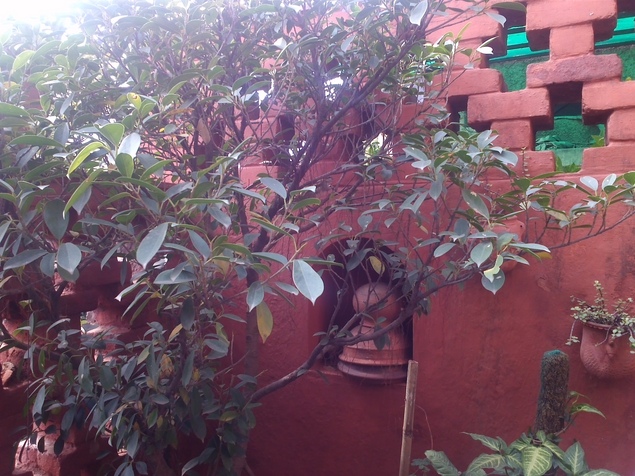 (Click to see full size)
Oddly, videos are saved in 3GPP format. Again, exposure was well managed even when following fast-moving objects. Videos look just about okay on the device's screen and on a computer monitor. The quality isn't going to blow anyone away but it's perfectly fine for recording little moments and sharing them online. The Tegra Note's lens is located very close to the edge of the device, so you need to hold it carefully while filming or you'll end up with a finger blocking half your frame.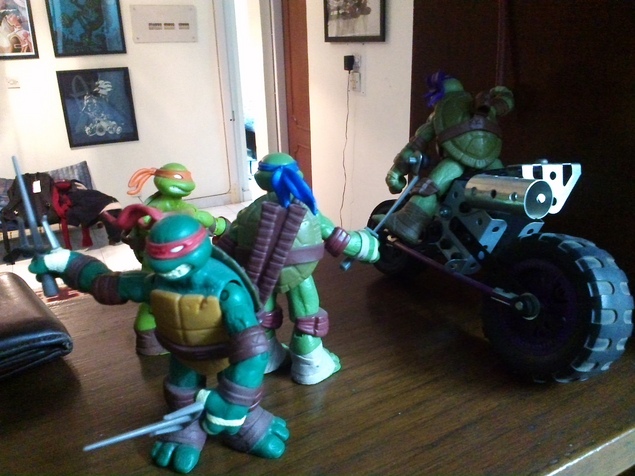 (Click to see full size)
Gaming
Games ought to be the Tegra Note's bread and butter. We found a variety of titles that would test this theory. The most notable of the bunch was Dead Trigger 2, a first-person shooter in which you have to dodge and kill zombies in various scenic locales. The game is "enhanced for Tegra 4 devices", and promises cutting-edge graphics such as water reflections and realistic physics when destroying objects. The game really is visually engaging, and we noticed effects such as lens flares, flames, and light glinting off smoke particles drifting in the air. It's easily one of the best-looking games we've seen on a portable device. The game is fun to play and it never feels like just a graphics showcase.
Another game we tried was Eden to Green, an odd freemium strategy game that plays like Plants vs Zombies with eco-consious messages flashing at the user throughout. It certainly looks like there's a lot of graphics processing going on, but the visuals are cartoonish and the game itself is not very much fun.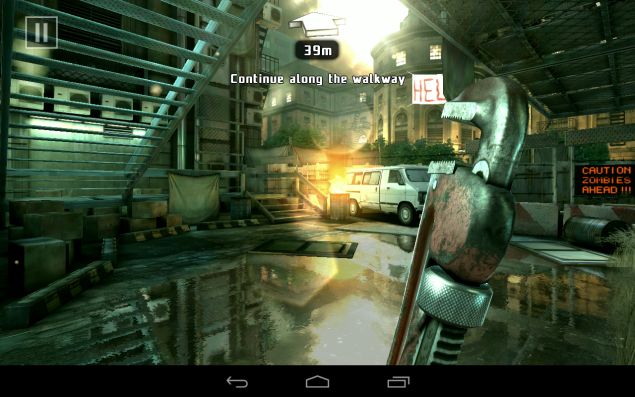 Other games highlighted in the Tegra Zone app include FIFA 14, GTA San Andreas, The Cave, Real Boxing, Dead On Arrival 2, Gangstar Vegas and Zombie Tycoon 2. There's no shortage of titles that would seem to take advantage of Nvidia's hardware.
Nvidia also points out that the Tegra Note is compatible with a variety of third-party game controllers. With the tablet sending full HD video to your TV, you could even use it as a gaming console.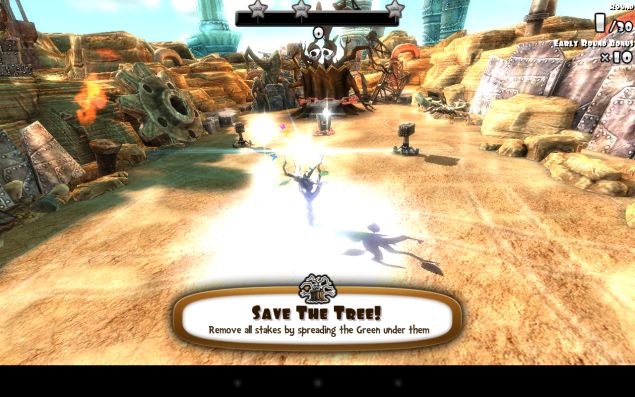 We also have to make a special mention of the Tegra Note's speakers: sound was loud in every game we threw at it. It isn't the best quality sound, which became much more apparent in our FLAC and MP3 music tests, but it's more than enough for immersive gaming.
Performance
Gameplay was consistently smooth, with no stuttering. Load time is still significant-these are pretty heavy games after all. We also noticed a bit of warmth building up during our gameplay sessions. HD videos played flawlessly, apart from a little artifacting on our heaviest AVCHD sample clip.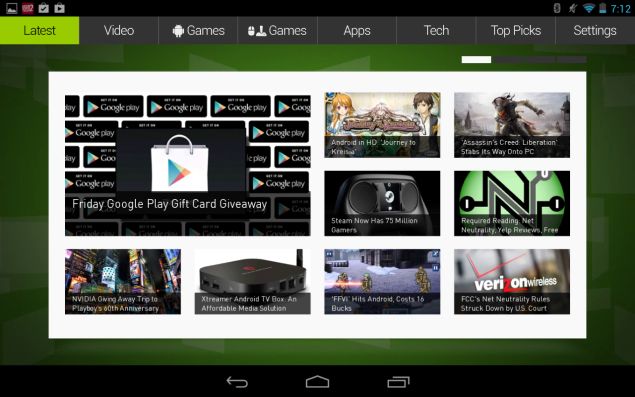 The Tegra Note also scored impressively well in our suite of benchmarks. GFXbench returned a score of 32fps and 3DMark's Ice Storm Unlimited test returned 14,961 points. Both scores bode very well for gaming and general performance, even in the future as new titles are released that push this hardware further and further.
As far as general performance goes, we saw scores that edge out today's most powerful smartphones based on Qualcomm's Snapdragon 800 processor. The overall score in Quadrant was 15,788, and the SunSpider JavaScript test completed in just 547.2ms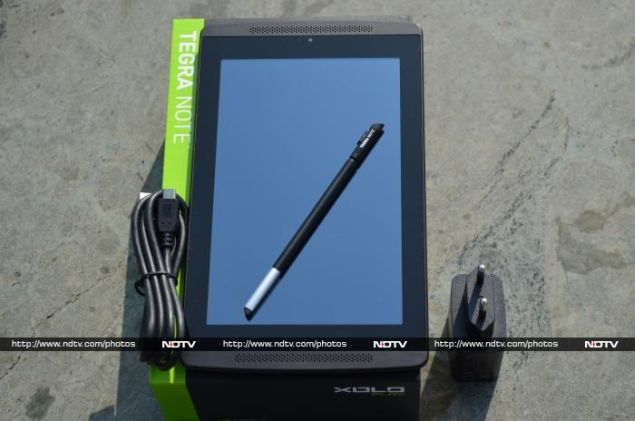 Verdict
One year ago, the Tegra Note would have been a phenomenal tablet. By today's standards it's still impressive, but has a couple of drawbacks that could put people off. The screen isn't on par with other devices on the market, but what's worse is that it just doesn't do any justice to the Tegra 4's capabilities. The stylus is a nice touch, but its utility depends entirely on apps.
Thankfully Xolo has launched the Tegra Note in India with a sensible price tag of Rs. 17,999. Its primary competitor, the Nexus 7 (2013), starts at Rs 20,999. In the same price band, the non-retina iPad mini sells for Rs. 21,900. Between the two Android options, each has its relative strengths and weaknesses: the Nexus has a somewhat weaker CPU and doesn't have expandable storage, but its screen is of a much higher quality. You'll just have to decide which tradeoffs you want to make.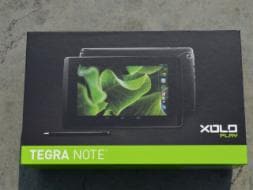 Xolo Play Tegra Note in pictures
Price: Rs. 17,999

Pros

Great potential for gaming
Stylus for apps that support it
Relatively attractive price
Cons

Screen is sub-par
Needs a software update
Ratings (Out of 5)

Design: 3.5
Display: 2.5
Camera: 3
Performance: 4
Software: 3
Battery Life: 4
Value for Money: 3.5
Overall: 3.5