Apple has been king of the hill in the premium tablet segment ever since the original iPad launched back in 2010. We've seen some decent attempts from the Android camp over the years, but none have managed to create that "must-have" craze Apple has so successfully been able to achieve. Samsung wishes to change this with its newly launched Samsung Galaxy Tab S2 tablet. This is the successor to the Galaxy Tab S, which the company
launched last year
.
In India, Samsung has decided to test the waters first by launching only a single model from the new Galaxy Tab S2 series - the Galaxy Tab S2 9.7 LTE. At Rs 39,400, the tablet goes up against the HTC Google Nexus 9 and the Apple iPad Air 2. So, has Samsung made a product compelling enough for you to choose it over the obvious choice? Let's find out.
Look and Feel
The Samsung Galaxy Tab S2 gets a much-needed upgrade in the build and aesthetics department. Compared to last year's model, which was made of plastic, the Galaxy Tab S2 gets a light-weight metal frame with a plastic back. It's also slimmer than its predecessor. Add all this up and we have a tablet that's just 5.6mm thick and weighs 389g. This makes it thinner and lighter than the Nexus 9 and the iPad Air 2.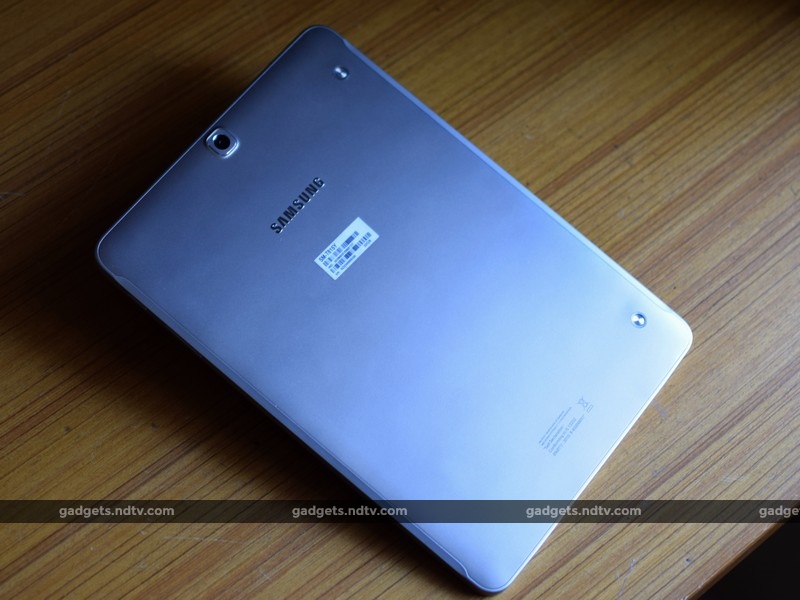 Samsung has also ditched the 16:9 aspect ratio for 4:3, due to which the screen size has reduced to 9.7 inches from last year's 10.5 inches. The upside of losing a bit of screen real estate is that the tablet is easier to manage in your hands when you're watching a movie or reading a book. We found it a bit odd that Samsung doesn't mention any use of scratch protection for the display on their site or in any of its marketing materials. After a quick chat with a Samsung customer care representative, we can confirm that the tablet does not have any scratch protection for the display.

You still get a gorgeous Super AMOLED screen, but with a slight dip in resolution, which is now 1536x2048 pixels. In the real world, this doesn't affect picture quality as text is sharp and colours are vibrant. Sunlight legibility is also very good. The tablet has sizeable side bezels which let you comfortably grip it without accidentally touching the screen. There's a 2.1-megapixel camera near the Samsung logo up top, and the fingerprint-scanner-cum-home-button flanked by two capacitive buttons on the bottom. The chamfered edges add to the premium look of the tablet.
The headphones socket and Micro-USB port are placed on the bottom. We also have grilles for the stereo speakers here. Around the back, we have the 8-megapixel primary shooter and two nubs for attaching optional accessories such as the Book Cover Keyboard. The Nano-SIM and microSD card slots take their place on the right of the tablet, along with the power and volume buttons.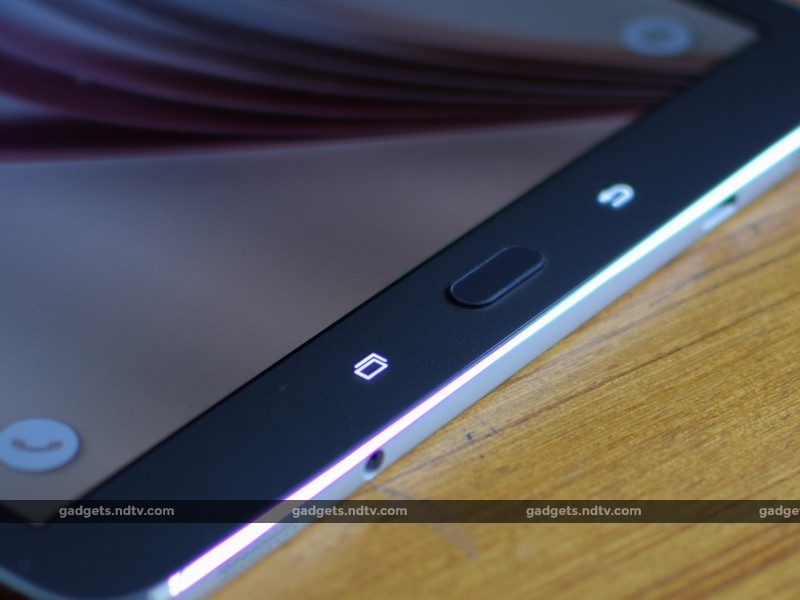 The Samsung Galaxy Tab S2 9.7 scores high points in the build and aesthetics department. The metal frame is a welcome addition and it doesn't hurt one bit that the device is now thinner and lighter than before. It's also more comfortable to hold thanks to the more practical screen aspect ratio.
Specifications and Software
Samsung has refreshed some of the internal components to keep this tablet up to speed. Powering the new Galaxy Tab S2 9.7 is an octa-core Exynos 5433 SoC and 3GB of RAM. Compared to the Exynos 5420 which powered its predecessor, the new SoC is based on the newer ARM-v8 instruction set and features four Cortex-A57 cores running at 1.9GHz as well as four Cortex-A53 cores running at 1.3GHz. This SoC is also built on the smaller 20nm (compared to 28nm) fabrication process, which should improve battery life and reduce heat. You also get LTE support for Indian bands, Wi-Fi b/g/n/ac, Bluetooth 4.1, GPS, GLONASS, TV-out (MHL), USB OTG, and expandable storage via a microSD card (up to 128GB).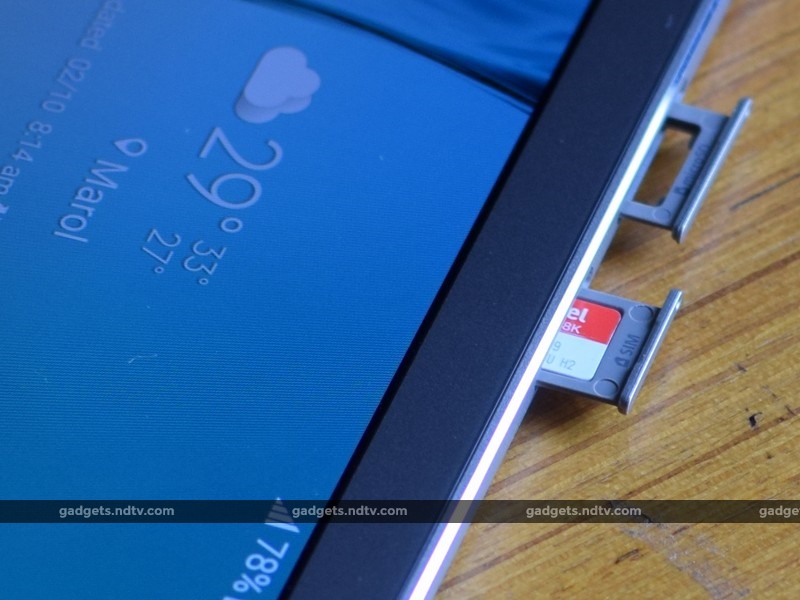 The tablet runs Android Lollipop 5.0.2 with Samsung's TouchWiz skin. It's business as usual in terms of preloaded apps and features which we've already seen in depth in our Samsung Galaxy S6 review. If you use an Airtel SIM, Samsung will treat you to 2GB of 4G data free for two months. You get the typical Samsung apps such as SideSync, Smart Manager, S Planner and the Galaxy App store. Samsung also preloads the Microsoft Office Suite, Skype and OneDrive. You get 100GB of free OneDrive storage space for two years. You can use the split-screen mode to multitask between two apps. Most of the stock apps and some third-party apps can be used this way.
Performance
The Samsung Galaxy Tab S2 9.7 LTE delivers very good performance for multitasking and handles any app you throw at it well. The interface feels smooth and we didn't encounter any noticeable stutter in the animations. The tablet can also be used for making voice calls, which is a nice feature if you ever find yourself in an emergency situation and don't have your phone with you. There's no earpiece (thankfully) so you'll have to either use the loudspeaker or a headset with the tablet. The stereo speakers do a good job as audio during calls is clear and distinct.
The updated SoC posts good numbers in benchmarks. We got a score of 44,893 points in AnTuTu and 29fps in GFX Bench. The SoC is still not as powerful as the Exynos 7420 which powers Samsung's flagship Galaxy S lineup. The placement of the stereo speakers means that they get covered up and muffled when holding the tablet horizontally. We wish Samsung had placed them on two opposite sides for better aural separation.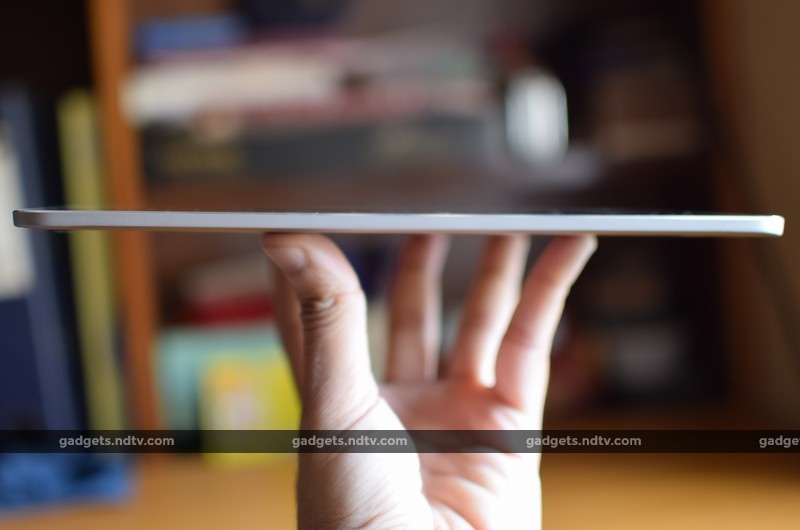 During our test period, the tablet never overheated. It only ever got slightly warm around the centre, but this was not too noticeable.
This tablet is also well suited for voracious readers. The low weight and slim body make it very comfortable for reading eBooks for long durations. We didn't feel much fatigue in our wrists even when using it single-handed for extended periods. The 'Reading' mode in the display sub-menu makes the colour tone warmer, so it's easier on your eyes.
The cameras fitted on the tablet do a good job of capturing detail in photos. If you zoom in to the sample picture, you'll see the licence plate on the white car is quite legible. The camera app gets a 'Pro' mode like we saw in the Samsung Galaxy S6 Edge+. However, there's no option to save as RAW and you don't get controls for aperture and shutter speed. Video recording maxes out at QHD (2560x1440) for the rear camera and Full HD for the front.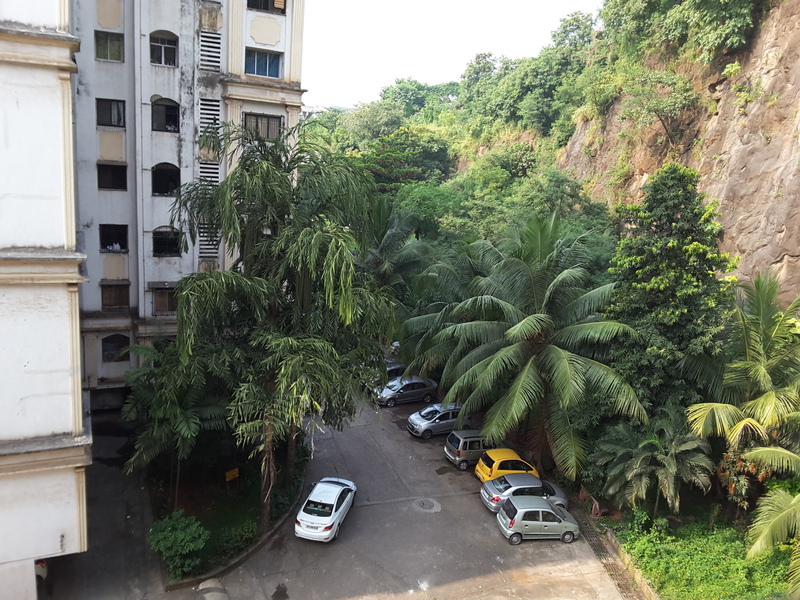 (Click to see full size image)

Due to the smaller screen and to keep the thickness to a minimum, Samsung has had to go with a smaller battery with a capacity of 5870mAh (compared to 7900mAh in its predecessor). We managed to get 11 hours and 44 minutes in our video loop test, which is good but we expected more. With regular use, which included watching a couple of movies and lots of web surfing, we easily went more than a day before having to charge it. This was with an active 4G SIM. If you use the tablet less frequently, you can easily go multiple days between charges.

Verdict
After spending close to a week with the Samsung Galaxy Tab S2 9.7, one thing's certain - this tablet is an excellent choice for those who want to travel light. Samsung has reduced the weight and size of the new tablet without compromising on build or rigidity, which is commendable. The 4:3 aspect ratio makes it comfortable to hold when reading or watching videos. At Rs 39,400 it's also cheaper than a similarly specced Google Nexus 9 or Apple iPad Air 2. Samsung has the edge over the other two when it comes to expandable storage and the ability to make voice calls.
The tablet does have its share of shortcomings. The placement of the stereo speakers could have been better as your hand tends to block one of them when you hold it horizontally. We would have liked a bigger battery too but we're guessing that would have compromised the tablet's weight and thickness. It's also disappointing that you don't get any form of scratch protection for the display. Finally, Samsung's Android updates won't be as timely as Apple's iOS updates or Google's releases for Nexus devices.