We have no idea what's going on inside Samsung, but for some reason the company seems to think we all want to buy new tablets every three months. That's how often it introduces new models, and frankly, it's becoming very difficult to keep track of all of them.
As it stands, there's the main Galaxy Tab line (with suffix numbers going up to 4 by generation and/or additional numbering to denote screen size). There are also the Galaxy Notes (not to be confused with the outsized smartphones of the same name), Note Pros and Tab Pros. That's not to mention a few Lite and Neo variants, amongst others. Some of them make calls, some are Wi-Fi only, some come with a stylus, and some seem to have no specific purpose for existing. In the midst of all this confusion, Samsung has dropped yet another series: the Galaxy Tab S.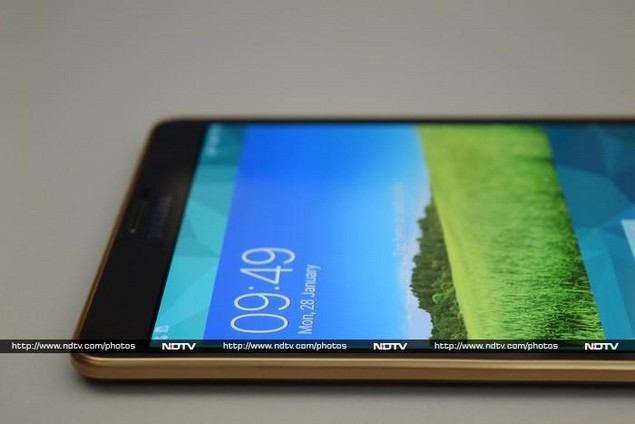 The company clearly has quite a few models that sell well because of low prices - The Tab S line is meant to represent what's possible when cost isn't a consideration anymore. Two sizes are available - 8.4-inch and 10.1-inch - and it's no coincidence that these line up quite conveniently against Apple's two iPad models. The Tab S devices aren't like Samsung's other tablets - they're meant to be sleek, beautiful flagships, in line with the Galaxy S5 smartphone. They both use some of the best hardware and materials currently available, and as far as cost goes, let's just say that you aren't going to find them on a discount rack anytime soon.
We have the non-LTE version of the smaller Tab S with us for review, and after having spent some time with it, we have a pretty good idea of where it fits in the universe.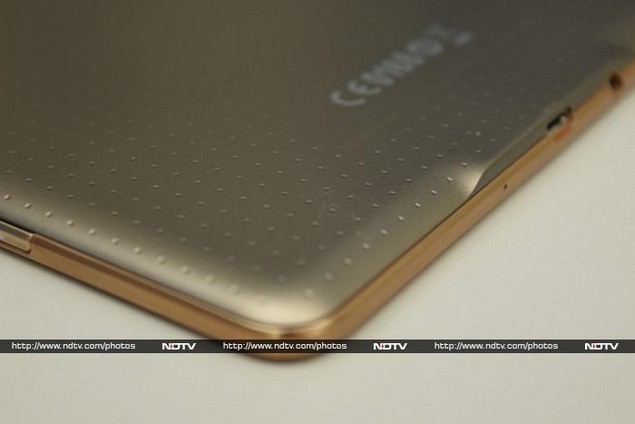 Look and feel
The first thing that struck us about our review unit was its colour - Samsung calls it Titanium Bronze, which is a bit of a contradiction, but it matches the golden Galaxy S5. The S5 aesthetic extends to the shiny dotted rear surface and the metallic accents around the earpiece and Home button. The rich colour of the sides and accents is a bit distracting - thankfully the rear is a more neutral shade. Samsung knows this look won't appeal to a lot of people, and thankfully the device is also available in white.
The Tab S is actually quite attractive. It's remarkably slim, and doesn't have the plasticky feel of Samsung's older tablets. The screen dominates the front panel but there's space for a earpiece and camera above it, and Samsung's usual button arrangement below it. The physical home button doubles as a fingerprint reader, just like the one on the S5.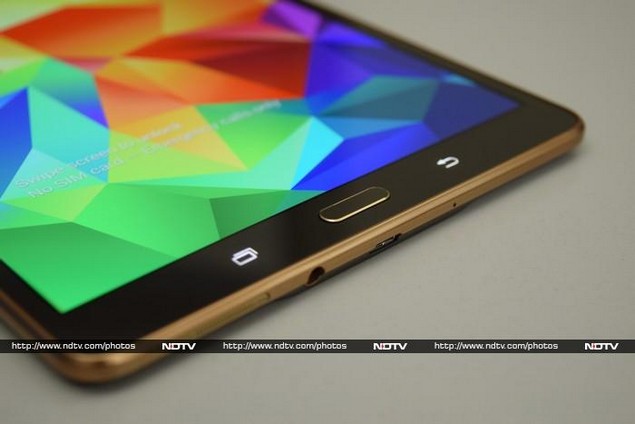 The left edge is blank, but the right edge is quite busy - the power button, volume rocker, infrared LED, Micro-SIM slot and microSD slot are all here. There are stereo speakers on the top and bottom (which become the left and right when the tablet is used horizontally). The Micro-USB port and headset socket are on the bottom as well. There's a camera with flash on the rear. The two circular depressions are for attaching cases or potentially other accessories in the future. We wouldn't have been surprised to see a heart rate sensor here as well, given Samsung's latest obsession, but it's missing.
The Tab S is comfortable to hold both in landscape and in portrait, and it's also quite a bit lighter than the iPad mini with Retina display. The screen's 16:10 aspect ratio is perfect for watching movies in landscape or reading text in portrait.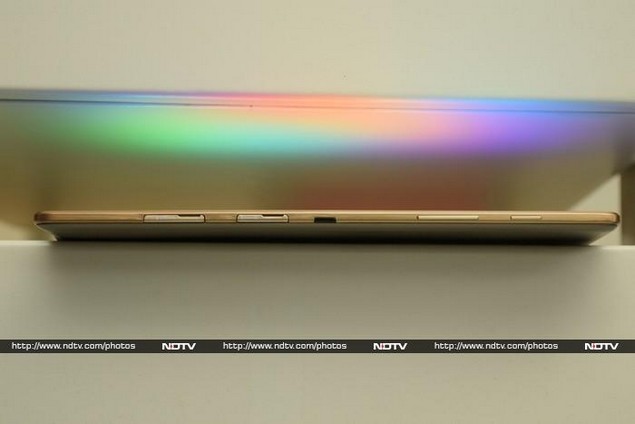 Specifications
The most notable component of the Tab S is its screen. It's a gorgeous 1600x2560-pixel Super AMOLED panel and it will grab your attention as soon as you turn the Tab S on. Colours are vivid and highly saturated, and the high resolution means everything is luxuriously crisp and smooth. This alone will be the reason a lot of people will pay top dollar for this product.
On the inside, there's a powerful octa-core Samsung Exynos 5420 with four ARM Cortex A15 cores running at 1.9GHz and four more Cortex A7 cores running at 1.3GHz. All eight cores can run simultaneously, or the Exynos can dynamically adjust how many are active at a time in order to maximise performance and power efficiency. There's 3GB of RAM and 16GB of internal storage.
All the wireless standards you could care about are supported: Wi-Fi b/g/n/ac (with MIMO), Bluetooth 4.0, NFC, GPS, GLONASS, and of course 3G. A version with LTE support is also available. There's an accelerometer, a fingerprint sensor, a gyro, an ambient light sensor and a proximity sensor. In short, every possible bit of technology that a tablet could have is in here.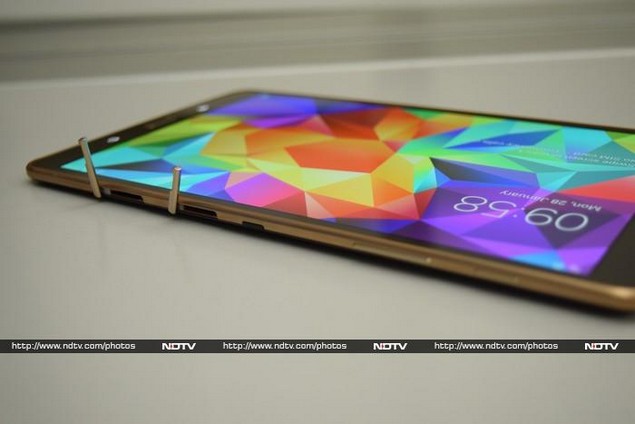 Software and features
Samsung's Android skin is pretty much identical to what we've already seen on the Galaxy Note Pro. The homescreens coexist with the Magazine UX, a tiled interface that shows news stories, app updates and social feeds. You can set up bookmarks, alarms, stock tickers and calendar events from here. There are two pages in the beginning, one with tiles for content updates and the other with app updates. You can resize and rearrange these as you like, but the app tiles only tie in to Samsung's own apps such as Hancom Office and S-Planner. There are 13 content categories and nine dedicated social media services that you can choose from.
One new touch is the permanently visible My Files icon in the bottom left corner of all homescreens. This takes you to samsung's file manager app, which is pretty neat. It's like having a Windows Explorer interface on your tablet. Files are shown in categories, and certain apps like Dropbox also let you browse through their contents from here. You can even connect to FTP servers and network locations such as your PC's shared folders. There's even a Timeline view which shows files you've opened or created in chronological order. A handy Storage Usage tool shows how much space on your device is currently occupied by each kind of file.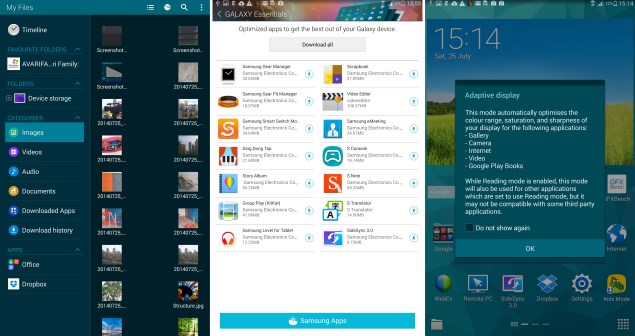 The fingerprint sensor works well, just like the one on the Galaxy S5. You can use it to set up multiple profiles for friends or family members, with personalised settings, apps and documents. There's even a restricted profile for times when you want to share your tablet with guests but don't want them to poke into your private life.
There aren't too many preloaded apps, but there is a huge Galaxy Essentials ad on the second homescreen which takes you to a list of Samsung apps that you can download yourself, if you want. These include the Gear and Gear Fit manager apps, a few kids' games, a video editor, a scrapbook, S-Note (which you'll have to use without an S-Pen), S Translator, and many more. There's Samsung Smart Switch, which helps you transfer content from an older Android or iOS device; Group Play, which create ad-hoc networks with other Android 4.4 devices to share files or set up a virtual surround-sound experience; a sound effects app called Samsung Level; S Console, a launcher app for Samsung's gaming peripherals; and Samsung eMeeting, an app that lets you share presentations to multiple devices' screens.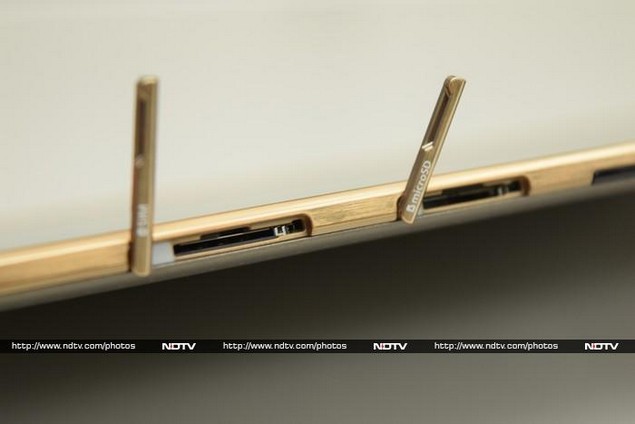 The Galaxy Gifts widget takes you to another list of downloadable apps - these are freebies that come as value-adds. Some are limited-time subscriptions while others are premium versions of free apps. You get 1TB of storage for three months from Bitcasa, 50GB for two years from Dropbox and 50GB for six months from Box, in-game credits for assorted games, three months of comics from the Marvel Unlimited app, six months of premium Pocket and Real Player Cloud, a year of Evernote Premium, six-month subscriptions to the Economist, NYT and WSJ, one free Kindle book per month, and more.
Samsung seems to have overcome its proclivity to preinstall thousands of apps, but it's nice to know that you can choose from all these offers. There are of course still quite a few, and much like the ones on the Galaxy Note Pro, they seem geared for business users. There's Remote PC, Cisco WebEx, Bloomberg Businessweek+, Hancom Office Viewer, and the NYTimes app. There's also SideSync 3, which lets users mirror your Android device's screen on a PC, control it with your mouse and keyboard, and back up data. The Peel Smart Remote app lets you control your TV, set-top box and other AV components.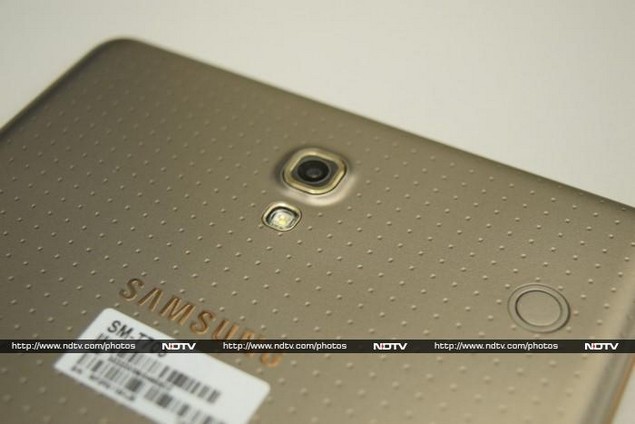 The camera app feels much like the one on the Galaxy S5. There are load of options including a timer, face detection, stabilisation, burst, voice control, white balance and EV adjustment. Of course there are also plenty of modes and effects - HDR, panorama, dual camera, beauty face and "Shot & more" which takes a whole burst of shots and then offers you the best one, or lets you create a dramatic collage or a panning shot.
Overall, it's a strong and coherent showing by Samsung, and makes the Tab S feel packed with extravagant features without going completely over-the-top.
Performance
The Galaxy Tab S threw up some of the highest benchmark scores we've ever seen on a tablet. It's closely matched to the Galaxy Note Pro, which is based around the same Exynos processor and has the same screen resolution. We got an amazing 35,835 points in AnTuTu and 21,200 points in Quadrant. 3DMark turned in a score of 9,336 in the Ice Storm Extreme scenario for high-resolution screens, and GFXBench ran at 14.1fps. This definitely shows the impact of the high-res screen on scores, since the processor has to do much more work to drive it.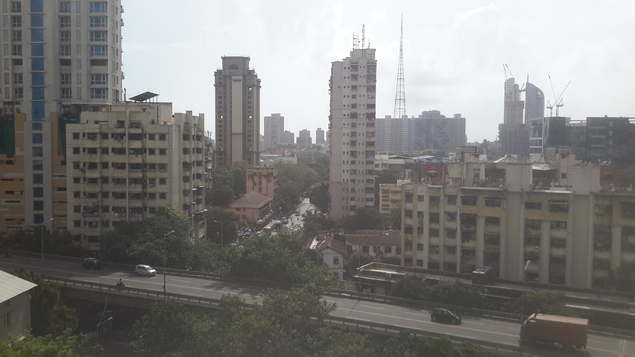 (Click to see full size)

3D games look great, but you'll want to stay away from extremely graphics-intensive titles. We noticed that the Tab S got a bit warm while gaming. The screen is also really good for reading ebooks and Web pages, though you'll want to tweak the screen settings to avoid being blinded by text on plain white backgrounds.
Movies are also brilliant - thanks in part to the powerful stereo speakers - but the screen is so reflective that you'll see your own face when scenes go dark or when there are cuts through black. Music was loud, but quite tinny and not very clear, which is only to be expected. The speaker placement also means sound isn't muffled when the Tab S is lying on its back.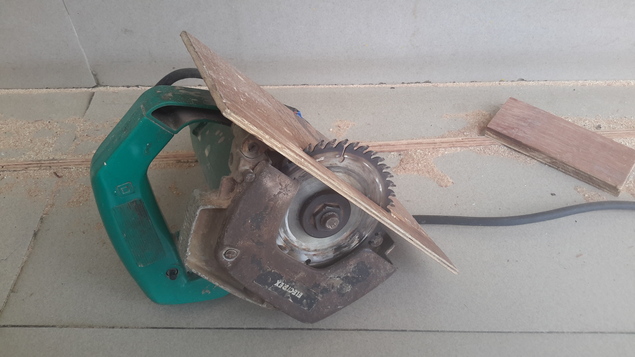 (Click to see full size)

The camera isn't bad at all, but is nowhere near the quality of the Galaxy S5's camera or most other smartphone cameras these days. It does well with subjects that are close by, but detail is terrible in shots of landscapes or objects in the distance. It also struggles with balancing the exposure in bright light. Low-light shots turned out quite noisy though the flash is pretty powerful.
Battery life is exceptional - our test unit lasted for 15 hours and 12 minutes in our video loop test. This should get you through several days of usage.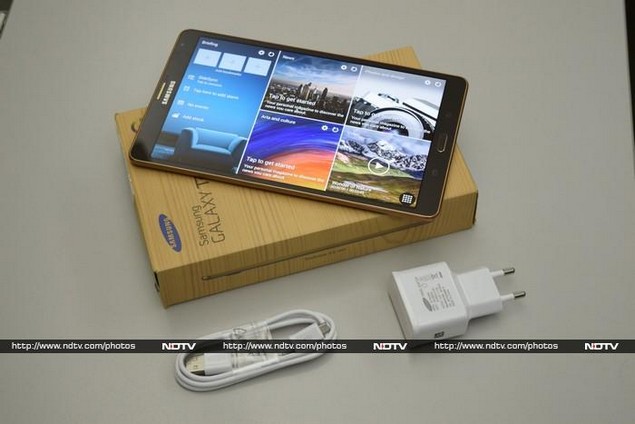 Verdict
The Tab S is a highly polished, premium tablet. It's got more than enough power to do whatever you'd like to do, and it's slim, light and attractive as well. There are no real major faults with it - if you don't like the price, there are plenty of cheaper models in Samsung's arsenal. This is a device for those who like to splurge, and there is no shortage of such people in the world.
The price is comparable to that of the 16GB iPad mini with Retina display and cellular connectivity. Arguably, you get a lot more hardware features here, the most important of which is expandable storage. However, iOS is still a lot easier to use and has a more robust app ecosystem. Apple also offers some killer apps and it won't be long before new models are launched along with iOS 8.
Samsung has created a brilliant tablet which finally brings the Android experience up to par with iOS on an iPad. It's unapologetically premium, but you get what you pay for.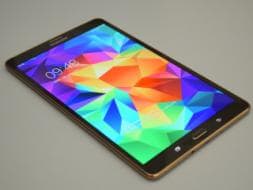 Samsung Galaxy Tab S in pictures