Samsung, the market leader in Android smartphones, on Tuesday
launched a new range of tablets
, the Samsung Galaxy Tab S, in India. Two models with different screen sizes are available - the Galaxy Tab S 8.4 and the Galaxy Tab S 10.5 - with prices starting at Rs. 37,800 and Rs. 44,800 respectively. Both tablets mark Samsung's re-entry into the OLED space. The last tablet by the company with an OLED screen was the Samsung Galaxy Tab 7.7, in 2011.
The Samsung Galaxy Tab S 8.4 and Samsung Galaxy Tab S 10.5 were first launched by the South Korean giant at its Samsung Galaxy Premiere 2014 'Tab in to colour' event in New York City on June 12. Now, at the launch in India, Samsung has revealed that it will be selling the 3G Exynos-based versions of the tablets here in the second week of July. LTE versions with Qualcomm Snapdragon 800 SoCs will follow shortly.
We at NDTV Gadgets got a chance to play with the Samsung Galaxy Tab S 8.4 at its India launch event, and these are our first impressions.
Build, design and display
At first, the design of Samsung Galaxy Tab S 8.4 will remind you of the recently launched Galaxy S5 (Review | Pictures) flagship smartphone. It has the same 'perforated' pattern on the back, with an 8-megapixel primary camera sitting just above the Samsung branding in the centre.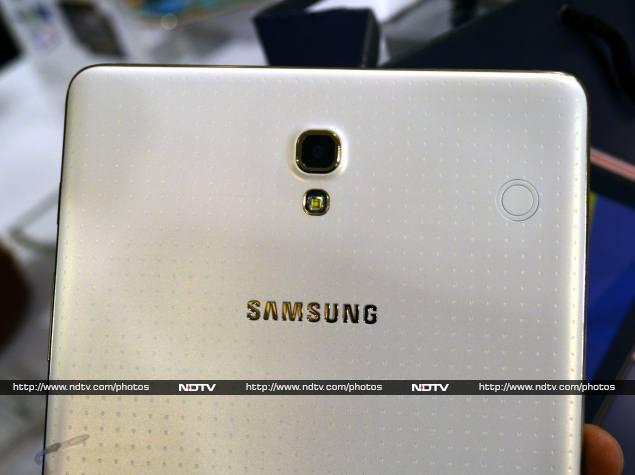 One good thing about the rear panel is that because of its finish you are no longer concerned about fingerprints. Samsung has also tried to be innovative with the back of Galaxy Tab S 8.4 by incorporating two circular clips (see above) for its smart cover, so it can be clipped on quite easily and goes very well with the overall design.
The front of the Samsung Galaxy Tab S 8.4 has a 2560x1600 WQXGA Super AMOLED screen which offers a density of 359ppi (pixels per inch) which is higher than the 324ppi of the 7.9-inch iPad mini with Retina Display. The tablet easily fits in one hand. It's very slim at 6.6mm and quite lightweight at 298 grams as well. We used the tablet for quite some time and never felt that we needed both hands to hold it. The decision to go with a big, high-resolution Super AMOLED screen seems to have paid off, as it did not disappoint us at any time during our usage. The viewing angles, brightness, contrast as well as clarity on this display were all quite impressive, although sometimes we felt that colours were a bit oversaturated - which is to be expected from all AMOLED screens.
We streamed some videos on the device and they all played very nicely, but Samsung's own demo video really blew us away in terms of picture quality. We weren't able to determine its performance outdoors in our limited time, but we will further test all aspects of the Samsung Galaxy Tab S 8.4 when it reaches the NDTV Gadgets lab for a full review.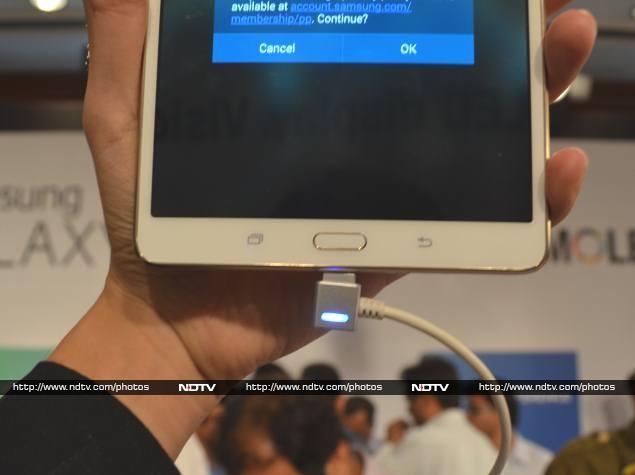 Samsung has also integrated a fingerprint scanner on the home button of the Galaxy Tab S 8.4, just like the one on the Galaxy S5. Notably this is the first time Samsung has included this feature on a tablet. There is also a Multi User Mode that enables up to 8 users to create their own personal profiles.
The entire body of the Samsung Galaxy Tab S 8.4 is made of plastic, although we were hoping that Samsung would do something different here. Overall the Galaxy S5-inspired design and a surprisingly good balance between thinness and solidity left us rather impressed.
Specifications and performance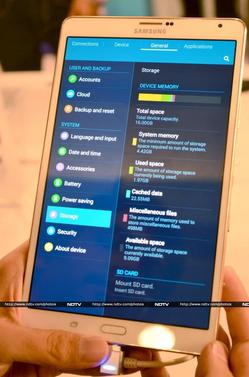 The Samsung Galaxy Tab S 8.4 in India is powered by an octa-core Exynos 5 SoC (four 1.9GHz Cortex-A15 cores and four 1.3GHz Cortex-A7 cores) coupled with 3GB of RAM, while the international version of the tablet packs a quad-core 2.3GHz Qualcomm Snapdragon 800 with integrated LTE functionality.
When it comes to performance, the Samsung Galaxy Tab S 8.4 did a great job in the amount of time we spent with it. Multi-tasking seemed to pose no problem, there was hardly any lag, and touch response was quite good too. Apps opened and closed fairly instantaneously, although these were not especially heavy ones.
The tablet also offers software features such as SideSync 3.0 which allows Galaxy S5 users to mirror their smartphones over Wi-Fi direct. This means Galaxy S5 owners will be able to make and receive calls, and share content on the Galaxy Tab S 8.4. The other connectivity options on the Galaxy Tab S 8.4 include Bluetooth 4.0, Wi-Fi, Wi-Fi Direct, GPS/A-GPS, GLONASS, and 3G.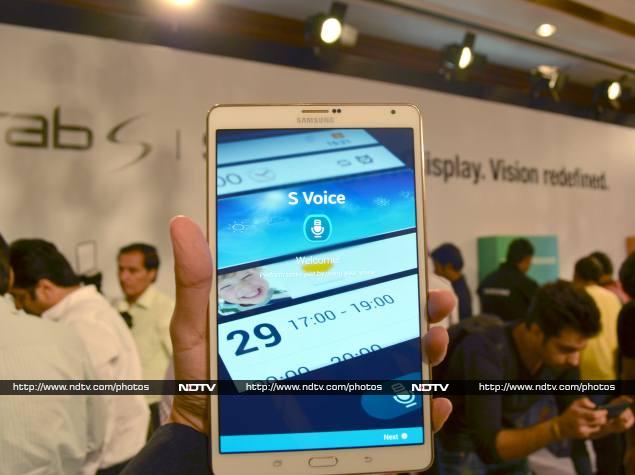 Camera
The Samsung Galaxy Tab S 8.4 packs an 8-megapixel autofocus camera with LED flash which can take pictures of up to 3264x2448 pixel resolution. There is a 2.1-megapixel front-facing camera as well. These are the same cameras that Samsung has put in many other devices.
In our limited time with the Samsung Galaxy Tab S 8.4, we saw that photos looked decent on the Super AMOLED display, although we would like to see how they look when transferred to a PC. We took photos in decent indoor lighting, and the results were average. To find out more about the camera you can wait for our final review of the Samsung Galaxy Tab S 8.4, which will include multiple lighting conditions and subjects.
Final Words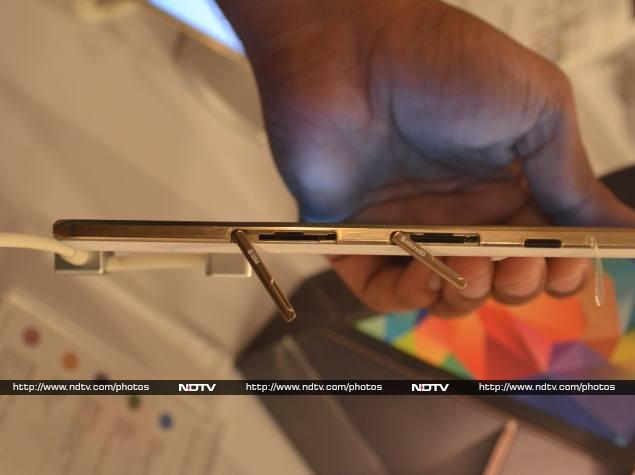 The 3G variant of the Samsung Galaxy Tab S 8.4 is priced at Rs. 37,800 and the Galaxy Tab S 10.5 is priced at 44,800. Both will hit the Indian market in the second week of July. Although the pricing is a bit on the higher side, the impressive specifications and interesting features might give the Galaxy Tab S series an advantage in the price-conscious Indian market.
Our initial impressions are very good, so stay tuned for our more detailed observations and test results in our full review.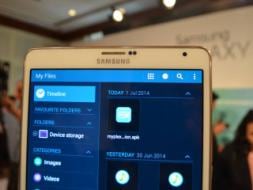 Samsung Galaxy Tab S 8.4