Is 12 inches too big for a tablet screen? We're about to find out. Samsung has decided that the world needs bigger tablets, and so we have not one but two 12.2-inch models from the Korean giant. As if their lineup wasn't expansive enough, these new models are the largest of a range of new Android tablets.
Samsung's lineup of tablets now extends from 7 inches to 12.2 inches. Factoring in the Galaxy Mega and Galaxy Note phones which have screens of up to 6.3 inches, Samsung really does seem to be trying every possible size.
The two biggest models, the Galaxy Tab Pro and Galaxy Note Pro, look identical and have nearly identical features, so it's easy to mix them up. The chief difference is the S-Pen, which has led to this confusing naming scheme. The S-Pen has been reserved for the Galaxy Note series of smartphones, so it probably seemed appropriate to name this tablet Note Pro.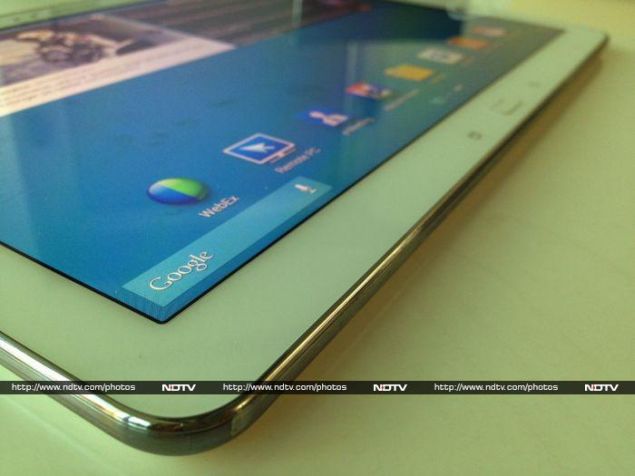 Look and feel
There's no doubt about it; this thing is huge! It's also rather heavy and unwieldy. At 753g, it is lighter than an 11-inch MacBook Air, but you will definitely notice its weight in a shoulder bag. If you're carrying a laptop anyway, you definitely don't want to deal with this much extra weight. The Note Pro thus only makes sense if it can replace your laptop, which is a tall order. Otherwise, it's destined to stay put in an office or home; capable of being carried around from room to room, but not really used as anyone's primary computing device.
The Galaxy Note Pro largely sticks to Samsung's current design formula: the front is sunken white plastic, the edges are chrome, and the rear is textured faux-leather plastic with stitching. We still aren't fans of this aesthetic, but we've resigned ourselves to it. Also true to form, there's a single chrome-ringed physical button for Home, flanked by capacitive Back and Recents buttons.
The Recents button replaces the Menu button, which is no longer necessary in Android 4.4. This means there's a slight difference to how functions are called up, as compared to previous Samsung devices. It only takes a quick tap on the Recents button to switch between apps, and long-pressing it does nothing. A long-press on the Home button now launches Google Now. A long-press on the Back button still pulls up the Multi Window tray, which lets you run more than one app at a time on certain Samsung Android devices.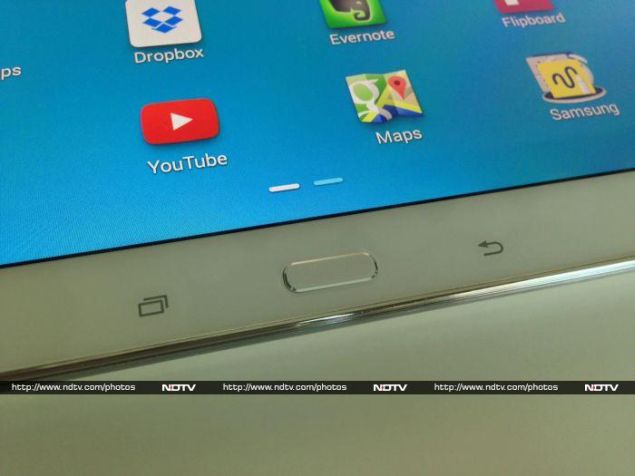 Above the screen, you'll see a Samsung logo along with the 2-meagpixel front camera and ambient light sensor. On the top edge right above these, you'll see the Infrared emitter, with a power/standby button and volume rocker off to one side. Most of the ports and slots are located on the right edge: from top to bottom you'll see the S-Pen in its silo, a speaker grille, a Micro-USB 3.0 socket for charging and data syncing, a covered microSD slot and a covered SIM card slot. There's nothing on the right edge apart from a 3.5mm headset jack and a matching speaker. The bottom is completely blank.
The S-Pen is a decent size but is a bit too thin to offer a good enough grip, thanks to the shape of the Galaxy Note's body. It comes with replaceable tips and a little tweezer tool to help pull them out.
Largely due to its size and weight, we found ourselves using the Note Pro flat on a table. Even when reading books, it wasn't comfortable to hold in our hands or rest in our laps. With this in mind, we would have loved to have had a kickstand or some other means of propping it up a bit.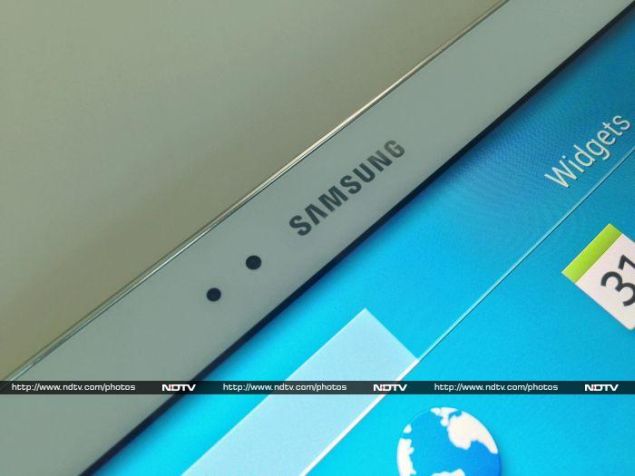 Features and specifications
The main attraction of the Galaxy Note Pro is obviously its 2560x1600-pixel 12.2-inch screen. Just for perspective, this is the kind of resolution we used to see on 24-inch and larger desktop monitors. With most PCs and laptops (no matter how large their screens) still inexplicably stuck at 1366x768, it's no wonder that mobile devices are displacing them so rapidly.
Android scales to the high resolution very nicely, and text is readable throughout. Even the stock Web browser uses all available space rather than displaying content 1:1 and crunching it all in the centre. However, Samsung hasn't really taken advantage of this in its UI design. Icons and widgets are almost comically oversized, especially in the notification shade. We often found ourselves leaning in towards it and then jerking backwards, which took away from the usability experience.
Amazingly, despite its high resolution, the screen is quite grainy. This might be due to the digitizer required for the S-Pen, or the fact that Samsung has used a PenTile panel. It's not always a problem, but it becomes especially distracting when reading text. It feels like the enormous potential of a huge screen has been compromised.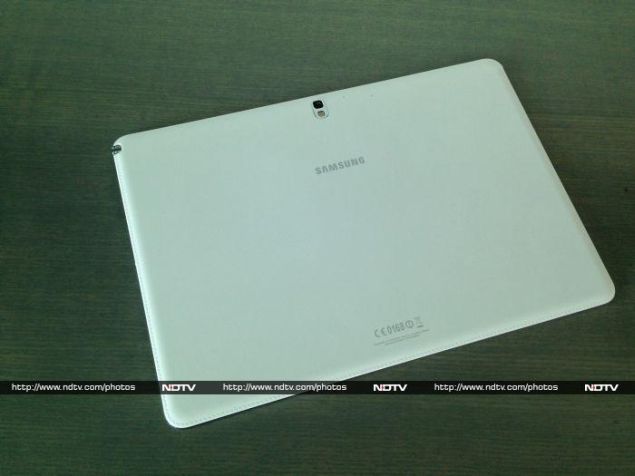 The Processor is an Exynos 5420; one of Samsung's own designs. It consists of four ARM Coretex A15 cores running at 1.9GHz and four Cortex A7 cores running at 1.3GHz. In previous implementations, this sort of arrangement meant that only one quad-core cluster could be active at any time, in order to deliver performance or battery longevity when needed. The new Exynos 5420 uses a more advanced model (known as Heterogeneous Multiprocessing, or HMP) which can schedule tasks to any of the eight cores in any combination. Tasks can migrate from higher to lower power cores and vice versa, making for a far more powerful and flexible system.
The rest of the Note Pro's specifications also live up to that high standard. There's 3GB of RAM, 32GB of internal storage, GPS with GLONASS, Wi-Fi b/g/n/ac, 3G data, an enormous 9,500mAh battery, and Android 4.4.2. The rear camera takes 8-megapixel stills, but anyone who would up a 12-inch tablet to take photos shouldn't expect great quality.
The exact model available in India is the SM-P901. Other variants, the P900 and P905, offer 4G LTE and Wi-Fi only connectivity in other regions.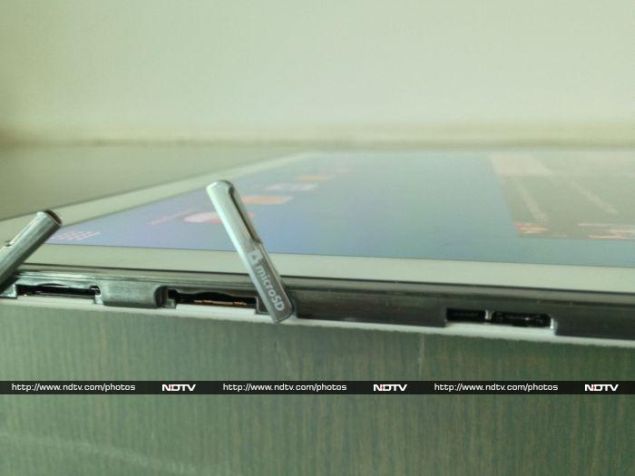 Software
Samsung's moves to downplay Android have been well documented, and the Note Pro's software is evidence of that too. Taking full advantage of the opportunity to tweak the OS for such a large screen, Samsung has made its Magazine UX a bit more prominent, and the Android app launcher a bit less important.
On first boot, you'll see a home screen with two large widget panels and a row of app icons beneath it. Google's search bar is tucked away rather inconspicuously in the lower left corner, and a grid icon in the lower right corner will take you to the usual app launcher icon grid. If you swipe to the right there's another home screen (and you can of course add more), but when you swipe to the left, you're taken into the Magazine UX.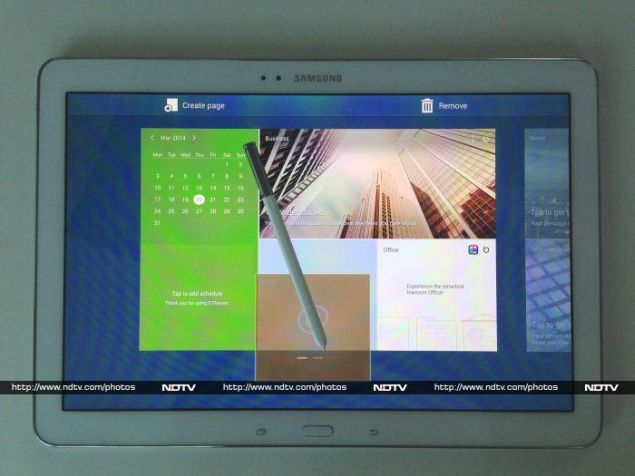 This consists of large square panels, somewhat similar to the Windows 8 Modern UI, but occupying the entire screen. You also see that you can now swipe between multiple Magazine screens, not just one, and the traditional Android UI is reduced to a single dot on the scroll bar, no matter how many screens you have.
Samsung has also done a neat job with its keyboard. The keys all have an old-style 3D look, and you have a full layout including Tab, Shift, Caps Lock, Delete, and arrow keys, along with a number row with alternate symbol characters on each key. You can even use shortcuts such as Ctrl+A to select all text, and Ctrl+ X, C and V to cut, copy and paste. There's a second Shift button as well, but it's beyond the arrow keys. Like most soft keyboards, it takes up half the screen. At least with a 16:10 aspect ratio, there's more screen space to work with.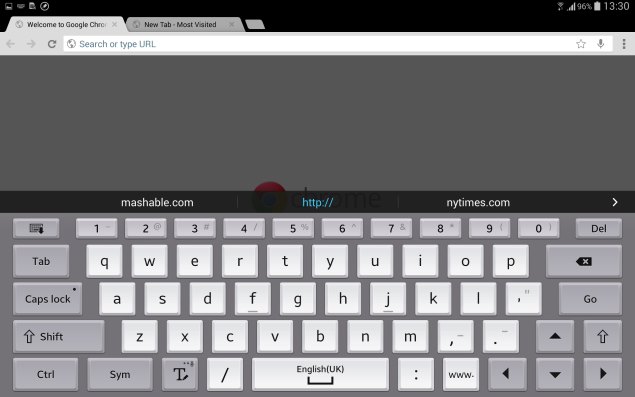 You can have up to six panels on each Magazine screen, which can be news feeds, social feeds, or apps. It looks and behaves a lot like Flipboard, and indeed, most of the news feeds are Flipboard's own. The app panels are basically Samsung's own built-in apps: Email, Gallery, Hancom Office, Messages, Music, S Planner, NYTimes, Samsung's App Store, and Video.
The S-Pen works much as it does on the smaller Galaxy Note devices. Upon pulling it out of its silo, Samsung's floating Air Command menu appears on screen. You can hover over the screen to make a selection, and tap to "click".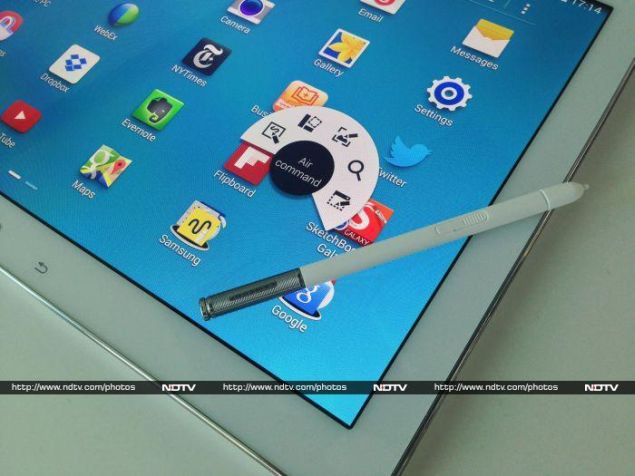 The five major options are Action Memo, which lets you write out an email address or phone number and have it turned into an actionable command; Scrapbooker, whichlets you draw a selection on screen which will then be captured in its original format; Screen Write, if you want to take a screenshot, annotate it and save or share it; S-Finder, a local and Web search app; and Pen Window, which lets you launch apps in floating windows over any app you might have running, without exiting to the app menu.
The S-Pen is handy, but not indispensable. It all comes down to whether you prefer scribbling. You can write out usernames, but not passwords, and Samsung doesn't automatically turn the keyboard into a handwriting recognition area when it knows the S-Pen is out of its silo.
Samsung has also heavily customised the notification shade and quick settings buttons. The Settings app receives an overhaul with items divided into four categories, as with previous Samsung devices. Multi Window functionality has been expanded to allow four apps to work in tiled windows, but we also managed to open five or more apps in floating windows that overlapped each other. Performance definitely took a hit with so many apps open simultaneously, but it goes to show that there's major potential for big, versatile Android devices in the future.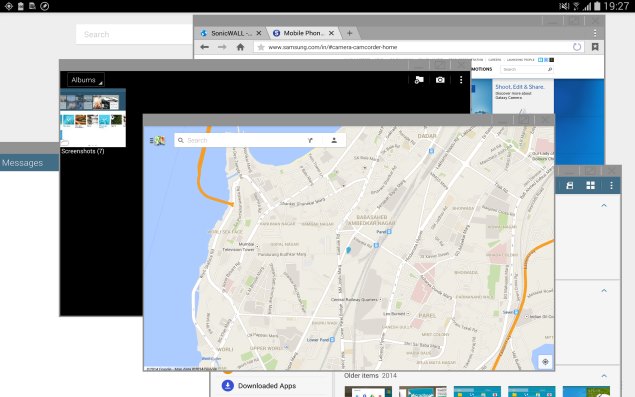 Quite a few apps are preloaded, and the choices seem to lean towards business scenarios, such as Cisco's WebEx, Remote PC, e-Meeting, NYTimes, and Businessweek. Many of these require subscriptions to their vendors' respective services. There's also a version of Autodesk's Sketchbook app, optimised for the S-Pen, which is pretty fun to use, and shows off the Note Pro's pressure sensitive digitiser.
The other app of note is Peel Smart Remote, which uses the built in Infrared port to let you control TVs. It works fine with set-top boxes such as the DTH ones prevalent in India, and includes schedules for lots of local channels. The interface is a little unclear though, and it's a bit of a process to just change channels, since the app insists you browse through a list of shows organised into somewhat unintuitive categories.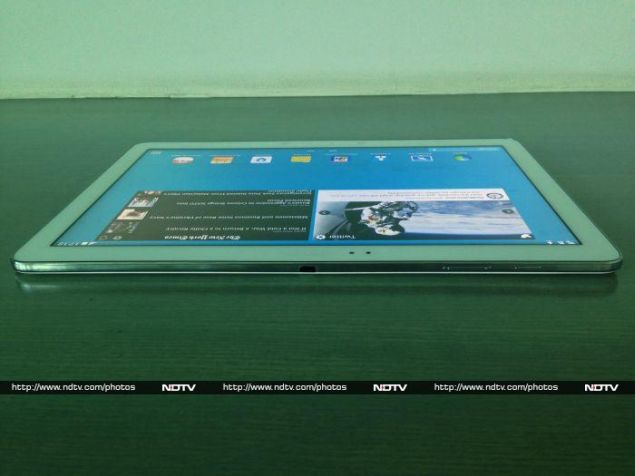 Performance
Benchmark scores for the Galaxy Note Pro were pretty impressive. SunSpider took only 542.3ms, and Browsermark returned a score of 1913. AnTuTu scored 34,136 points, while Quadrant reached 16,415. Graphics scores appeared poor, but we should remember that the screen resolution is far greater than most other laptops, which means there's a lot more work to be done. When compared to smaller tablets, all graphics benchmark results suffered other than 3DMark's Ice Storm Unlimited runthrough, which renders at a fixed off-screen resolution. When we considered this score, balance was restored.
That still means that gaming won't be much fun on the Note Pro. In any case, it's far too large for mobile games that use tilt controls or virtual thumbsticks.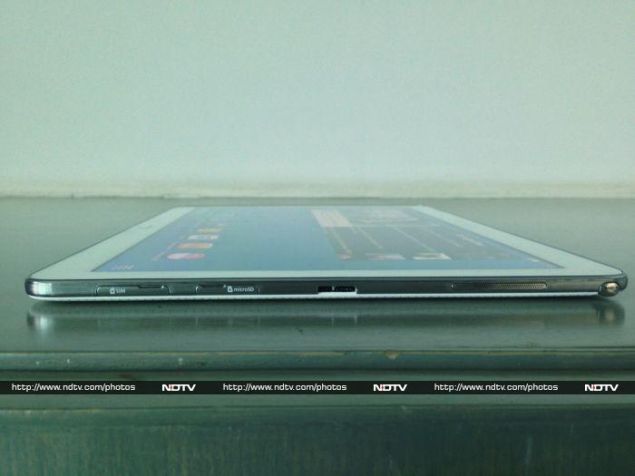 Movies look great on the big screen. Once again we were left wishing there was a kickstand, because this thing could work just fine as a TV or even a secondary monitor at close quarters. It choked on our highest quality H.264 video clip, but everything else in common formats played back well. The two stereo speakers are quite loud and you can fill a small room, but the sound is tinny and compressed.
As expected, there was no problem with performance in general usage. The Note Pro is snappy and responsive, although animations tend to feel laggy because they really are amplified on the big screen.
The battery lasted for 10 hours, 9 minutes in our video loop test, which isn't surprising considering the sheer size of the 9,500mAh battery.
Verdict
It's not hard to imagine that Samsung, having heard rumours of Apple introducing a larger sized iPad, decided to beat them to it. That is to say, they didn't have any purpose in mind when developing this product other than to be the first to do it. It seems a bit far-fetched to us that this product was conceived as a business tool or an office productivity machine. It's an indulgence, pure and simple, and that's not the sort of thing you see in work environments.
You just can't hold it in one hand, and so typing or even using the S-Pen requires that you put it down on a table. That's awkward and uncomfortable, and it's just not the kind of thing you can deal with when you're trying to be productive. Once again, we're left wanting for a stand of some kind. In its current form, the Galaxy Note Pro is much better suited to lounging on a couch with, since at least then you can put your knees up and rest it against your thighs.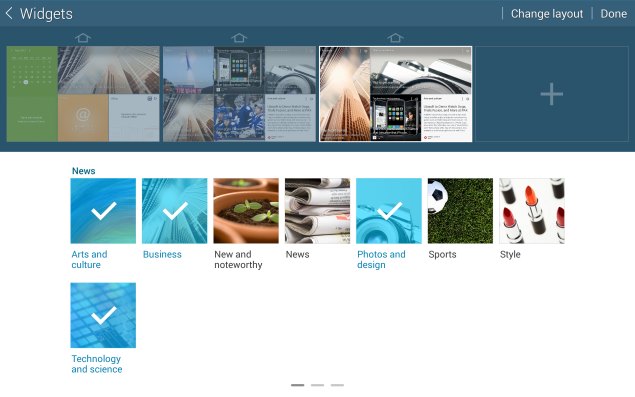 There still could be applications for this product though. Education springs to mind; surely there are apps for children that would work wonderfully on a bigger screen, especially in classroom environments with groups of students around one device. Maybe it could be a tool for creative professionals in production environments: music and video editing also seem like prime candidates, along with creative illustration, of course. Beyond that, maybe elderly folk or those with mobility impairments would really appreciate the spacious keyboard and simple interface, as compared to laptops or PCs that are generally difficult to use.
We shouldn't have to struggle so hard to justify owning such a product, and so the whole thing just falls flat for us. Sure, it works well and represents some genuine innovation in the market, but how practical is it, really, for most people? That's not even factoring in the amount of money it costs, which could just as easily be spent on a very capable laptop.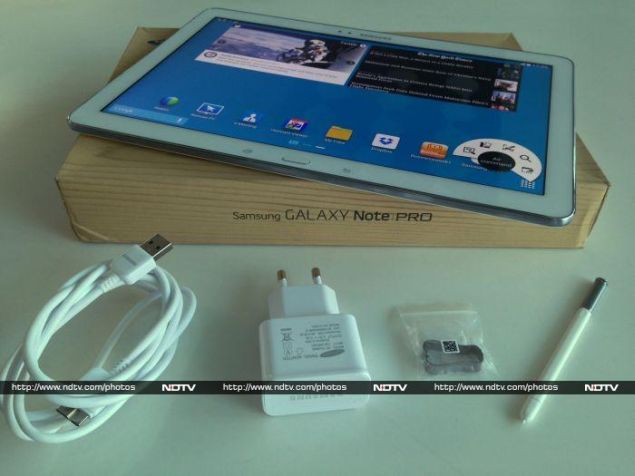 In fact some convertible Ultrabooks, which offer a balance of tablet and laptop features, cost even less than the Note Pro, such as Lenovo's Ideapad Yoga 13, which comes with an Intel Core i5 CPU, 4GB of RAM, a 128GB SSD and 13.3-inch 1600x900 screen.
So as much as we want to like the Galaxy Note Pro, we really can't see any reason to be excited by it. Perhaps its near twin, the Galaxy Tab Pro, will offer better value for money, but we can't help but feel that as far as Android tablet sizes go, 12.2 inches is well past the point of diminishing returns.
Price: Rs. 65,575

Pros

S-Pen

Good battery life
Potential for multiple uses

Cons

Grainy screen
Bulky and heavy

Expensive

Ratings (Out of 5)

Design: 4
Display: 3.5

Camera: 2.5

Performance: 3.5
Software: 3.5
Battery Life: 4
Value for Money: 3
Overall: 3.5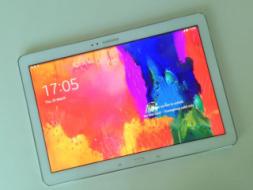 Samsung Galaxy Note Pro in pictures