The stylus is back in business and we should give Samsung some credit for this, which released its first S-Pen sporting device, the Galaxy Note last year. The so-called phablet turned out to be a decent success for the company. The Korean manufacturer has since moved forward to reveal the successor and a bigger version of its Galaxy Note in the form of the
Note 2
and Note 800 respectively.
Samsung Galaxy Note 2 is yet to reach India, but the Note 800 (called Samsung Galaxy Note 10.1 in other markets) has already landed in the country. Packing a quad-core processor and Ice Cream Sandwich, the tablet looks enticing on paper but do the specs translate into real performance? We shall find out in this review.
Hardware
Don't expect any design innovation here. Samsung has played safe and kept the looks of the Note 800 similar to its other tablets. Blame it on the design patent troubles with Apple, or just laziness, there is nothing extraordinary about Samsung Galaxy Note 800's looks. That said, it isn't bad either. The Note 800 is a decent looking Android tablet, but the all-plastic build makes it feel cheap.
You can even the feel the plastic in your hands. The plastic back of the tablet bends if you apply pressure - certainly not Samsung's best work.
At just 0.35 inch thickness, the Samsung Galaxy Note 800 is slim and feels light in hand, so you at-least won't have trouble holding it for long durations.
The front of the tablet is largely taken by the 10.1-inch display, which is surrounded by a huge bezel and a dark silver border framing stereo speakers.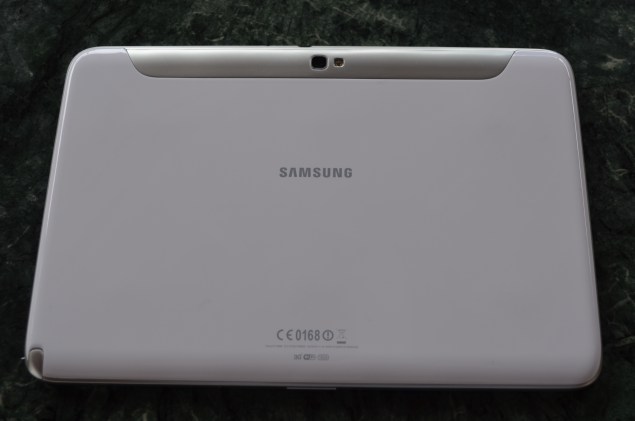 The top of the tablet features the power button, volume rocker, SIM card slot, microSD card slot, infrared sensor and 3.5mm jack, which is pretty much everything apart from the proprietary charging-cum-data port that is present at the bottom. We don't find any sense in why Samsung uses this proprietary port, when a Micro-USB would be much more useful and easily accessible.
Samsung also bundles its S-Pen with the tablet, which fits at the bottom right of the device. The company has made the S-Pen slot smart as it recognises when you pull out the pen and gives you a shortcut menu of apps, which support S-Pen or even wakes up the tablet if it is in the sleep mode.
Display
The 10.1-inch display on the Note 800 comes with 1280x800p resolution, which is slowly becoming obsolete for 10-inch or bigger tablets and the full-HD is the latest trend. Apart from that, the viewing angles are decent and the display is sufficiently bright for indoor as well as outdoor usage. The colour reproduction is also good.
The display is however a fingerprint magnet and loves smudges.
Camera
We aren't the ones who click photographs with our 10-inch tablets and the Galaxy Note 800 doesn't offer anything that'll change that.
If you do plan to click, Samsung has included a 5MP rear camera with LED flash on the tablet, which in no way spectacular. The resulting images are mediocre, at best. Similarly, the recording video quality is just okay and the camera only allows you to record 720p videos.
The tablet also comes with a 1.9MP front camera, which can be used for video chatting or making video calls over 3G network.
The camera app is decent and includes quite a few options to tweak, like effects, focus mode, and white balance.

Software/ User Interface
Samsung has pre-loaded Ice Cream Sandwich on the tablet with its Touchwiz UI on top. Considering that Jelly Bean is already out in the market, we are a little disappointed to see Android 4.0, especially given the fact that Samsung was one of the first manufacturers to get hold of Jelly Bean source code as they are involved with Galaxy Nexus. Anyways, company has promised to provide Android 4.1 before the year-end.
As expected, you will hardly notice any stock Ice Cream Sandwich on the tablet and everything has been completely customised. While some of these customisations are good, others are totally unnecessary.
One of these unwanted customisations is the irritating touch sound, which is enabled by default in the tablet and we are not sure why Samsung thought it was necessary to keep it enabled out of the box.
Samsung has replaced the default Android apps for Calendar, Browser and Email with its own re-worked versions, which in no way seem to add any value. However, the one place where Samsung's customisations do add value are its mini apps. Tapping the ever present small arrow in the bottom of the tablet brings forth the full list of mini apps, which can float on any existing open apps and with a single click; you can even open their full version.
These mini apps are Alarm, Calculator, Email, Messaging, Music Player, Phone, S Note, S Planner (calendar app), Task Manager and World Clock.

Another useful Samsung customisation which we will also like to see in the tablet version of stock Android, is multiscreen mode. It allows you to open select apps side-by-side. But the usability is lowered because multiscreen only works with Polaris Office, S Note, Video Player, Gallery, Email and Browser.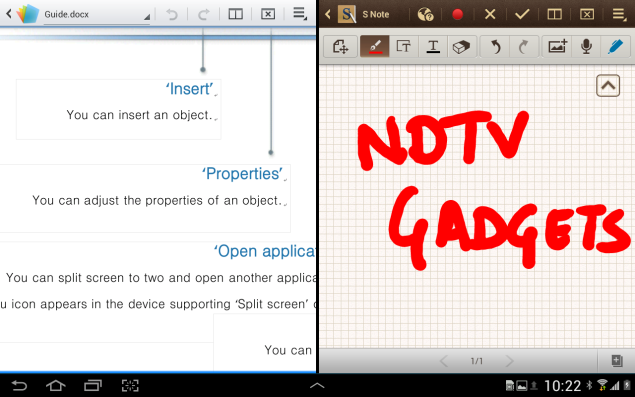 Samsung has also added a Safari like Reader mode in its custom Android browser which allows you to view the vanilla version of a webpage sans all the ads, links, menus and other media. It is especially useful on websites filled with too much of unwanted content.
The company has also bundled quite a few apps including Adobe Photoshop Touch (costs $10 in Play Store), ChatOn, DropBox, My Education (content for students), Polaris Office, and Peel Smart Remote.
Overall, the Note 800 is a mixed bag on the software front, though Samsung has added some useful stuff. The reworked version of the default apps does not necessarily work as well, as the company would have hoped.
Performance/ Battery Life
The Note 800 includes a 1.4GHz quad-core processor and 2GB RAM, which makes it one of the most powerful mobile devices in the market and this raw power is visible in the daily performance of the device. However, there is still some lag in the tablet when working in the multiscreen mode. The tablet takes some time while switching between two apps in this particular mode, which should not be the case in a device with a quad-core processor inside.
It seems the software is not optimised to really make use of all this power. We hope that it changes with the Jelly Bean update, which is due sometime later this year.
On the battery front, the Note 800 comes with a huge 7,000 mAh battery that gives sufficient amount of juice to last through more than two days on normal usage, occasional gaming and 3G usage as well.
The tablet also offers voice-calling and messaging, which is certainly a plus, but not many of you would be making calls from your tablet unless an emergency.
Overall, the tablet works pretty good and unless you open all apps at once, decide to do some really heavy multi-tasking, you will have no problems with the Note 800's performance.
S-Pen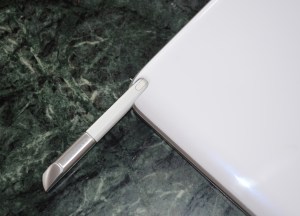 The USP of the Samsung Galaxy Note 800 is the bundled S-Pen and the supported app ecosystem. Since the original Note, Samsung has improved quite a few elements in the stylus and it is more fluid and responsive. Same can be said for the software.
The S-Pen now supports up to 1024 degrees of pressure, not sure how much of these pressure points are going to useful in real life. Hardware-wise, the S-Pen has grown in size, but it is still lighter than the normal pen.
App-wise, Samsung has included support for S-Pen in S Note and Adobe Photoshop Touch. More apps are available in the company's app store. S Note gives you the option to work in pre-defined templates or a blank one. It also supports handwriting recognition, but this one's a bit of a hit and miss.
Verdict
The Samsung Galaxy Note 800 looks great on paper, however not everything is hunky-dory when it comes to practical usage. The tablet has its own share of problems including the user interface and build quality. The software also doesn't seem to be optimized for utilising the raw power of a quad-core processor; however the overall performance of the tablet is still good apart from odd hiccups.
In the end, all of it comes down to whether you want S-Pen or not, then the level of integration the Note 800 offers with it is great and if you are ready to pay close to Rs. 40,000 for the same, then go for it. In case you decide otherwise, we suggest you take a look at other much cheaper options including the company's Tab 2 10.1, which comes with ICS, dual-core processor and 10.1-inch for Rs. 32,000.


For more pictures of Samsung Galaxy Note 800, check out our gallery

Price: Rs. 39,990
Pros
S-Pen support
Cons
Poor Build Quality
Too much customisation from Samsung
Ratings (Out of 5)
Design: 3
Display: 3.5
Performance: 4
Software: 4
Battery Life: 3.5
Value for Money: 3
Camera: 3.5
Ecosystem: 4
Overall: 3.5