The name Notion Ink brings up a lot of memories. Four years ago, when the original iPad was brand new and every hardware company in the world was rushing to produce a marketable alternative, one plucky Indian startup arrived on the scene all of a sudden with its own, apparently revolutionary new product. It didn't take the Notion Ink Adam long to become a sensation - its unusual design, custom user interface and dual-mode Pixel Qi screen were just some of the features that stood out compared to everything else available at the time.
Excitement and anticipation ran high for what seemed like years, and hordes of people were willing and eager to buy an Adam. Blogs and forums dedicated to it lit up the Internet, while even mainstream news outlets praised the tiny startup, its vision and ambitions.
None of it really materialised. The Adam was plagued by delays and setbacks. The final shipping product was a massive disappointment and was widely panned for failing to deliver on its promises. A quick Web search for Notion Ink Adam now shows results ranging from ridicule to fury - even the company's most enthusiastic fans have long since forgotten about it.
But Notion Ink has not disappeared altogether. It's back on our radar with a new tablet named Cain - the son of Adam. We're interested in seeing what the company has managed to come up with after learning its lessons the hard way.
Look and feel
First of all, the Cain is a perfectly ordinary Windows 8 tablet. There are no creative design elements when it comes to the size, shape or materials this product is made of. The included keyboard case can be used to prop up the Cain tablet, turning it into a pseudo-laptop. This is a low-cost way to offer both tablet and laptop functionality. In particular, the Cain functions much like the Croma 1177 (Review | Photos) we reviewed a little while ago - both products are promoted by Intel, which likes to call them 2-in-1s.
That said, the Notion Ink Cain is a little more refined than Croma's offering. Its construction quality is pretty good, and it feels quite sturdy, if not exactly premium. There is a large metal plate on the rear, though the body itself is plastic. The body is an unusual deep brown colour, which we quite like.
When not docked, the Cain is easy enough to carry around. At 630g, it's heavier than most tablets but lighter than most laptops. All the ports are lined up along the left: you'll find a standard USB 3.0 port and a Micro-USB port, a microSD card slot, a DC power inlet, Mini-HDMI video output, and headset socket. The Micro-USB port can be used to charge the Cain, which is really convenient, and also to connect USB devices via an OTG adapter (native Micro-USB storage devices are also available).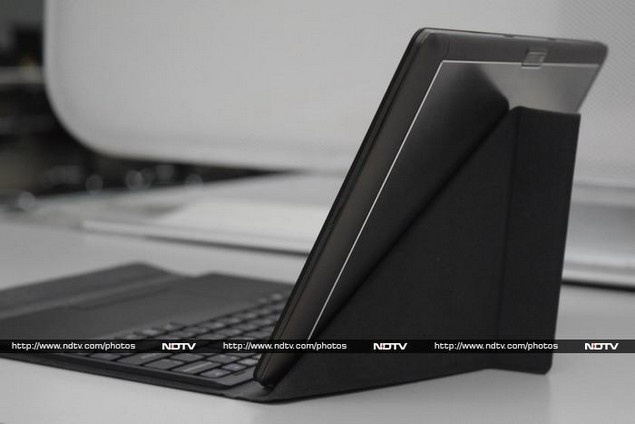 There's also a power button and barely visible charge indicator on the left. The volume buttons and speakers are on the top, and the right edge is totally blank. On the bottom is a custom connector for the keyboard dock and two notches to help the dock fit securely.
The keyboard is surprisingly comfortable. It's cramped and the layout has its quirks, but it really does make the Cain a lot more versatile. Windows 8's on-screen keyboard is not exactly easy to use and winds up blocking too much of the screen. There's also a functional trackpad on the keyboard dock, tough we found it far too rough, and its buttons too mushy.
We did have some problems with propping up the Cain tablet using the keyboard dock. The folding flap never felt stable enough, and in fact it did collapse quite often. We had to be very careful when repositioning the Cain on a table, as the magnetic clasps often just gave way, sending the tablet down with a thud. We also never managed to balance it upright on our laps. The Croma 1177 had exactly the same design but used more material for the clasp, which didn't look so good but did work better. One of the plastic dock tabs holding the Cain upright also broke off within a day or two of perfectly ordinary usage. (Update: Notion Ink pointed out to us that the cover can be folded in a different, less obvious way, which we tried and found to be more stable though also more cumbersome. Retail boxes will apparently have a leaflet explaining this, though our review unit did not come with any such instructions).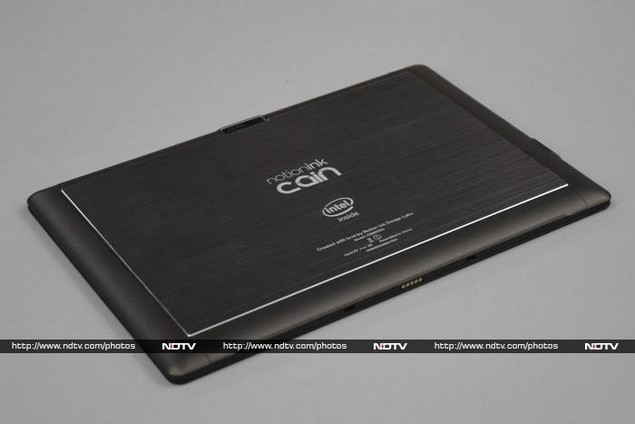 Specifications and software
Notion Ink's website is overflowing with exuberant descriptions of extremely ordinary things, such as the fact that the Cain runs Windows 8.1. There are also several rather questionable claims, for example that the Cain is the "first Ultra-book that transforms into a tablet" and that "memory can be extended to any size you want" (which apparently only refers to the fact that external hard drives can be plugged in).
What's even more questionable is that Notion Ink advertises the Cain's Atom Z3735 as a 1.83GHz CPU, when in reality this is only its Turbo Boost frequency (the words "burst frequency" appear alongside in the specs list, but not on the homepage or the official Snapdeal listing). The base frequency, according to Intel documentation, is 1.33GHz. The integrated Intel HD Graphics is also creatively described as a "Gen7" GPU. All of this is misleading, and certainly not in line with standard industry practises.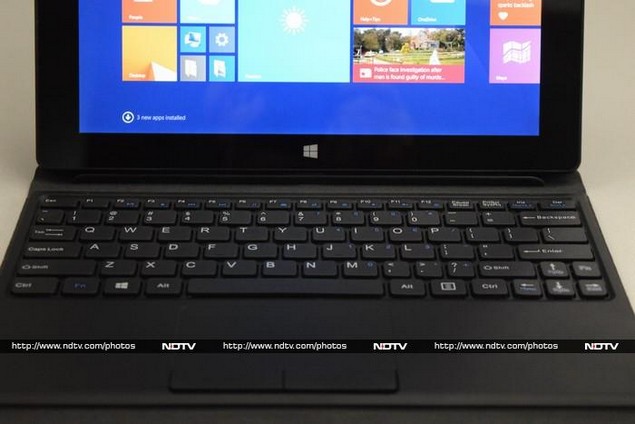 The screen is a 10.1-inch IPS LCD with a resolution of 1280x800 and 10-point multitouch input recognition. The front and rear cameras are both 2-megapixel units.
The Cain has a decent 2GB of RAM but a paltry 32GB of internal storage space of which only 24GB is user accessible. At least it's solid-state storage, which results in fast boot times and snappy program loading, but you're going to run out very soon if you install more than a handful of programs.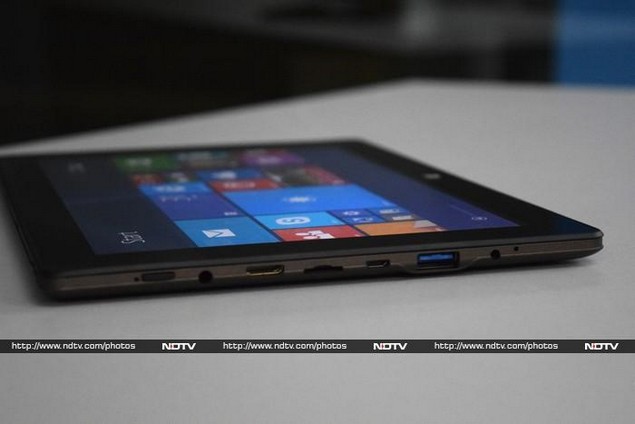 Wi-Fi b/g/n and Bluetooth 4.0 are supported, and there is a slot for a Huawei Ultrastick 3G adapter. The Croma 1177 had the same provision, and we had pointed out at the time of reviewing it that the adapters themselves were not easily available in India. Notion Ink sells an optional Ultrastick adapter via Snapdeal for Rs. 2,990, though it was out of stock the few times we checked the listing.
The Notion Ink Cain comes with a 32-bit edition of Windows 8.1 (a low-cost edition with Bing services set up by default). You get a handy one-year Office 365 subscription, but no other software beyond the built-in Windows utilities. You can of course choose from the hundreds of apps in the Windows Store, or install your choice of the thousands of commonly available Windows programs. The screen size is not ideally suited for working with traditional Windows desktop programs, at least not without a keyboard and mouse. Luckily, users will receive a free update to Windows 10 when it is released late next year.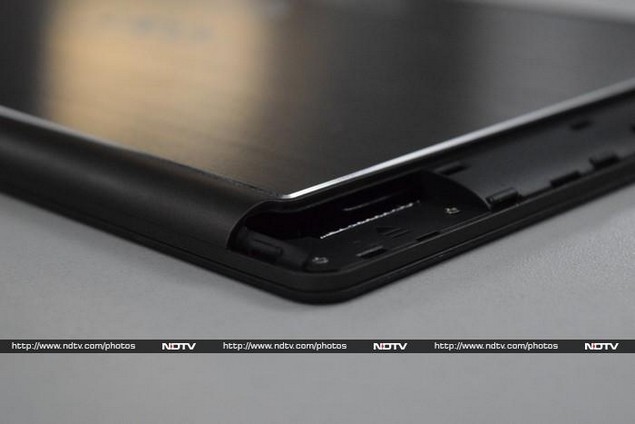 Performance
We were not surprised at all with the performance of the Notion Ink Cain. Its specifications are essentially identical to those of the Croma 1177, and the two devices' benchmark scores were just within a hair's breadth of each other. Boot times were quick - not the promised 5 seconds, but still satisfactory enough.
We were limited by the 32-bit OS and weak graphics capabilities, but achieved reasonably good performance in most tests. POVRay took 25 minutes, 24 seconds to render its built-in benchmark scene and SunSpider ran in 534.3ms. 3DMark did not run, but PCMark 8 gave us scores of 1446 and 2566 in the Home (Accelerated) and Work test runs respectively. SiSoft SANDRA 2014's CPU and multimedia tests gave us good scores too, with everything including the memory and storage subsystem tests lining up perfectly with the Croma 1177. Based on performance alone, the Notion Ink Cain had a very slight edge over its sibling device.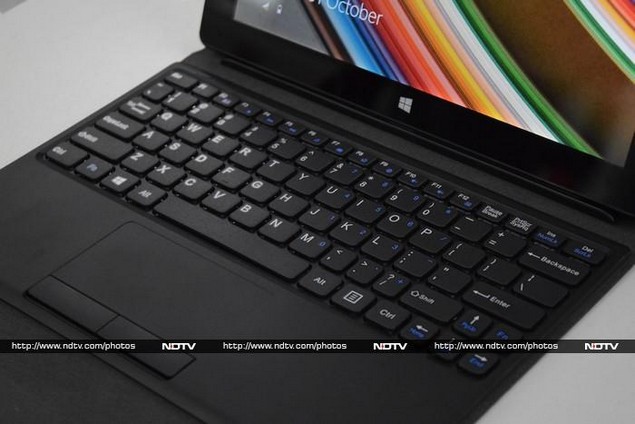 The Battery Eater Pro test lasted 3 hours, 2 minutes before the Cain ran out of juice. This is a decent score for a tablet, but you won't want to leave home without the charger if you're anticipating a full day's work.
We were quite impressed with the Cain's screen and speakers - our audio and video test samples were very enjoyable. Videos were crisp and vibrant, while music of multiple genres was loud enough and mostly clear.
Our main problems stemmed from extremely basic things - the Cain tablet seems not to be aware of when it is and isn't plugged into its keyboard case, which means the on-screen keyboard keeps popping up and blocking the screen, and needs to be dismissed manually. The tablet also cannot automatically go to sleep when you flip it down or close the cover over the screen - you'll have to remember to hit the power button each time you're done. Notion Ink claims the screen has a wide brightness range but there is no ambient light sensor to adjust brightness automatically (and there are no brightness shortcuts on the keyboard, for some reason), so you'll be blinded if you turn on the Cain at night after having used it during the day.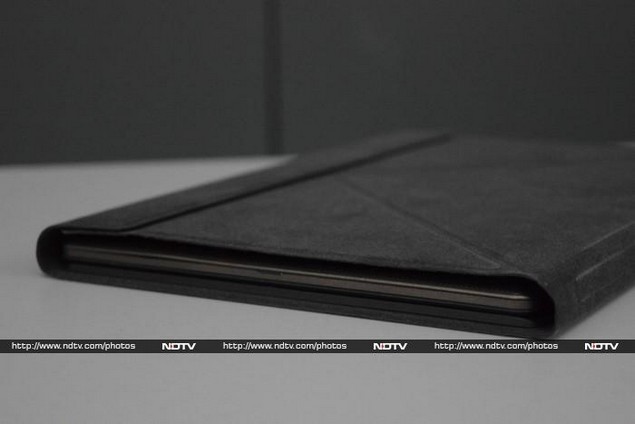 Verdict
We aren't experts in theology, but Wikipedia tells us that Cain, the Biblical character, did not have a very pleasant life and was generally not the sort of person anyone would want to name anything after. We're not sure what Notion Ink was aspiring to when it named its comeback product after the first murderer and first man to be cursed. Maybe it's just a clever reference to the Adam, though the products have nothing at all in common. Whereas the Adam failed for being unrealistically ambitious and unnecessarily different, the Cain is a generic, mass-manufactured commodity product. Notion Ink has evidently shelved its own hardware and software development ambitions, though we hope to see it build itself up again and resuscitate those ideas in the future.
We are disappointed with Notion Ink's borderline-deceptive promotional tactics, but we aren't letting that cloud our judgment of the Cain tablet. It's a pretty good product and is actually quite good value for money - at Rs. 19,900, you get what is essentially a fully functional touch-capable Windows PC. It's far more flexible and work-friendly than Android tablets and iPads at the same price point, and nothing can beat the sheer power that a fully accessible file system, USB ports and wireless connectivity provide. It also undercuts the Croma 1177 by a decent amount, making it a great option for students or workers on a budget.
There are ultra-budget laptops available for just a little more money, so you'll have to decide whether a tablet form factor is right for you. On the other hand, if you're only going to use it to play games and watch movies on, you'd be better off with a sleek iPad or Android tablet, either of which would have far more apps and be easier to use.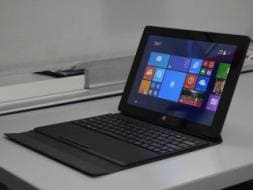 Notion Ink Cain in pictures