Low-cost Android tablets are fairly common, but with 5-inch and 5.5-inch smartphones becoming increasingly common, the case for having yet another device in your life has become somewhat less clear. Devices like this are great for reading and browsing the Web on if you have one lying around, but chances are if you have a smartphone, tablet and laptop, the tablet is the most likely to be left behind.
Micromax has a new offering, the Canvas Tab P690, which is trying to find a space in users' lives. It has an 8-inch screen and offers cellular voice calling for those who might use such a feature. The cost is low enough to be tempting, and the company advertises loads of freebies in the form of physical accessories as well as software. Let's see what you might have to gain by owning one of these.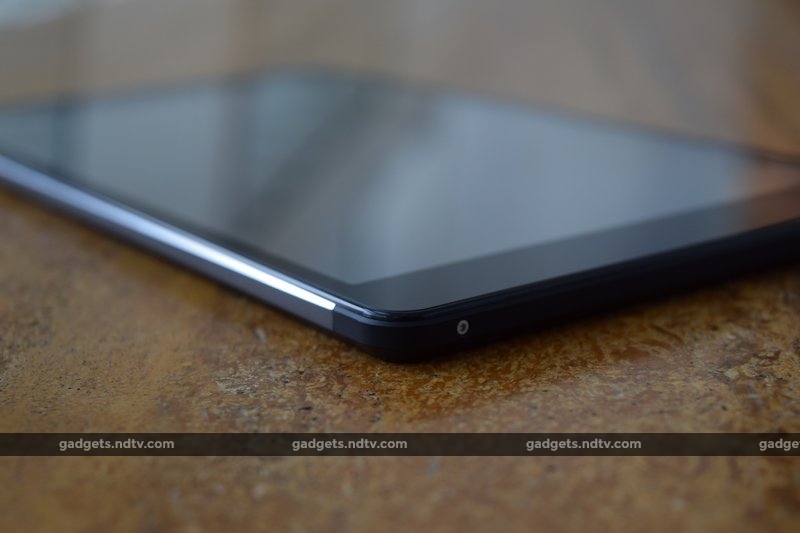 Look and feel
The Canvas Tab P690 looks rather nice at first glance. It isn't all that slim but it does have bold, distinctive lines including chiselled edges around the rear. The front is plain black apart from the silver earpiece, and there are no markings thanks to the use of on-screen buttons that rotate with the device so you can hold it any way. The sides and back have a thin metal outer layer with a very striking brushed pattern. The panel doesn't appear to be removable, which means the battery is sealed inside.
The earpiece on the front suggests that this tablet is to be held upright, but the logos and regulatory text on the rear are all printed as if landscape is the ideal orientation. Held this way, there's a large Intel logo in the lower left corner and a matching Micromax logo in the lower right. Another Canvas Tab logo is printed right in the middle for good measure, and there's a sticker with a barcode and SAR information right beneath it - though slightly crooked on our review unit.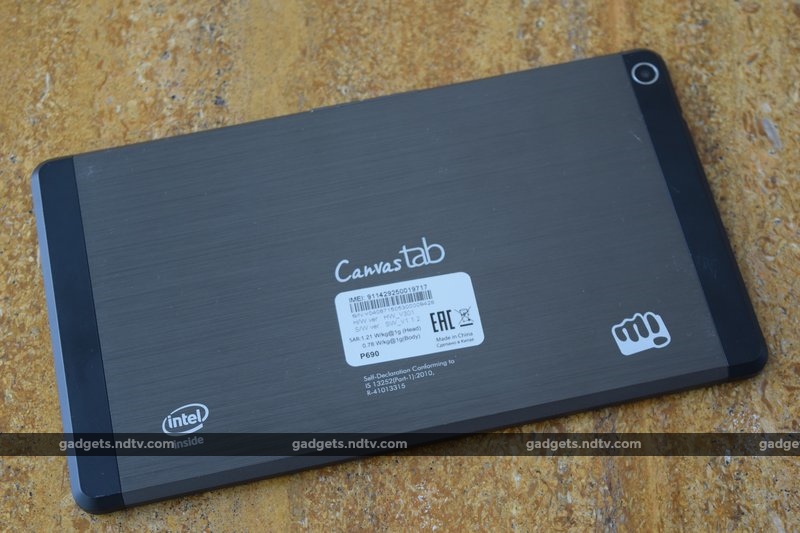 The Micro-USB charging and data port is on top, right next to the 3.5mm audio socket. Across from these two, you'll find a small speaker grille. The power and volume buttons are just around the corner on the upper right. Beneath them, there are the slots for a Micro-SIM and a microSD card. Micromax could have left the microSD card exposed for easy access, but instead chose to protect it with the SIM tray. This is a nice touch, but it does mean you'll have to eject the SIM if ever you want to swap microSD cards.
The left is entirely blank and there's only a tiny dot on the bottom for the mic. The rear camera is in one corner, with no flash or secondary mic nearby. Grip is not too bad, though we would have preferred a more natural contour to fit in the hand. The Canvas Tab P690 is easy to use as a tablet, but as with all devices of its kind, it's obviously not the most comfortable when held up to the ear like a phone.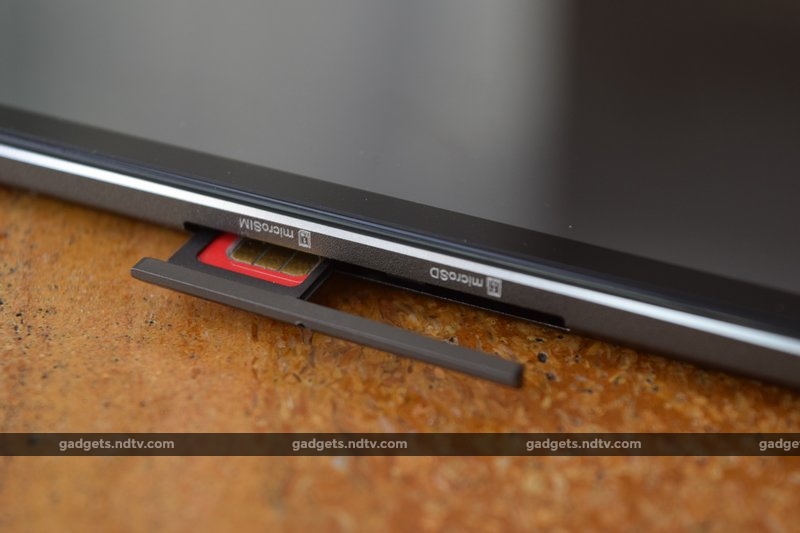 Micromax supplies a fair number of accessories in the Canvas Tab P690's distinctive wedge-shaped box. In addition to the standard USB cable and a 2000mAh charger, there's a USB OTG adapter, a basic headset, an adhesive screen protector and a microfiber cleaning cloth. There are also coupons for several freebies.
Micromax also bundles a flip cover which it claims is worth Rs. 1,500, but the one we got was so ugly and crudely fashioned that we'd rather forget about it. It attaches to the tablet with - yes, seriously - a strip of double-sided tape. We don't think it will stay attached for long, and you obviously won't be able to attach and detach it at will. It's meant to fold up to act as a stand, much like Apple's iPad smart cover, but does a terrible job of it. We were better served leaning the tablet against the box it came in.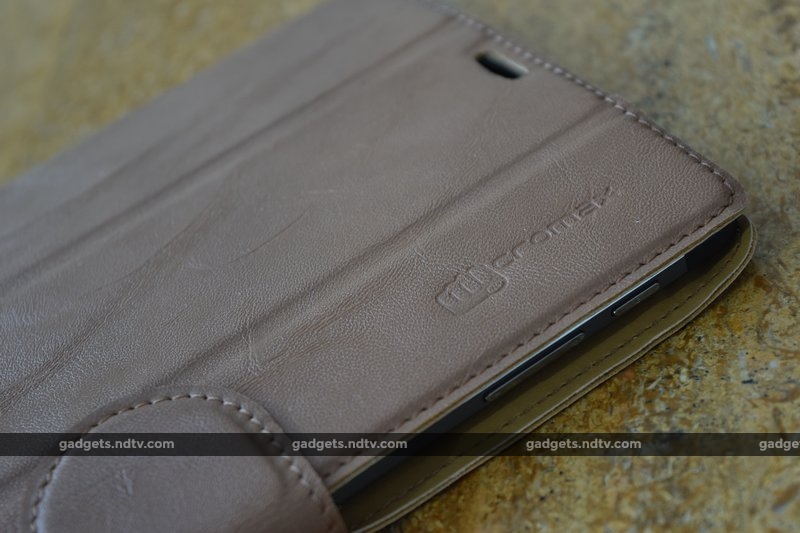 Specifications and software
The 8-inch 800x1280-pixel screen is fairly commonplace as far as low-cost Android tablets go, but it's still far too big for any device that you'd ever want to hold up to your ear. If calling is important to you, you're better off with a much smaller screen. As far as quality goes, this display definitely falls within budget territory. It's decent enough for casual Web browsing and watching videos, but not really for reading text. Colours are a bit dull and the tablet definitely suffers in daylight.
Intel's familiar Atom Z3735G processor makes another appearance here. With four cores running at up to 1.83GHz plus basic Intel HD integrated graphics, it's enough for most common tasks. There's 1GB of RAM and 8GB of storage space, though interestingly Windows reports only 3.8GB when it's plugged in, and barely half of that is free at the outset. You'll need a microSD card, but capacities of only up to 32GB are supported.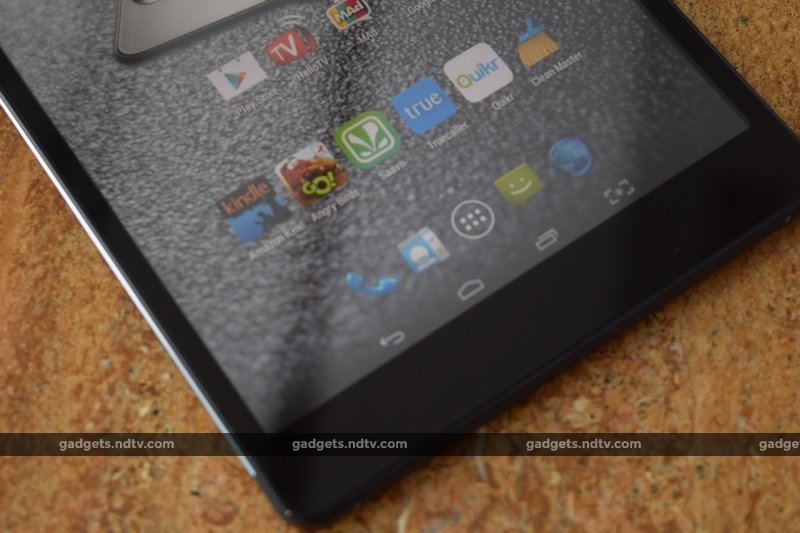 You do get USB-OTG along with Wi-Fi b/g/n, Bluetooth, and 3G data. The battery comes in at a fairly hefty 4000mAh. There's a 5-megapixel rear camera and a secondary 2-megapixel unit in front. Video recording is limited to 720p on both.
Micromax ships the Canvas Tab with Android 4.4.4 for some reason, though it claims the device is "upgradable to Lollipop", there's no indication of when an update will be released and if there'll be any support beyond that. There's a tiled news feed to the left of the first homescreen, much like HTC's BlinkFeed, though it doesn't seem to be customisable at all and the content isn't even local.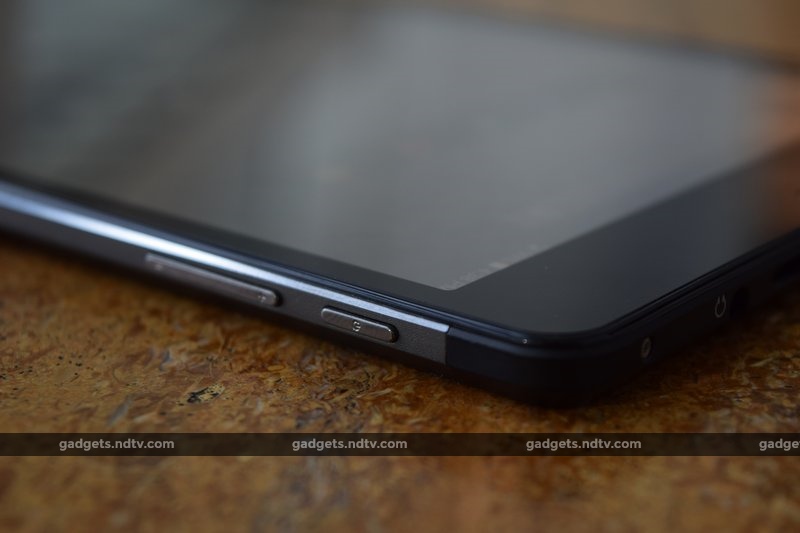 It seems to be common for this company to load tons of unnecessary bloatware onto its Android devices and this one is no exception. We counted 20 preloaded apps, not all of which are useful. There's WPS Office and SwiftKey, but also Saavn, Newshunt, Facebook Messenger, HelloTV, Clean Master and two Angry Birds games. There's also Micromax's MAd TV app which lets you claim rewards for watching ads.
Micromax offers over Rs. 3,000 worth of freebies which can be claimed through apps, including a few free Kindle books, a three-month Saavn Pro subscription, extra data on Vodafone connections, in-app currency for Angry Birds, six months of Truecaller Premium, and a few others.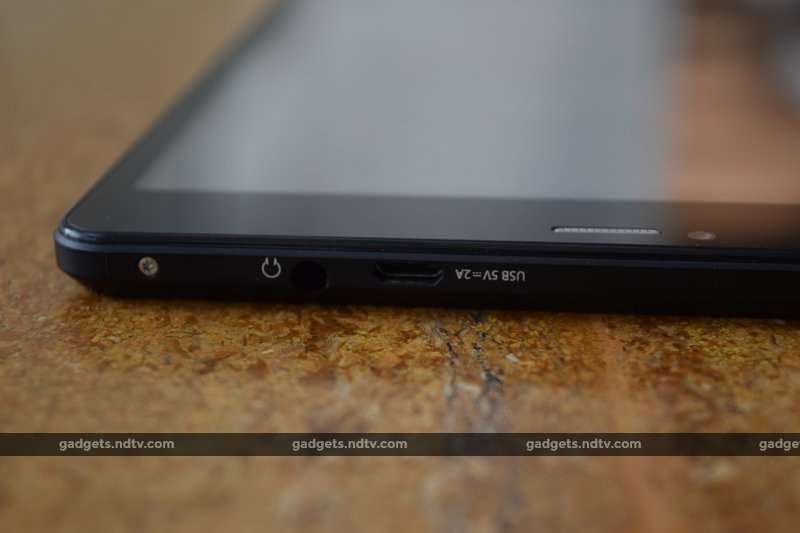 As with many Android tablets, apps seem to believe they're running on phones and so appear awkwardly stretched out unless they're specifically optimised. Another annoyance is that Micromax has tweaked the interface so that there's a Screenshot button on screen along with the standard Android trio of Home, Back and Recents, pushing them off-centre.
Performance
We weren't expecting very much considering the Micromax Canvas Tab P690's relatively weak specifications and the first impressions we had of its screen and hardware. While not exactly bottom-of-the-barrel, it does seem as though more of this device's budget has gone into its looks than its hardware. That said, we found it easy to navigate, and touch was pretty responsive. Apps did take quite a while to load, and interestingly, the rear of the tablet started to heat up as soon as we launched some games. Over longer sessions playing games and videos, there was noticeable heat buildup.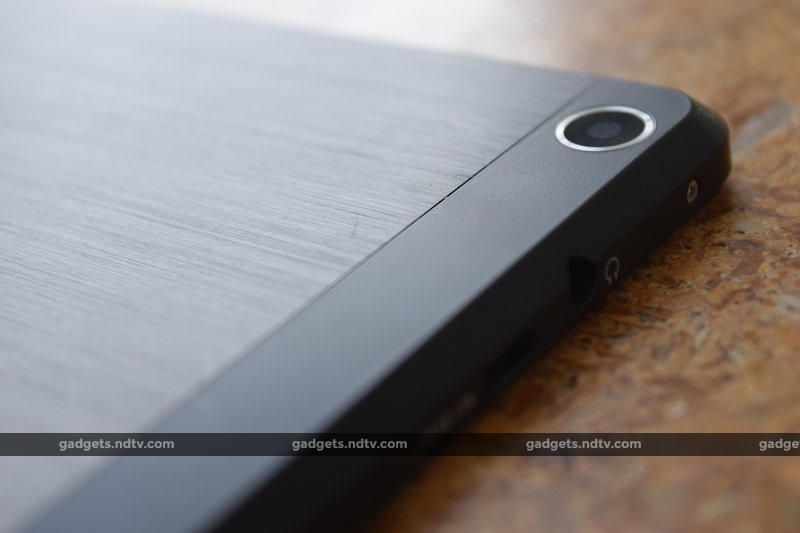 Calls were awkward without a headset, but not impossible. We'd really advise using a SIM card only for 3G data and the occasional emergency phone call. This should never be your primary smartphone. The sole built-in speaker was pretty awful for music and movies but we didn't perceive any playback problems even with heavily encoded 1080p clips.
The tablet managed scores of 31,588 in AnTuTu and 15,954 in Quadrant. Graphics scores were pretty good, with 3DMark Ice Storm Extreme delivering 7,190 points and GFXbench running at 23fps. These are definitely not the strongest scores we've seen overall, but they're pretty solid taking the Canvas Tab P690's price into consideration. Battery life came in at 5 hours, 51 minutes in our video loop test.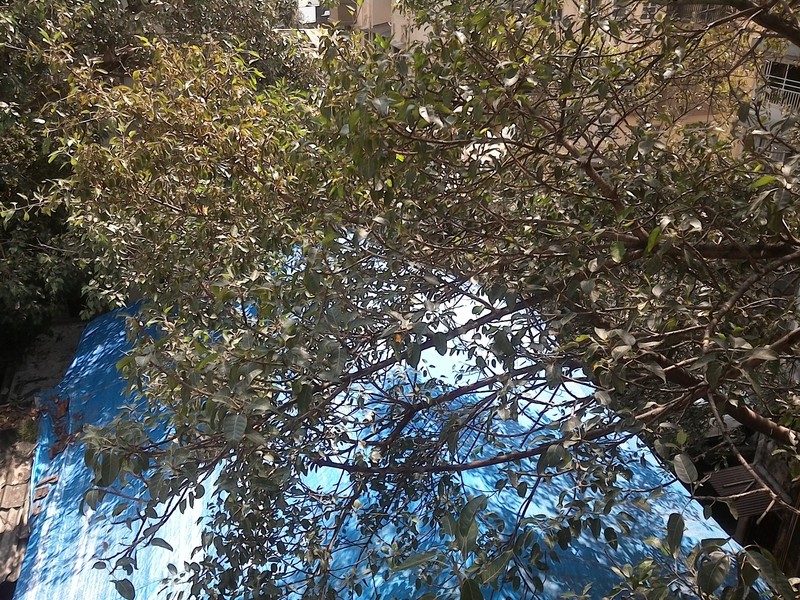 (Click to see full size)

The cameras, as expected, were pretty awful. There's really no situation in which we would recommend using this tablet as a primary camera. It's slow to lock focus and there's massive shutter lag. The app has zero options apart from a grid overlay to help you frame shots. Photos came out looking severely compressed, with poor rendering of details and textures even in favourable lighting conditions. The less said about this tablet's cameras, the better.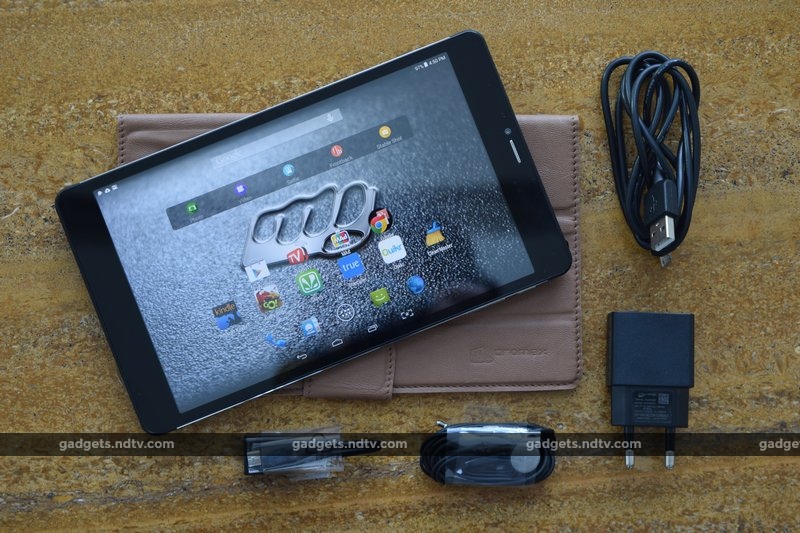 Verdict
The Micromax Canvas Tab P690 isn't a bad little Android tablet at all, but the company will have trouble convincing people they need such a device. Tablets can be useful and fun, but they're definitely extraneous at this point if you already have a decent enough smartphone. Buy this tablet if you need something to kill time with while commuting, or for children to play with. 3G data access is a huge benefit and you also get voice capabilities for whatever that's worth.
Micromax has created a good-looking product that has definite strengths and weaknesses. Use it just for entertainment and you'll be fine.