Lots of people think that phones with 5.5-inch and 6-inch screens are too big, but that hasn't stopped companies from pushing ever further. The Micromax Canvas Tab P666 is an 8-inch smartphone - or more accurately, an 8-inch tablet that can be used to make voice calls. We can't imagine why anyone might want to use it as a phone, risking public ridicule and sprained wrists - maybe the logic is that since you have a SIM card slot anyway for 3G data, you might as well be able to use cellular networks for voice and messaging as well. Ridiculous or not, the functionality is there.
That aside, the Micromax Canvas Tab P666 is an otherwise ordinary Android tablet with a low price and entry-level specifications. Let's see if it's worth buying.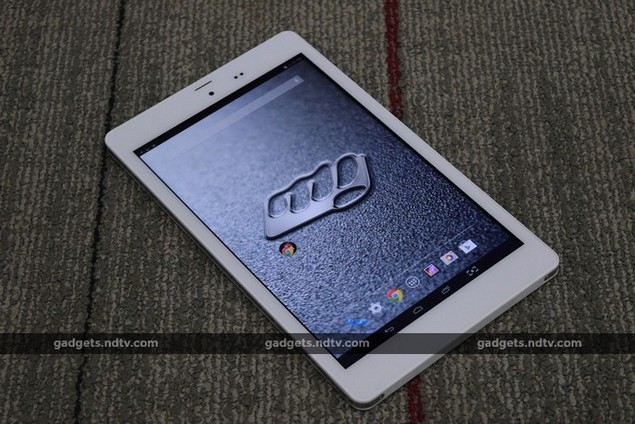 Look and feel
The most unique thing about the Canvas Tab P666 is its design. The device itself is fairly slim at 7.9mm, but its weight and blocky shape aren't great in terms of grip and comfort. There are two metal strips running down each side, which curve around the top and bottom corners. The rounded ends of each strip appear to be secured with rivets, though these might also be purely cosmetic in purpose. While this might have looked good if fabricated well, we found that the strips and rivets were not flush with the body, and were therefore prone to getting snagged on clothes and bags.
The Canvas Tab P666 is available in black and white, and on our white unit the very visible earpiece, front camera and sensor cutouts served to tell us which way was up and which was down. The front face is otherwise unmarked and quite symmetrical. Navigation happens using on-screen controls, and the physical power and volume buttons are off on the right edge.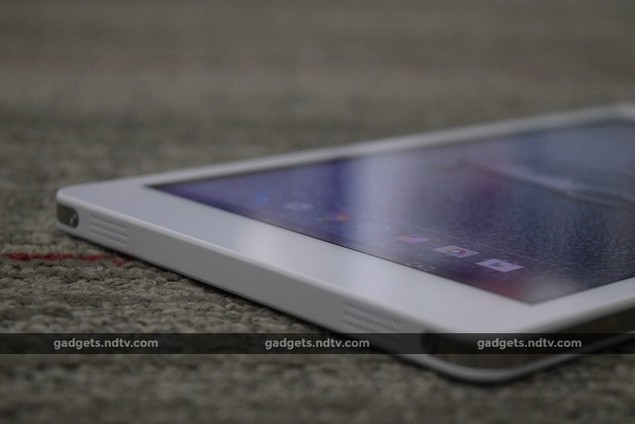 The Micro-USB port and 3.5mm headset socket are on the top, also towards the right. There's an exposed Micro-SD card slot and a tray for a Micro-SIM card towards the middle of the right edge. The left is completely blank, and there are two speaker grilles on the bottom.
The plain white rear would have been attractive but for the unfortunate use of adhesive stickers with regulatory information. The camera lens is off to one corner and there's no flash to accompany it.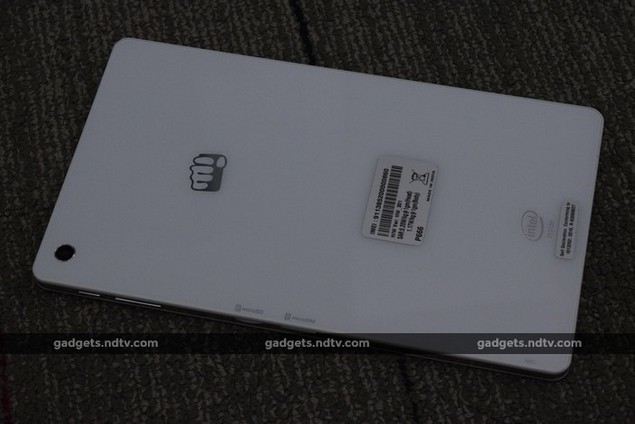 This isn't a small, unobtrusive tablet. Its weight will be noticeable in a bag, and there's no way it will fit in any pocket. In that sense, it's just like any other 8-inch tablet and you'd be better off buying a large phone if you really want portability.
More importantly, its construction quality is not very impressive. There's quite a bit of flex when you grip the device. You can see disturbances on the screen and hear the plastic body creaking when even moderate pressure is applied.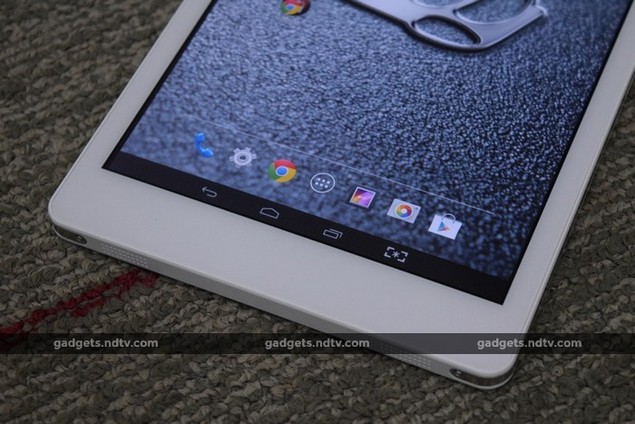 Specifications
Intel processors have been popping up in more and more devices of late, and this is one of them. The Canvas Tab P666 is built around an Atom Z2520, which isn't Intel's most modern offering. It's a dual-core model and runs at 1.2GHz with Hyper-Threading. There's 1GB of RAM and 8GB of storage.
The screen is a 16:10 IPS panel, typical of Android tablets, with a resolution of 800x1280 pixels. The rear camera has a 5-megapixel sensor while the one in front takes 2-megapixel shots. The battery is fairly capacious at 4,400mAh.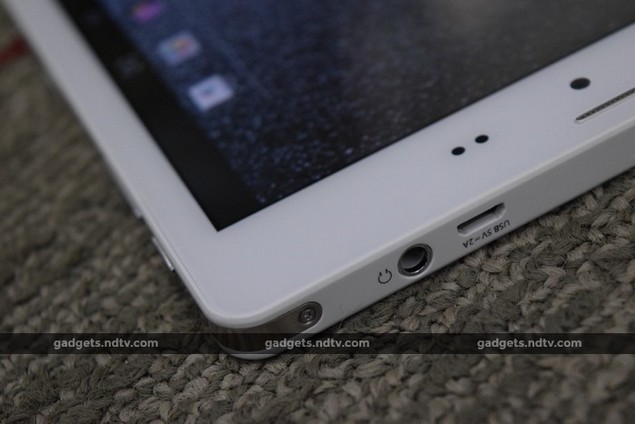 Micromax has used near-stock Android 4.4.2 with a few customisations in the form of apps. The company's own branded ones are a little trashy and are either advertisements or links to websites rather than actual apps. The company promises "high quality games" and "unlimited" music, games, apps and wallpapers, but the M! Games and M! Live icons, for some reason, only took us to an online store selling Micromax phones as well as zodiac sign trinkets and the sort of knockoff jewellery and electronics you'd see on really bad late-night home shopping ads. M! Security and M! Assist containing nothing but three slides each, selling what appears to be the same scheme.
M! Pick took us to a different website with ads and offers along with links to "recommended" apps which appear to be hosted somewhere other than the Google Play store. Many of the links were broken, and when we found ones that did work, the tablet of course warned us against installing apps from unknown sources. We would advise users to stick to the Google Play store for security reasons and to get regular updates.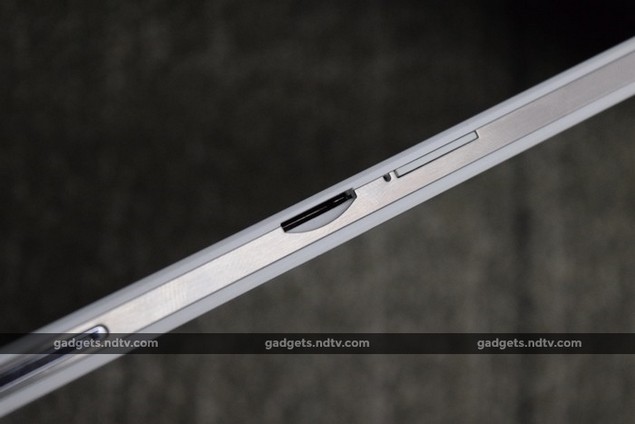 You also get Hike Messenger, Bookmyshow, Truecaller and Opera Mini preinstalled. The default keyboard is Swiftkey. Then there are a few "free" games which are actually trials that prompt you to pay up for the full version (which in most cases is not worth it). Luckily, many of these can be removed.
The three on-screen navigation buttons are off to one side and there's an extra button which triggers a screenshot capture. We have no idea why Micromax thought this would be a good idea - it just makes the important buttons less easy to use. Also, exiting any app with the Home button caused the app drawer to flash on screen for a second before the homescreen appeared, which became very irritating when we tried to use the tablet regularly.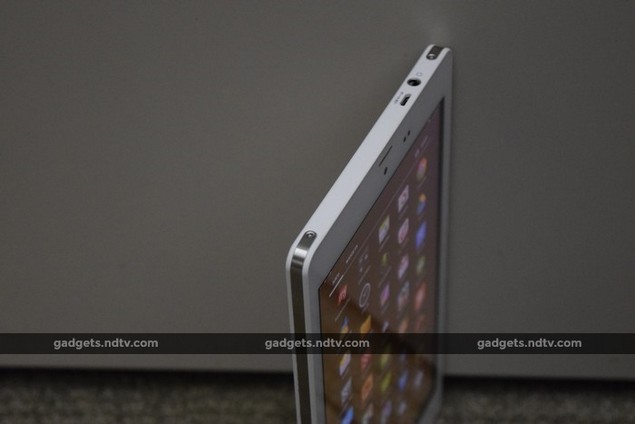 Performance
Things were not terribly positive on the performance front either. We encountered stuttering when swiping through apps such as Google Play, and apps took a bit longer than usual to open and close. Our benchmark numbers, while not the worst we've ever seen, definitely did not impress us. AnTuTu and Quadrant gave us scores of 17,499 and 6,909 respectively, which are both just about at par with today's entry-level smartphones. Graphics performance was not satisfactory - we managed only 8.9fps in GFXbench and 5,039 in the basic 3DMark Ice Storm test.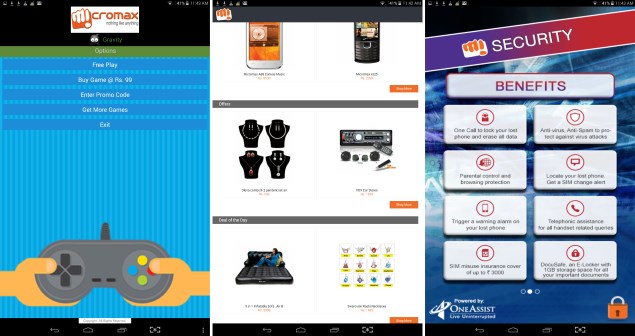 Surprisingly, HD videos played very well, and there were only slight pauses when skipping around the timeline of our heaviest MKV sample clip, with no tearing or artefacts on screen. Sound from the twin speakers was also pretty good - tinny, but loud with minimal distortion.
The screen is a bit grainy and though it can get quite bright, legibility is not very good in daylight. It's okay for reading text on. The camera is quite atrocious, and samples taken in broad daylight exhibited high levels of noise and poor definition of details. On the other hand, the battery lasted a good 7 hours, 51 minutes in our video loop test.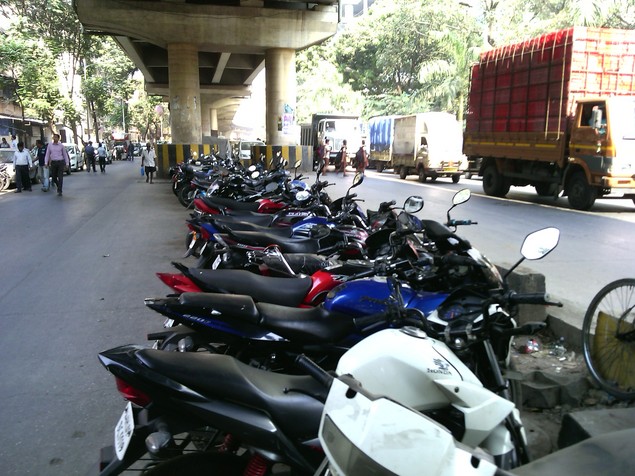 (Click to see full size)

Verdict
The experience of using the Micromax Canvas Tab P666 was a bit like flying a budget airline. The bare basic necessities are accounted for, but you'll be uncomfortable, and you'll have to put up with ads and sponsored material in your face while the staff, which should be helping you, try to shove unnecessary overpriced merchandise in your face instead.
This device will be a good option for those looking for a cheap media playback device with a big screen. Music and movies work well, and you won't go wrong if you throw in a bit of 3G Web surfing and some light reading too. If you have a long commute, these are the features that should matter. The price isn't too bad either.

However, don't expect to play any 3D games, and be prepared to do a lot of housekeeping before it's in good shape. And if you're planning to make voice calls, do yourself a favour and buy a Bluetooth headset.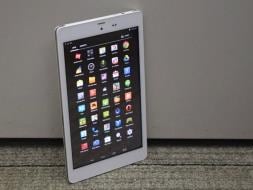 Micromax Canvas Tab P666 in pictures