Computer processors have shrunk to the point that we can stuff them into devices the size of tablets, and have become efficient enough that we don't need fans to keep them cool. We've seen all kinds of slim designs in the past year or two, but what's most exciting is that devices are getting less and less expensive as well. It is now possible to deliver an acceptable, mainstream level of PC performance in a device that costs less than a lot of smartphones.
We've reviewed the Notion Ink Cain (Review), Croma 1177 (Review) and Swipe Ultimate Tab 3G (Review), all of which were clustered around the Rs. 20,000 price point and all of which were tablets with wraparound cloth keyboard attachments. These products' keyboards are fiddly to use, and just propping them up to look like laptops is annoying.
Enter Micromax with its new Canvas Laptab LT666, which can actually be used in a lap! It follows the same formula but has a solid base with a keyboard. In terms of features, it's pretty much identical to the rest, with the exception of 3G. However, for all its improvements, Micromax has still managed to cut the price down by 25 percent - the Canvas Laptab LT666 sells for just Rs. 14,999. We're intrigued to say the least - has Micromax cut corners elsewhere, or is this product truly going to blow its competition out of the water?
Look and feel
The front of the Canvas Laptab LT666 is as plain as touchscreen devices get these days, with thick black borders and only a capacitive Windows Start button below the actual screen. There's a small webcam cutout on the top, and you'll see a status LED in the upper right corner when charging. Our test unit came with a screen guard already stuck on, but bubbles could be seen around the edges.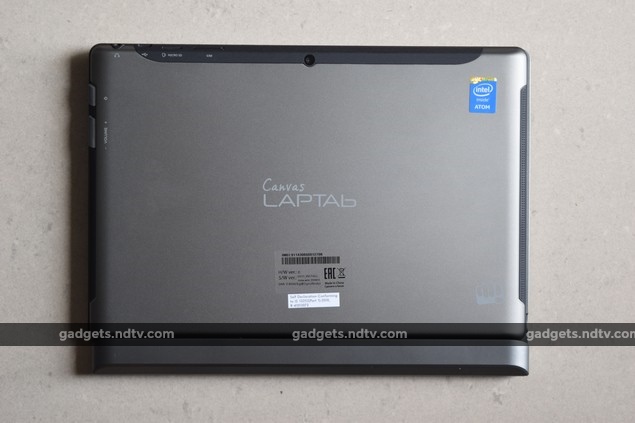 However the sides and rear are styled pretty aggressively with accents that look like the whole device has a ruggedized rubber coating. Of course it's nothing of the sort; just a different texture of plastic. Tall speaker grilles curve around the back on both sides, with the power and volume buttons sticking out quite a bit on the right. On top, the 3.5mm headset socket, Micro-USB port, microSD slot and Micro-SIM tray are incorporated into this border strip as well. The rear-facing camera is right in the centre.
The rear of the tablet doesn't make for a very attractive laptop lid. There are two regulatory stickers and a bright blue Intel Inside sticker in addition to Micromax's fist logo in one corner and a large Canvas Laptab logo right in the middle. The placement of the Micro-USB port is quite awkward for charging when the tablet is docked in its base, as the wire will stick straight out the top.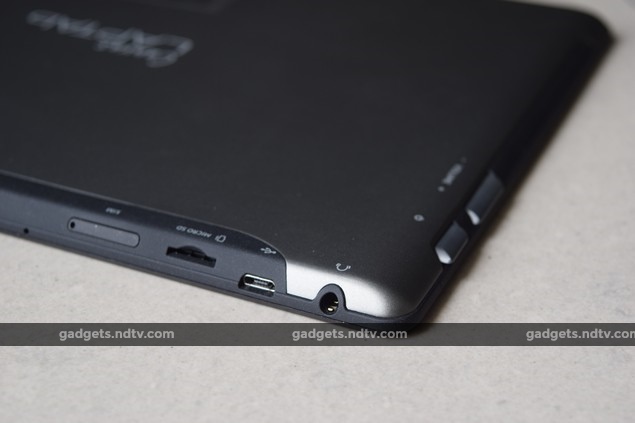 The base is far more interesting from a design perspective. Unfortunately, the docking mechanism isn't secure at all. The tablet will stay put when it's docked on a flat surface, thanks to some relatively strong magnets and two little pegs. You can even pick up the tablet and shake it aggressively, and the base will stay securely attached. However, with the "lid" down, the two halves just do not stay together. In fact the tablet can slide right out of the dock with very little pressure. There's nothing holding it in but the magnets on one side, so you have to make sure you carry it with your fingers curled around the edges, firmly gripping the two halves together.
The keyboard itself, unsurprisingly, has a compressed layout. No keys have been left out, but the Canvas Laptab LT666 makes the classic netbook-era compromise of shoving the right Shift key beyond the arrow block. For some reason the standard QWERTY rows are not correctly offset, so the spacing between keys will throw you off if you're used to typing with all fingers.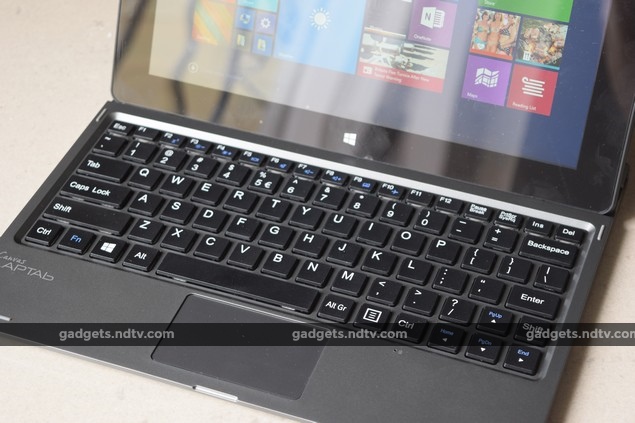 The keys themselves are tiny but are stiff and have good depth. Don't expect the comfort of even a netbook keyboard, but this is a whole lot better than the folding ones we've used in the recent past on other low-cost Windows tablets. The trackpad is actually quite comfortable and usable. One nice touch is that there's one full-sized USB port on the base, so you can plug in common devices without a USB-OTG dongle.
Overall, the Canvas Laptab LT666 is light and portable at 1.1kg and 9mm thick, but doesn't come close to delivering a budget laptop experience.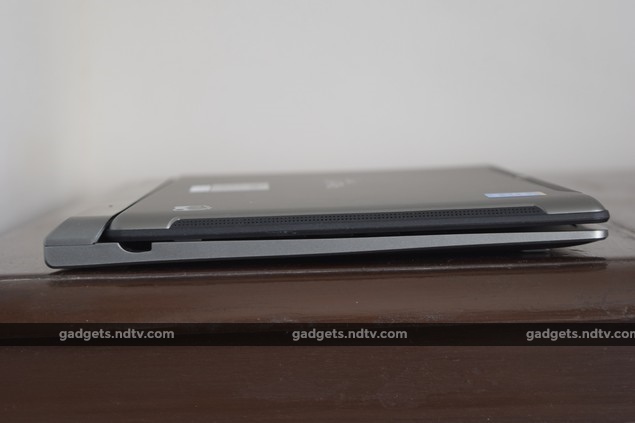 Specifications
At the heart of the Canvas Laptab LT666 is an Intel Atom Z3535F CPU, the same as we've seen on other low-cost tablets. It has four cores running at up to 1.83GHz, and basic integrated Intel HD graphics. There's 2GB of RAM and 32GB of flash storage. You can use microSD cards of up to 64GB and of course USB storage devices if you need more space.
The screen measures 10.1 inches diagonally and has a resolution of 1280x800. Wi-Fi b/g/n, Bluetooth 4.0 and 3G data are supported. Both the front and rear cameras have 2-megapixel sensors. Finally, there's a 7,700mAh battery.
Micromax includes a basic pair of earphones, a simple carry case, and, most useful of all, a USB-OTG adapter. The processor supports 64-bit operations but the Canvas Laptab LT666 ships with a 32-bit edition of Windows 8.1. You'll be eligible for an upgrade to Windows 10 when it releases in the near future. You also get a one-year subscription to Office 365 and 1TB of OneDrive storage. Thankfully there is no preloaded junk software.
Performance
We like the fact that the tablet boots up and resumes from sleep quickly, thanks to its flash-based storage. It's not a speed demon by any means, but provides a reasonable level of performance for day-to-day tasks such as Web browsing and media playback. One thing we noticed right away was that the tablet did not insist on throwing up the on-screen keyboard every time we started typing with the dock, which a lot of others seem to do.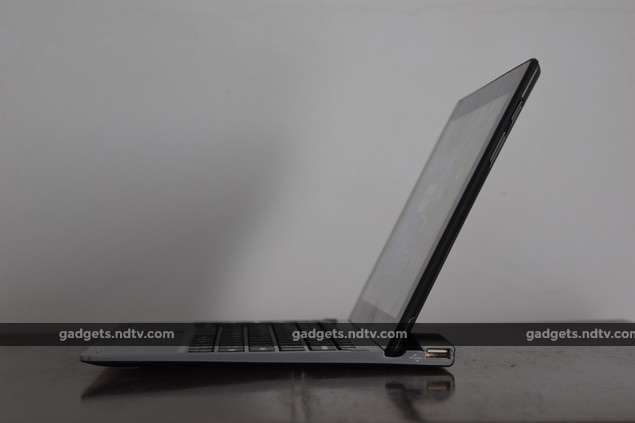 On the downside, the pre-attached screen protection film was not only ugly but also increased friction when using the touchscreen. The unit also tended to get a bit hot when running benchmarks and videos, so it's probably best suited to lighter tasks in general.
Benchmarks revealed average scores, which were on par with those of the other Atom Z3735-based products we've tested in the past. POVRay took 24 minutes, 57 seconds to run its built-in benchmark. 3DMark could not be installed, but we didn't have any expectations about gaming performance to begin with. PCMark 8's Work scenario gave us a score of 2526 which is just about okay, and SiSoft SANDRA showed us that the CPU, memory and SSD performance were on par with other similar tablets, which is to say suitable for basic tasks but nothing truly demanding. SunSpider took 505.7ms to complete and Mozilla Kraken took 13,905.3ms.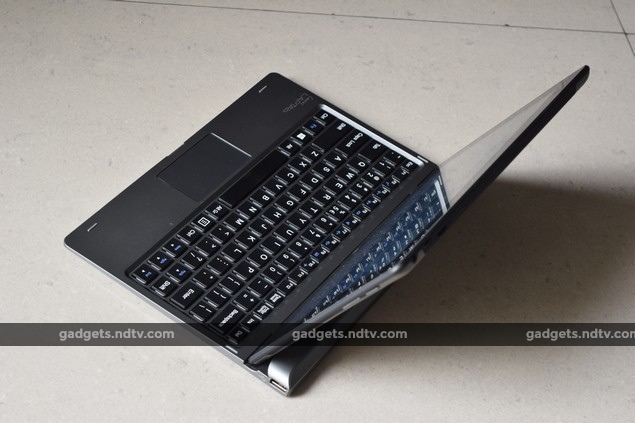 The screen cannot be tilted in its base so you might have some trouble with reflections. We found it to be reasonably sharp, though not very impressive by today's standards. Viewing angles are just about okay. Video files including 1080p clips played fairly well. The speakers were incredibly disappointing - sound was sometimes barely audible even at full volume, and music was hollow and lifeless. The two cameras were just as mediocre as we expected.
The 3G data support proved to be our favourite feature. With no full-sized USB port on the tablet itself, a 3G dongle would have been awkward to use. The built-in modem allows for a lot of flexibility and makes this device a great choice for those who need to work outdoors a lot, or who just want to move around without worrying about Wi-Fi range.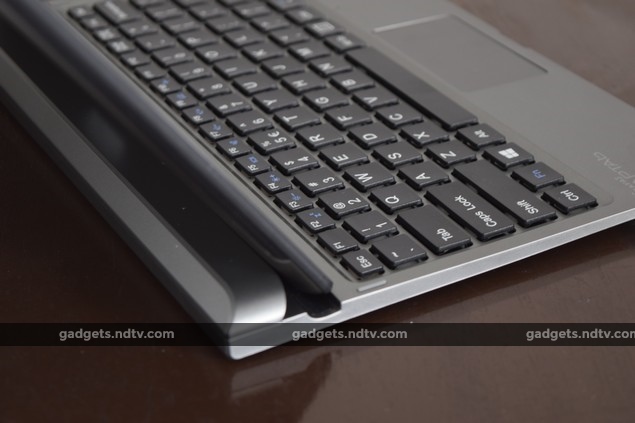 Battery life was pretty decent - we managed to get 4 hours, 32 minutes out of the Canvas Laptab LT666 in Battery Eater Pro's standard test before it shut down completely. That should make for just about a work day of light usage though you'll drain the battery faster with 3G in use.
Verdict
We quite like Micromax's latest venture, for a number of reasons. We've seen the tablet-with-a-keyboard concept before, but not only has Micromax raised the bar in terms of the physical keyboard dock, it has also brought the price down. If that wasn't reason enough, there's integrated 3G functionality which none of its direct competitors offer. The Canvas Laptab LT666 therefore stands out quite clearly as the best of the bunch.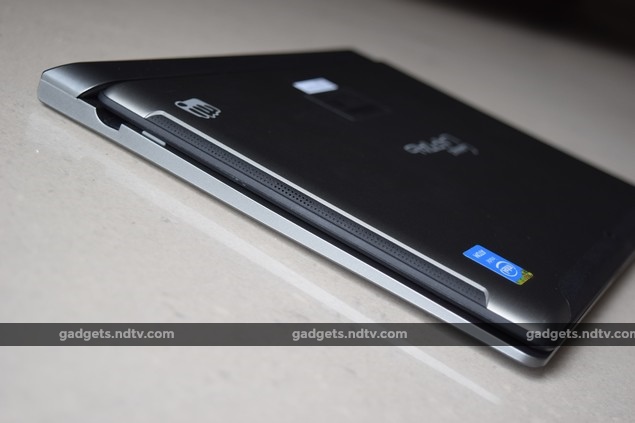 However, that doesn't mean it's automatically a great product. Yes, it's a very affordable, 3G-enabled Windows PC. It offers portability and a reasonable level of productivity. However, Windows tablets still have shortcomings when compared to Android tablet and iPads, such as awkward touch controls and lower battery life. If you're looking for a pure entertainment device, you might be happier with one of those. On the other hand, there are also low-cost laptops which might be better suited for work.
If you want a versatile, portable PC for general usage and light multitasking, the Canvas Laptab LT666 is a fantastic product. It could fit multiple use cases, even as a secondary PC, thanks to its low price and great features.