Canadian e-reader maker, Kobo, recently launched three of its e-readers (it calls them eReaders), and a 7-inch Android tablet, in the Indian market.
Tablets made by e-book reader companies are essentially multimedia capable devices made to please users who're looking to invest in e-books but don't want an e-ink display and want their device to do much more.
Kobo's Android tablet is called the Kobo Arc and competes with the likes of the Kindle Fire HD. As with the Kindle Fire tablet, Kobo's Arc tablet is deeply integrated with Kobo's 'eBooks'
ecosystem, which is also one of the USPs of the tablets. However, it also features the Google Play Store and Google's natives app, that are missing from Amazon's Kindle offering.
So, in a way it also competes with other 7-inch Android tablets like the Nexus 7 and Galaxy Tab 3. We try to find out if Kobo's been able to strike a balance between an e-reading device and a full-featured Android tablet, in our review.

Build / Design
The Kobo Arc looks more like a 7-inch e-book reader with the placement of the camera and two front speakers done keeping in mind that users would majorly hold it in portrait mode.
The tablet comes in Black and White colour variants and we got a White one as our review unit. The Kobo Arc's front panel comprises a thick frame made of high quality plastic that surrounds the tablet's 7-inch screen. The screen is not at the same level as that of the bezel, which is a bit raised.
The two front speakers sit below the Kobo Arc's display, while the 1.3-megapixel front-facing camera, the sensor array and microphone are place above it.
The right edge features a 3.5mm headphone jack and the volume rocker keys, while the top one sports the Power/ screen lock key, with the Micro-USB port placed at the bottom edge of the Kobo Arc.
The back of the tablet features a rubberised soft quilted material with a diamond pattern and some Kobo branding. The Kobo Arc feels pleasant to hold.
Display
The Kobo Arc tablet sports a 7-inch display featuring a resolution of 1280x800 pixels and pixel density of 215ppi. The display is bright, vibrant, and offers good viewing angles. It is ideal for use as an e-book or magazine reader as text appeared sharp and images vivid. Videos also looked good.
However, we observed that the sunlight legibility on the tablet was average and the screen was very reflective. We also found that the the screen was a bit prone to smudges.
Camera
The Kobo Arc comes with a 1.3-megapixel front facing camera with autofocus that can capture up to 720p videos, making it ideal for video calls through VoIP apps like Skype. The stock Camera app is also available for taking pictures or recording videos through the front camera complete with settings for White Balance, Exposure, Sharpness, Brightness, Contrast, ISO, among other options. Pictures taken with the camera were functional at best.
User interface
The Kobo Arc tablet runs Android 4.1 Jelly Bean and has not been skinned at a deeper level, unlike Amazon's Kindle Fire HD tablets that run a forked version of the OS devoid of all the Google apps.
The Arc comes with Google's apps in addition to Kobo's 'eBooks' store and library.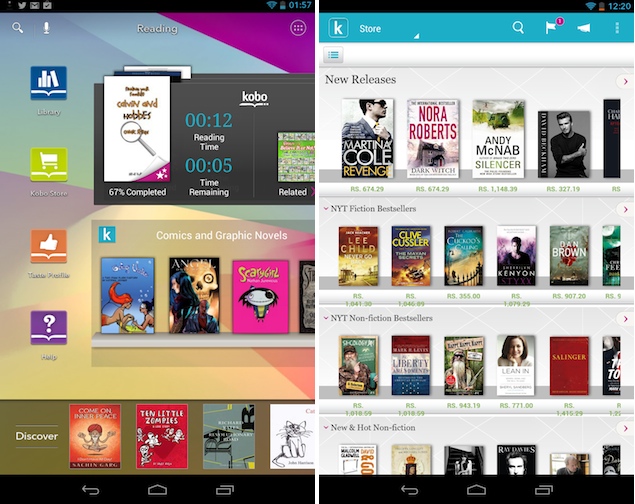 Two elements that differentiate the Kobo Arc from any other Android tablet are Tapestries and a Discover recommendation feeds, both of which are present on the home screen.
Tapestries are a kind of folders that include a set of app icons and related widgets. They also allow you to 'pin' certain pieces of content including webpages, YouTube videos and books to the home screen for quicker access via the sharing menu. Items can be pinned to the home screen and within the tapestries on the Kobo Arc. The tapestries can be deleted and moved, as well. However, the Discover feed bar can not be removed.
A horizontal Discover feed is present at the bottom and features recommended content that you can buy or just pin to the home screen or tapestries. Barring books, nothing else is available on the Kobo Arc as the 7Digital content store doesn't support India. The Discover feed also learns from the user's preferences and pinned content in addition to a 'Taste Profile' utility that analyses books that you search and buy.
Other than that, the usual Android app launcher and notifications tray make you feel at home if you've used an Android device before.
Interestingly, you can get rid of the tapestries interface by installing a custom Android launcher.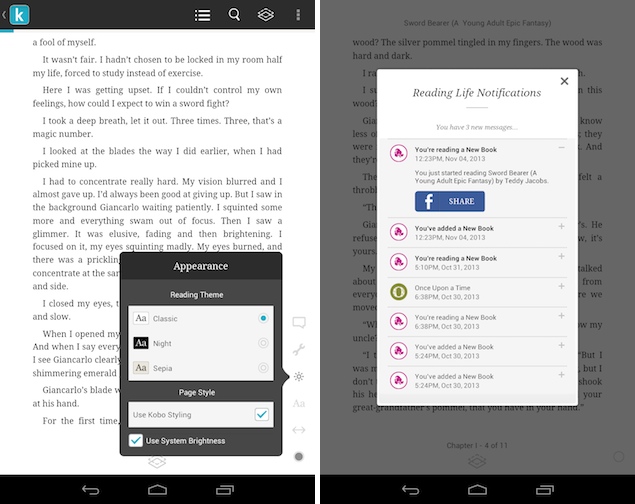 The included Kobo bookstore works in India and the tablet allows you to buy, manage and download books. The Kobo reading app offers a good reading experience complete with options to make and share notes, share reading activity on social networks via Reading Life and the usual controls for fonts and navigation.
Overall, the Arc is a full fledged Android tablet and not just an e-reader with limited capabilities.
Performance/ Battery Life
The Kobo Arc is powered by a quad-core 1.5GHz Texas Instruments OMAP 4470 processor, coupled with 1GB RAM. The tablet performs well when it comes to doing routine tasks. It offers 16GB of internal storage and there's no memory card for expansion.
With Android 4.1 Jelly Bean, the overall experience of navigation through the interface was impressive. We did not experience significant lags while launching apps, scrolling web pages or switching between apps.
We were able to play casual games like Subway Surfers without hitch, but observed that graphics intensive ones like Asphalt 7 didn't run very smoothly and there were some dropped frames.
We were able to play HD video clips of all major file formats on the Kobo Arc without encountering any issues.
The Kobo Arc comes with its own Arc browser based on the Android browser, and renders all webpages well. It also offers Chrome.
The two front speakers of the Kobo Arc deliver good quality sound and we found the volume levels to be satisfactorily high.
It's worth pointing out that the Arc tablet doesn't include GPS hardware, so mapping and location abilities are a bit stunted. Also, Kobo doesn't offer a 3G version so you'll need Wi-Fi or a hotspot capable device to access the Internet on the move.
The Kobo Arc's battery offered decent battery backup. We were able to get around 7 hours of video playback, even with the display on full brightness levels. The tablet lasted about two days with push notifications and e-mails on, 1 to 1.5 hours of phone calls, an hour of music and video playback, and half an hour of playing games. It's worth pointing out that we had turned off auto-brightness, and the screen brightness was at the highest level. Altering these settings might help in running the tablet for a longer duration, depending on your usage pattern.
Verdict
The Kobo Arc is one of the few e-reading focused tablets that offer a full featured Android experience. It's integrated with the Kobo 'eBooks' ecosystem but offers all standard Android apps and multimedia playback capability. At a price of Rs. 11,999 (it was available at Rs. 9,999 under an introductory offer), it's one of the cheapest high-quality Android tablets available in the market.
The Amazon Kindle Fire HD 7 is now also priced at the similarly. In terms of books, Amazon offers a better collection of titles and cheaper ebook prices compared to Kobo, but Amazon doesn't offer movies, music and TV shows for purchase in India, yet. It even doesn't come with the Google Play Store for apps and has its own App Store. The Kobo, on the other hand benefits from Google's content and app ecosystem, and directly competes with the Nexus 7, albeit with inferior hardware.
Overall, the Kobo Arc offers good hardware, a decent display, and unhindered access to the Android ecosystem at a great price. If you can make do without 3G, this one really fits the bill when it comes to choosing an Android tablet.
Price:
Rs. 11,999
Pros
Good build quality
Decent display
Unhindered access to Android ecosystem
Cons
No cellular connectivity
No GPS
Ratings (Out of 5)
- Design: 3
- Display: 4
- Performance: 3
- Software: 3.5
- Battery Life: 3.5
- Value for Money: 4
- Camera: 2.5
- Overall: 3.5