Amazon
announced
an updated Kindle Paperwhite in September last year. The refreshed ebook reader comes with various improvements including a higher contrast display, a faster processor, improved touch technology, and several software enhancements.
While the Wi-Fi variant started shipping in US the same month, the Wi-Fi + 3G variant became available closer to the holiday season. The Kindle Paperwhite 3G (2013) was listed for pre-orders in India last month, and is now available via Amazon.in as well as offline retailers across the country.
Does the new Kindle Paperwhite come with enough improvements to stay ahead of the likes of the Kobo Glo? We spent a little over three weeks with the ebook reader in a bid to find out. Let's dig in.
Look and feel
At first glance, you'll be hard-pressed to find a difference between the Kindle Paperwhite 3G (2013) and its predecessor. The two have identical dimensions (169x117x9.1mm). While the current model (222g) is marginally heavier than the Kindle Paperwhite 3G (2012), which weighed 215 grams, the difference is, of course, too small to notice. Similarly, the 2013 Wi-Fi-only model (213g) is 7 grams heavier than the corresponding Kindle from the year before, but all four models have the same dimensions. This means you can hang on to the covers, skins and sleeves you may have accumulated for your current Kindle Paperwhite.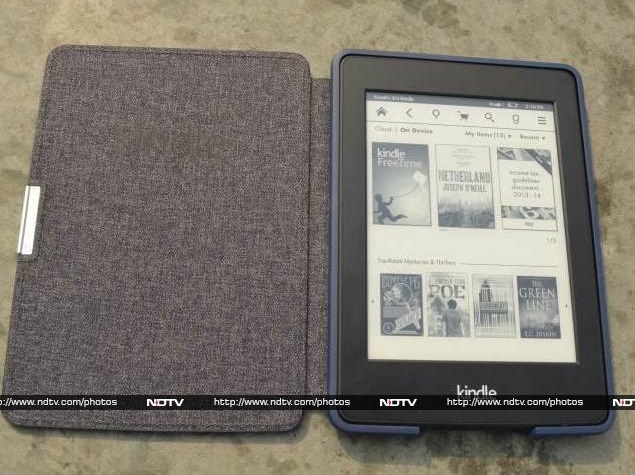 The astute will observe that the 'kindle' branding just below the 6-inch screen is now in a slightly thicker font. The Micro-USB port and power button are on the bottom edge as before.
Changes at the back, however, are more prominent. The spot where the word 'kindle' was written has given way to 'amazon' in bigger and more legible letters. FCC and various other certification logos can be found towards the bottom.
Included in the pack is a Micro-USB cable, but, in typical Amazon tradition, there's no charger. You can buy the overpriced Kindle charger separately or use any standard USB charger that you might have lying around.
Improved display and processor
We have to admit that we were pretty happy with the display on the previous generation Kindle Paperwhite, so when Amazon came out claiming improvements on the new model, we were curious to see what was in store. When you set the two models side by side, the text on the 2013 Paperwhite is definitely easier to read, thanks to the better contrast ratio and the improved front-lit display. However, the change is not so significant that switching back to the previous model would be a problem.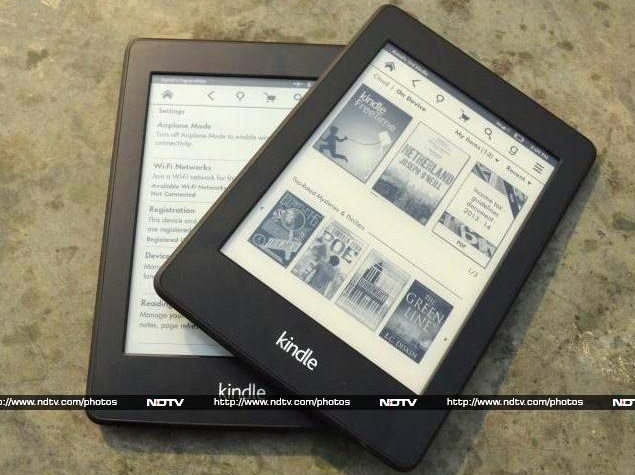 The Kindle Paperwhite 2013 edition sitting atop its predecessor.
Similarly, in the side-by-side tests, books load significantly faster and page turns are a little bit quicker on the new Kindle Paperwhite, thanks to the improved processor. Again, while the enhancements are a nice touch, we never felt that speed was a problem on the previous model.
Software enhancements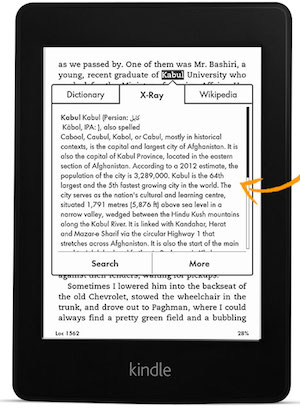 The software changes on the Kindle Paperwhite 3G (2013) are a little more significant. Perhaps the handiest amongst these is an improved Smart Lookup feature that lets you select any word or phrase within the text of a book, and look it up in the dictionary or on Wikipedia, without leaving the page you are reading. This works similar to the Look Up feature in OS X and iOS, and comes in really handy when you stumble upon a new word or the name of an unfamiliar historical figure.
All terms that you look up are automatically added to a list called the Vocabulary Builder. You can use this list to refresh your memory at a later stage and even quiz yourself with flashcards. While we imagine this could come in handy for students, it's also useful for anyone looking to improve their vocabulary. The functionality can be disabled altogether, in case you don't want any 'embarrassing' lookups tracked.
Swiping up from the bottom of the screen brings up the new Page Flip feature that lets you view another location in the book as an overlay on the current page. You can skip to the end of the book, a specific chapter, or navigate page-by-page. Sadly, there's no way to jump quickly to custom points in the books (like your bookmarks). New inline footnotes let you read the complete text of each footnote without leaving the current position.
The new Kindle OS features integration with Goodreads, an online community of book lovers that Amazon bought last year. You can see what your friends are reading, share highlights, rate the (physical and e)books you read (or want to read), and more. Goodreads can be invoked by tapping the 'g' icon on the top bar, but you need to sign up separately for the service.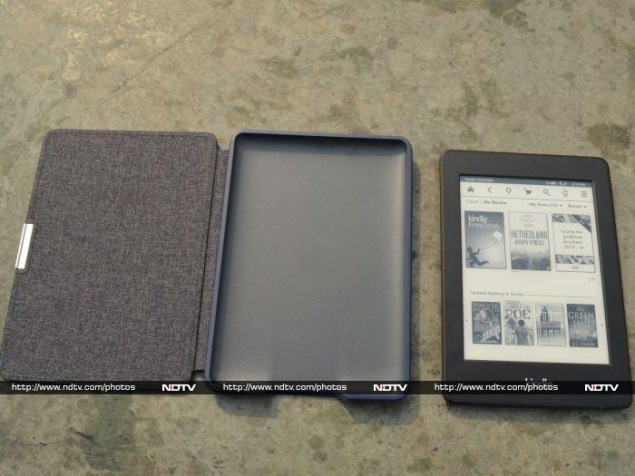 The Kindle Paperwhite leather cover (left) is sold separately
Kindle FreeTime is another new software feature that lets parents decide which books to share with their children and set reading goals for them in the process. Kids are encouraged to get into the habit of reading with rewards such as badges, while parents can monitor their progress by tracking the total number of books read, the words looked up, and more.
Other software features unchanged from previous version(s) include the ability to have unlimited notes, highlights and bookmarks for each ebook; sharing quotes or other passages to Facebook and Twitter; the handy X-Ray that lets you zoom in on a character's biography and more; and the 'time to read' indicator that tells you how much time it will take to finish a chapter or a book based on your current reading speed.
Another handy feature is the ability to send various documents to your Kindle by emailing them to a 'secret' email address. The Kindle accepts various file formats including PDF, Microsoft Word (doc, docx), Rich Text Format (rtf), HTML files (htm, html) but not URLs, text documents (txt), archived documents (zip , x-zip), compressed archived documents, and the Mobipocket format.

Performance, 3G and battery life
Amazon claims that the touch grid on the Kindle Paperwhite 3G (2013) is 19 percent tighter, and while the touch performance has improved slightly, those used to super-sensitive touch panels like those used in smartphones and tablets will continue to be disappointed. Like before, you may have to type slower than you are used to, but that's a perfectly acceptable tradeoff given the nature of the device, especially when you will be doing relatively little typing.
The real highlight of the device of course is the battery performance, which is unchanged from before. Amazon claims that a single charge lasts up to eight weeks, based on half an hour of reading per day with wireless off and the light setting at 10. Even if you read around an hour a day, leave the wireless on, and prefer a higher brightness level, the device should last you around three weeks, which is quite remarkable.
The 3G Kindle Paperwhite (2013) is being sold at a premium of Rs. 3,000 compared to the Wi-Fi-only variant. While the Wi-Fi version definitely offers more value, the 3G comes in handy when, say, you are at a Wi-Fi-free airport and need to grab a book before getting onto your flight. 3G Kindle ebook readers of course come with pre-activated 3G that can be used in most countries across the world without any associated charges, subject to certain conditions and coverage areas. Unfortunately, the 3G access is limited to the Kindle store and in-book functionality like lookups and you cannot use it with the 'Experimental Browser', which works over Wi-Fi only.
Amazon sells ad-supported (or 'With Special Offers', as Amazon calls them) Kindle models in the US and other markets at a slight discount, but our review unit was one without special offers. If the Amazon.in listings are any indicator, all units being sold in India are 'Without Special Offers'.
Amazon offers 'over 2 million' free and paid books, newspapers and magazines in the Kindle store - including titles that are available exclusively on the Kindle - and you can pay in INR instead of USD if you have a Visa or Master Card debit or credit card issued by an Indian bank. If you are unsure about buying a title, you can download and read a sample for free before spending your money. Books you purchase can also be read on the Web, mobile and desktops using the various Kindle apps.

Each Kindle Paperwhite comes with around 1.25GB of free storage (but no free ebooks, in case you were wondering). This is enough to keep more than 1,000 books with you at any given time, which should satisfy even the biggest bibliomaniacs. Of course there's no limit on the number of titles you can buy and store in the 'cloud'.

Wrap up
The Amazon Kindle Paperwhite (2013) is clearly intended as an incremental upgrade over its predecessor. While it lacks a stand-out feature that makes it a compelling upgrade for existing Paperwhite owners, it does enough to stay ahead of the competition. The Wi-Fi version is the one to get if you are in the market for an ebook reader; go for the 3G variant if you feel like giving yourself a treat.
Price
Kindle Paperwhite (2013) Wi-Fi only: Rs. 10,999
Kindle Paperwhite (2013) Wi-Fi + 3G: Rs. 13,999
Kindle Paperwhite leather cover: Rs. 2,399

Kindle Paperwhite 3G (2013)
Affiliate links may be automatically generated - see our ethics statement for details.