It isn't surprising that Dell has jumped into the Android tablet fray - it's only surprising that it took them so long to get serious about it. The PC industry's decline is now well documented and every major player is looking to diversify into other areas. Dell first tried its hand at smartphones and tablets back in 2009, but none of its attempts since then including the original Venue, Venue Pro, XCD, Streak and Mini product lines ever amounted to much.
Now, after a few years of focusing on Windows-based Ultrabooks, hybrids, and all-in-one desktops, Dell is has decided to give Android another shot. The Venue brand has been resuscitated and is now being used across a line of new tablets. There are two Android-based Venues and two Windows-powered Venue Pros.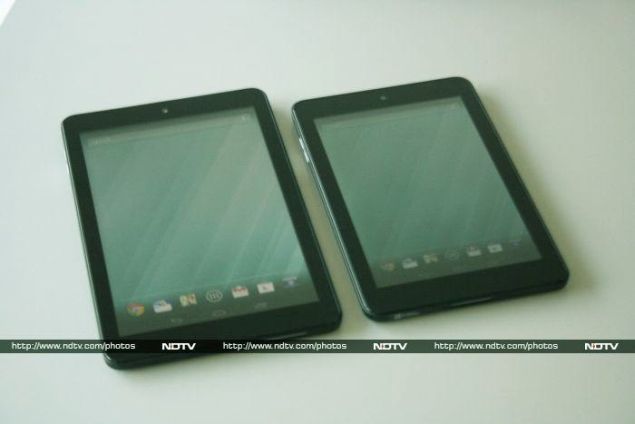 The two Android tablets are extremely similar, with the primary difference being the size of their screens. As their names suggest, the Dell Venue 7 has a 7-inch screen while the Venue 8 has an 8-inch screen. We have both of them in for review today, so let's see how they stack up against the competition and each other.
Look and feel
The two tablets are nearly identical, apart from their sizes. The Venue 8 is obviously a little taller and wider than the Venue 7, it's also 0.15mm thicker. Both tablets have plain glass front faces with no button markings and no branding. There's only the small circular cutout of each device's front-facing camera that gives you any clue about which way is up. The glass is surrounded by a tiny raised rubber ring that protects the screen when each tablet is placed face down on a table.
The back and sides are a single plastic shell, made out of soft-touch rubberised plastic. Each tablet has a large silver Dell badge right in the middle of the rear panel, with its main camera centred above it and an Intel logo along with regulatory badges below. The camera on the Venue 8 sits on a slightly raised hump while the Venue 7's is totally flush with the body.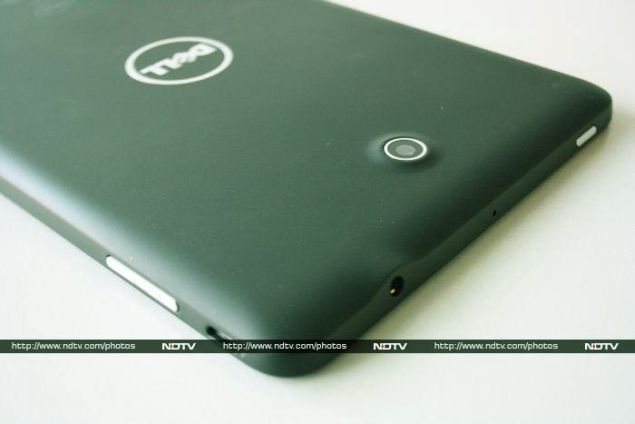 Both models have their microUSB charging ports and volume rockers on the upper left side. The power buttons and headset sockets are on top, and the speaker grilles are on the bottom. On the lower right edges, large flaps conceal the microSD card slots and blank spaces where SIM card slots might be found on potential future variants that support cellular data connections.
The Venue siblings have an understated, elegant look. They also feel pretty sturdy, but not like premium products in terms of either design or materials. Considering their low price, we're quite happy with the overall look and feel.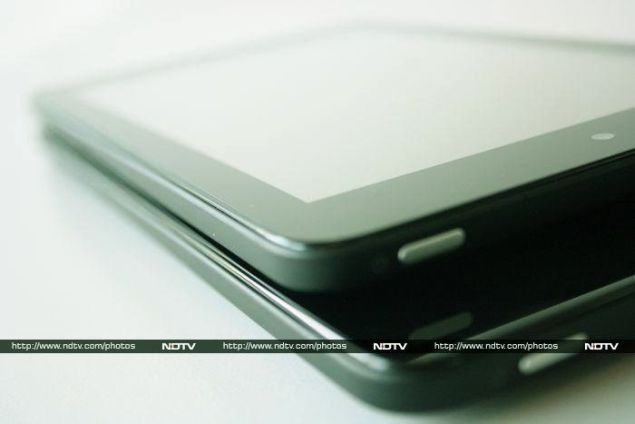 Features and specifications
Most Android phones and tablets are powered by ARM-based processors from companies such as Qualcomm, but Dell has gone with a pair of Intel chips based on the competing X86 architecture. Intel has struggled to design processors suitable for portable battery-powered devices, so this is something of an endorsement of their latest efforts. The Venue 7 uses an Atom Z2560 running at 1.6GHz, while the Venue 8 has enough headroom for an Atom Z2580, which runs at 2GHz. These are the maximum possible speeds each chip will run at, when it isn't throttled down to save battery power.
Both CPUs have two physical cores and Hyper-Threading, which allows four threads to run simultaneously. They also come with integrated SGX 544MP2 graphics and 1080p video acceleration. Intel claims these processors are optimised for Android in terms of performance, security and power efficiency.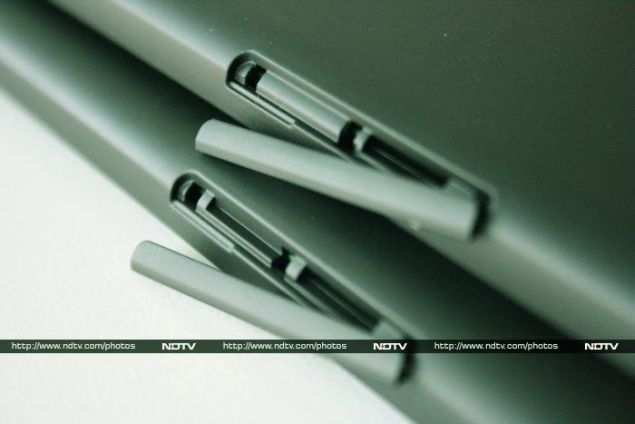 Dell has outfitted each tablet with 2GB of RAM and 16GB of built-in storage. The microSD card slots support SDXC cards up to 128GB in size, which is a noteworthy first. In terms of wireless connectivity, there's Wi-Fi b/g/n and Bluetooth 4.0. Dell doesn't yet offer versions of these tablets with 3G data support.
The two models have very different screens. Even though they share the same resolution of 1280x800, you can tell them apart with a single glance. Colours on the Venue 7's screen are noticeably cooler, while the Venue 8's screen has a warm reddish tint. The Venue 7 also has a visible pixel grid pattern, which its bigger sibling doesn't. It's more visible when looking at the screen at an angle, when there's bright light in the room, and especially if you're trying to read text on a light background. Everything on the screen looks like it's been given a linen texture. The Venue 8 also suffers from this problem, but it's a lot milder. While the smaller tablet's screen is sharper and has more accurate colour reproduction, the grid just kills the experience of using it.
The two models' cameras are also significantly different. The Venue 8 is equipped with a 5-megapixel main camera and 2-megapixel front shooter, while the smaller model has to make do with a 3-megapixel camera on the back and only a 0.3-megapixel VGA unit.
Software
In terms of software, both our review units came running Android 4.2.2, but we were prompted to download an update to 4.3 right after turning them on. Both tablets run stock Android. Dell doesn't include much in the way of customisation, except for two apps, PocketCloud and PocketCloud Explore. Both apps are powered by Wyse, which Dell now owns.
PocketCloud lets you stay connected and access files stored on your desktop or laptop. You can essentially use the app to run a remote desktop session and see your PC screen right on your tablet. It works with Windows PCs or Macs, and apps are available for iOS as well as Android. The app uses a Google account to authenticate you, or you can set up a connection manually instead. Navigation will obviously be tricky, as everything will be scaled to the much smaller tablet screen, but the app has built-in tools that simulate a mouse cursor for accurate selection. It's not something we'd imagine using very often, but it could come in handy once in a while.
PocketCloud Explore lets you access an authorised PC's files and browse through its contents. It's much easier to select files and folders this way, so this is the better method if you don't need to use any desktop software.
Everything else about the Venues' software is pure stock Android. Because the devices use on-screen buttons rather than dedicated physical or capacitive buttons, it's sometimes difficult to navigate around. Full-screen apps such as the camera and games hide the controls but blank out a bit of space on the bottom of the screen. The icons are replaced with three faint dots, which you can tap to activate. Similarly, videos have to either resize or resposition themselves when paused to make room for the button bar.
Camera
We tested both tablets' cameras and found their quality to be very different. The Venue 8 obviously has the superior camera hardware, but in the right conditions, both tablets can take decent photos.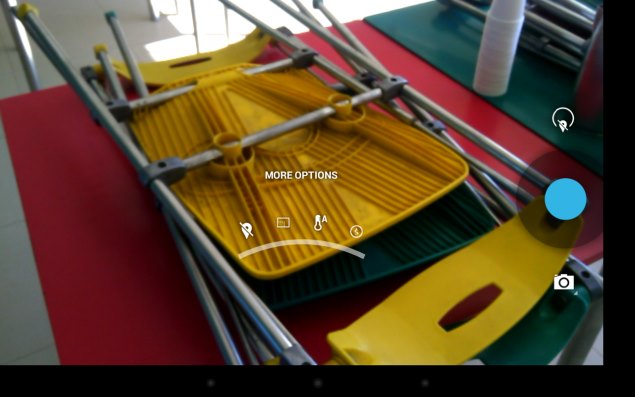 The Venue 7's rear camera has a lowly 3-megapixel sensor. In broad daylight, images were clear, but lacked detail. When opened out on a big screen, it looks like someone has applied a very basic posterise effect to distant subjects. Even the clear blue sky has an odd texture to it. Under indoor fluorescent lighting, results were much worse. Photos look okay if you don't zoom in. Low light performance was awful, with details barely visible. Photos taken with this camera are just about okay for sharing online, but you won't match the quality of even a basic featurephone camera with this one. As far as the front camera goes, you're better off just not using it at all.
Video is recorded at 720p, but you'd never be able to describe it as "high definition". Objects are blurry and there's way too much noise, but at least the video doesn't jitter.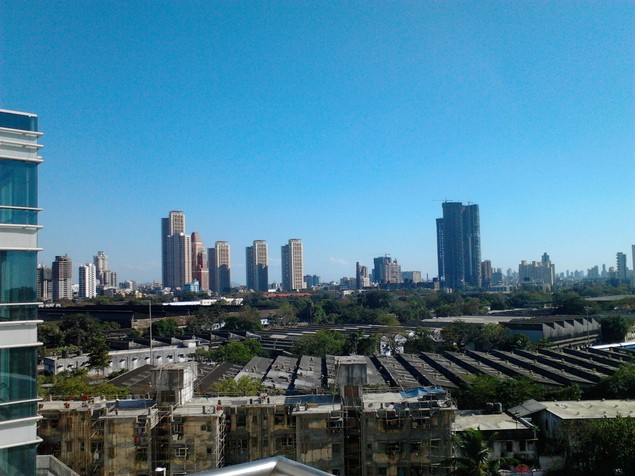 (Click to see full size)
The Venue 8 takes significantly better pictures in all conditions, although they're still not of very high quality. There's still way too much compression, but you can at least see some detail when you zoom in on a big screen. This is a camera you can use in a pinch, but again, you'd be better off with most phone cameras. The front-facing camera will do for occasional video chats.
The Venue 8's rear camera also takes 720p video, and it's also nothing to write home about. The camera has trouble adjusting to different exposure conditions in the middle of a shot.
(Click to see full size)
Neither tablet gives you many options when it comes to shooting. The camera app is as basic as can be. The only options on the Venue 7 are for internal or external storage, and white balance, while the Venue 8 also has options for image dimensions (5MP, 3MP or VGA) and video resolution (480p or 720p).
Performance and battery life
It might seem that these tablets don't have very much going for them, but their performace is actually pretty snappy. Again, we have to remind ourselves that these are pretty inexpensive tablets, and the Venue 7 is far cheaper than even Google's Nexus 7.
Both did well in our benchmark tests, with respectable scores in both CPU-intensive and graphics tests. As expected, the Venue 8 had an edge over its smaller sibling, thanks to a faster processor.
| Test | Dell Venue 7 | Dell Venue 8 |
| --- | --- | --- |
| AnTuTu | 19094 | 22929 |
| 3DMark Ice Storm | 6492 | 8045 |
| Quadrant (overall) | 7698 | 9577 |
| GFXbench (fps) | 13 | 16 |
| Battery life (minutes) | 437 | 406 |
Both tablets use the same battery, rated at 4100mAh. Unsurprisingly, the bigger screen on the Venue 8 proved to be a handicap, and it lasted for 406 minutes in our video loop test while the Venue 7 had a half hour advantage, at 437 minutes.
Both tablets did well when it came to playing 1080p HD video. Higher bitrate videos didn't play, but common formats were perfectly fine. Audio from each tablet's single speaker wasn't very rich, but it was loud and clear enough for our liking.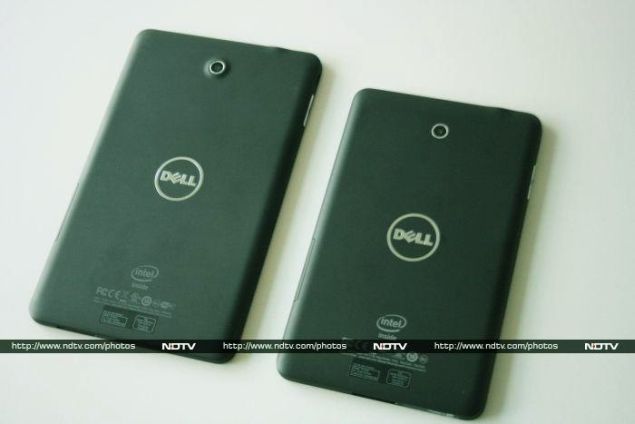 Verdict: Dell Venue 7
The Venue 7 could have been a fantastic low-cost tablet. It costs just over half of what the similarly sized Google Nexus 7 (2013) does, making it a serious budget alternative. One significant advantage it has over the Nexus is its microSD card slot. It's also small and light enough to toss in a bag just in case it's ever needed.
Unfortunately, the awful screen makes it hard for us to imagine ever using this tablet for reading or watching videos, which are two major use cases for smaller tablets. We don't mind the low resolution, but it's the visible grid pattern that really distracts us.
The Venue 7 competes with several tablets from smaller brands, many of which offer voice calling as well. However, Dell's name and reputation will be enough to sway many decisions. If you just want to surf the Web, use social networking apps and play games occasionally, this is still a very strong product at its price point. However we'd strongly advise you to try it in a shop first to see if you can live with the screen.
Price: Rs. 12,999

Pros

Small and light

Affordable tablet from a big brand

Snappy performance
Good looks and construction

Cons

Awful screen

Low-quality cameras

Ratings (Out of 5)

Design: 4
Display: 2
Camera: 1.5
Performance: 4
Software: 3.5
Battery Life: 3.5
Value for Money: 3
Overall: 3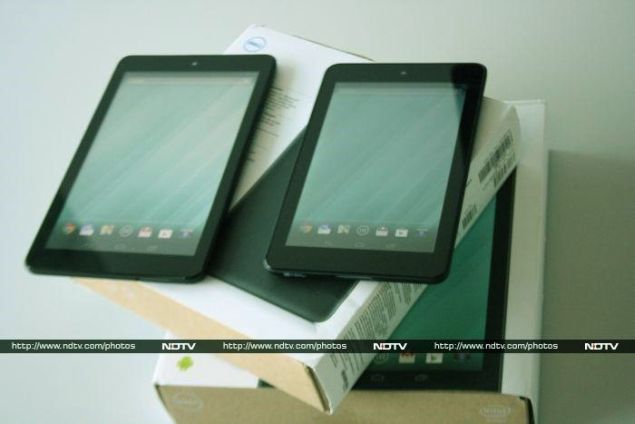 Verdict: Dell Venue 8
It might not sound like that much more screen space, but the Venue 8 is much more satisfying to read, watch videos and play games on. It isn't as light or easy to hold in one hand, but it's a lot more versatile as a media consumption device. What's more, the cameras might actually come in handy. It might seem odd that Dell has released two products that are so similar, but there are definite use cases for either one.
However, the Venue 8 is a lot more expensive than the Venue 7. For only a little more money, you could get a first-generation iPad mini, which is still pretty good value for money. Other options in this price range include Lenovo's Yoga 8 B6000 and the smaller but more powerful Xolo Play Tegra Note.
Price: Rs. 19,499

Pros

Comfortable to read and watch videos on

Snappy performance
Good looks and construction

Cons

A bit expensive

Low-quality cameras

Ratings (Out of 5)

Design: 4
Display: 3

Camera: 3

Performance: 4
Software: 3.5
Battery Life: 3.5
Value for Money: 3.5
Overall: 3.5