In the past two years, Asus has released at least four different versions of the Fonepad 7. We saw a Fonepad 7 (3G) release last year, followed by the Fonepad 7 Dual SIM and the Fonepad 7 (FE375CG) in the first quarter of this year. On top of that, the Fonepad 7 (FE170CG) launched just recently, and we have it with us for review.
This Fonepad 7 is Asus's attempt at creating a low-cost tablet for the masses. While the spec sheet may not be impressive, Asus's intended target audience might approve of the Dual-SIM functionality and voice calling features.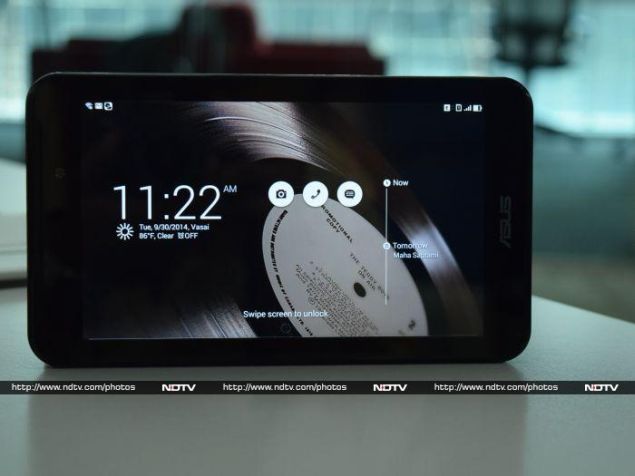 Look and feel
The refreshed Fonepad 7 doesn't look too different from the Fonepad 7 we reviewed last year but it looks like Asus has tweaked the design slightly to make it better. Gone is the plain slippery back, which is now replaced by a nice textured finish. This aids in gripping the device. The entire body is made of good quality plastic and feels sturdy ineveryday use. Moreover, Asus has shaved 28g from the previous iteration and the weight of the new Fonepad 7 is 290g. This reduction is immediately noticeable since the device is easier to use with one hand. We received the black version for review but the tablet is also available in red, blue and white.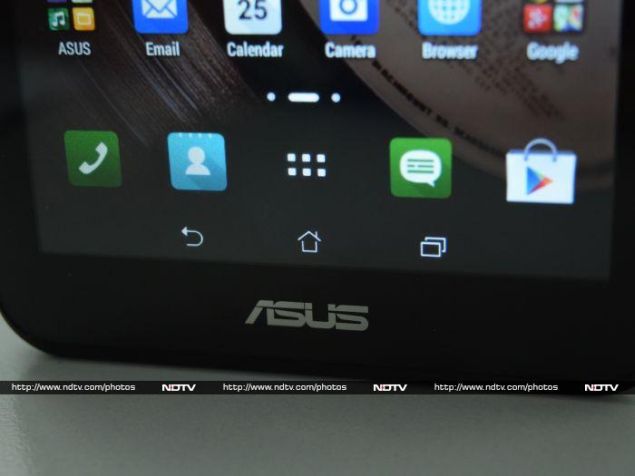 Asus has decided to replace the dual front-firing speakers with a single one on top of the screen. Below the speaker is a front-facing camera. The 7-inch screen is surrounded on all sides by fairly wide bezels. The edges curve inwards and on the right are the volume rocker and power button. The left edge has a flap that houses two slots for Micro-SIM cards and a slot for a microSD card. A 3.5mm jack and a Micro-USB port are on the top of the Asus Fonepad 7. The primary camera is on the rear along with a metallic Asus logo.
Specifications, software and camera
The Asus Fonepad 7 SoC is an Intel Atom Z2520 dual-core processor clocked at 1.2GHz with an integrated PowerVR SGX 544MP GPU. The device also has 1GB of RAM and 4GB of internal storage space, which can be further expanded by 64GB using a microSD card. Asus also bundles 5GB of space on Web Storage, its very own cloud platform, which is valid for life. You also get an additional 11GB of space for the first year. There is a 2-megapixel primary camera and a 0.3-megapixel front camera.
With respect to cellular connectivity, this voice-calling tablet can connect to the 850/900/1800/1900/2100MHz frequency bands. There is Bluetooth v4.0 and Wi-Fi b/g/n connectivity as well. The battery specification is not mentioned anywhere but Asus claims that it can play videos for 10hrs. We shall test this claim in our performance section.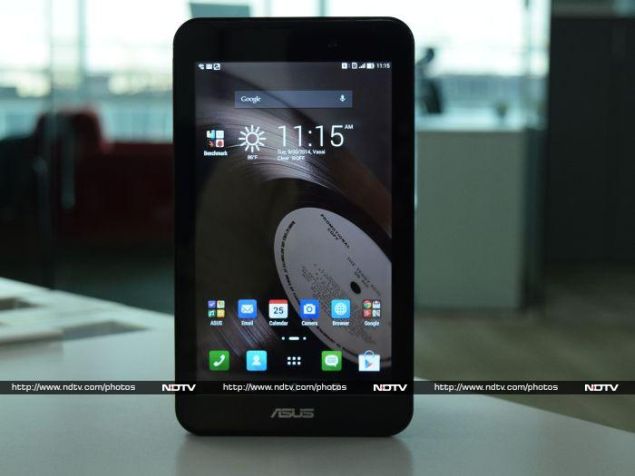 The 7-inch screen has a resolution of 1024x600. Asus' specification sheet states that the screen has an anti-fingerprint coating. We think this is a cruel joke since the screen attracts fingerprints like Ryan Gosling attracts women. Also if you ever need to set your hair, the screen can work as a mirror. Under sunlight, even the slightest tilt makes the screen not viewable. Now we know where Asus cut corners to keep the cost of the tablet down.
The tablet runs Android 4.3 (Jelly Bean) with no word on an update yet. The moment we fired it up and connected it to the Internet, it started downloading a number of updates including the Google Services Framework. Post this, things started getting weird. The launcher would not work properly and every time we restarted the tablet, it tried to install more updates and crashed. We think this has something to do with ZenUI and the new updates not talking to each other properly. We continued without updating the framework and everything worked fine.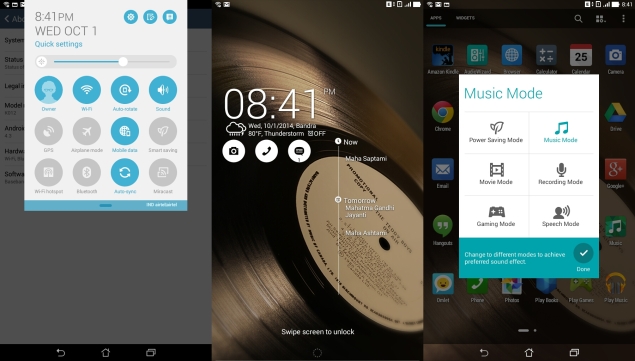 For first-time users, ZenUI takes a little getting used to. The lockscreen has direct-access icons for the Camera, Phone and Messaging apps. Asus has something called What's Next which lines up nicely beside these icons on the lockscreen and is a unique take on literally displaying what's next on the user's schedule.

The colourful icons and subtle screen turn animations make ZenUI look much better than a lot of other custom skins on top Android do. Just like what we saw in the Asus Zenfone 5 (and Zenfone 4 and Zenfone 6), Asus bundles a few third-party apps and some proprietary apps including AudioWizard, Omlet, Power Saver, SuperNote, Web Storage and Splendid. All the apps are quite useful in some form or other. However, if for some reason you want to uninstall these apps Asus doesn't allow that. Other than an extra row of number keys on the default keyboad, Asus hasn't made much use of the greater screen real estate to allow apps to run in split-screen mode or any similar feature that some other tablets have.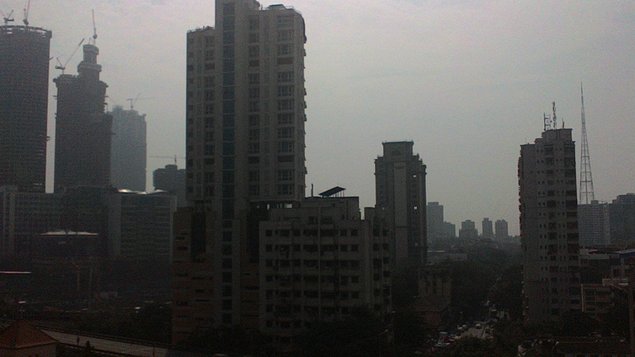 (Click to see full size)

The 2-megapixel primary camera and 0.3-megapixel front-camera tried really heard to take good pictures but failed. In all testing conditions, we found that the rear camera is mostly pointless. We think Asus could have skipped the cameras on this Fonepad 7 and spent a little more on a better quality screen. In any case, it is not a patch on the 5-megapixel camera we used on the Asus Fonepad 7 Dual-SIM.
Performance
Apart from the initial software hiccup that we mentioned, the Asus Fonepad 7 didn't present any problems in use. It's smooth and works like a charm for most part. Even a few high-end games like Asphalt 8 worked well.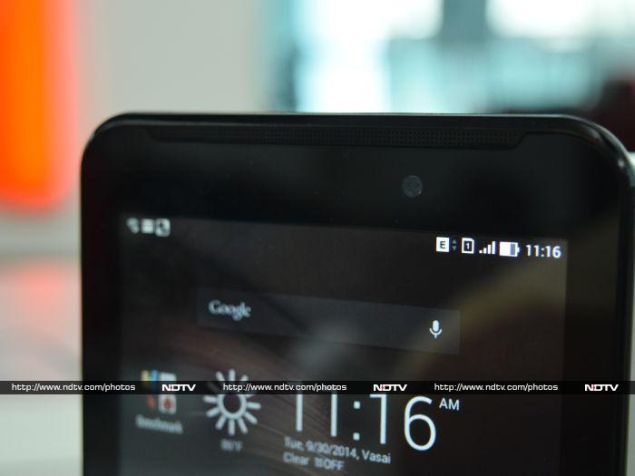 In the AnTuTu and Quadrant benchmark tests, this tablet scored 18,029 and 6,800, respectively. We also ran our graphics benchmarks and the Asus Fonepad 7 scored 13.1fps in the GFXbench test and 5,148 in the more intensive 3DMark Ice Storm sequence. The tablet also played all our test videos. Our heavily encoded 40mbps 1080p video file also didn't trouble it too much. The decision to move to a single speaker on this year's Fonepad 7 does not affect sound quality - sound is adequately loud and clear as well.
Asus' claim about battery performance seems to be true since in our test it lasted us around 10 hours, 22 minutes, which is actually on the high side. There is a fairly powerful Power Saver function that works really well too.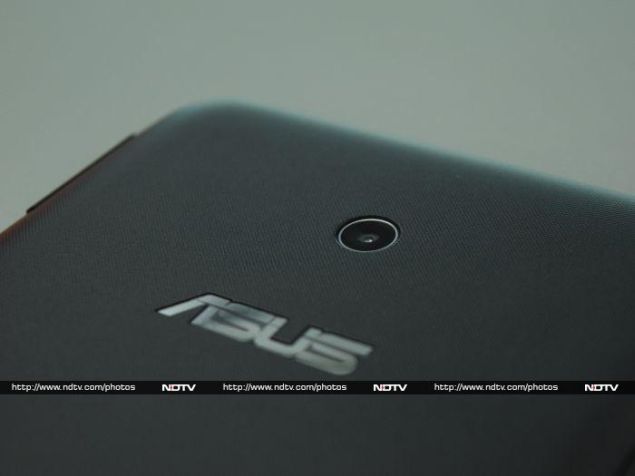 Verdict
The Asus Fonepad 7 is available for as little as Rs. 7,299 on e-commerce platforms, which is a really good price for a tablet that performs so well. Yes, the software was slightly iffy in the beginning, but that could have been a problem with our review unit. The screen is not too great and the camera is a joke, but the cost had to be managed somehow.
There are other options in the form of Flipkart's own Digiflip Pro ET701, which has a similar set of specs and is priced much lower than the Fonepad 7. It is missing the voice-calling capability though. The Digiflip Pro XT801 on the other hand has much better specifications but once again doesn't have voice calling features. At this price, the Fonepad 7 hits the sweet spot by offeringvoice-calling. Just make sure you always carry a cloth to wipe fingerprints with.


Asus Fonepad 7 in pictures