Amazon launched the Kindle Paperwhite ebook reader and Kindle Fire HD range of tablets in India recently. Kindle Fire HD, a 7-inch tablet, and Kindle Fire HD 8.9, its 8.9-inch avatar, sport very similar looks, though they differ under the hood. We spent over a week with the smaller sibling and were quite impressed. Read on for the full review.
Build/ Design
Kindle Fire HD is a 7-inch tablet, but seems even smaller when you see it at first. It fits well in your hand, and feels just the right weight as well. The high quality plastic that the tablet is made of gives it a premium finish.
The Kindle Fire HD looks pretty plain from the front, with the screen surrounded by a thick bezel on all four sides. There are no buttons or sensors on the front of the tablet, with only the presence of the camera module at the top breaking the monotony. The back is bare as well except for a strip that runs across the length of the tablet about two-thirds from the top. The strip sports Kindle branding and also houses the two speakers hidden behind a beautifully done grill alongside both edges. There's some Amazon and FCC branding towards the bottom.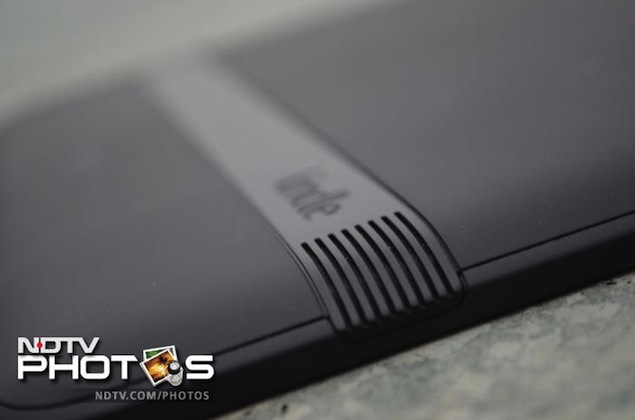 The left edge of the Kindle Fire HD is completely bare, while the top features the microphone, located exactly above the camera. The bottom houses the Micro-USB and Micro-HDMI ports. The right edge has the headphone jack, volume rocker and the power button. The power and volume buttons are completely flush with the body, which means they can be a little hard to locate when you are using the tablet. Even after spending 10 days with our Kindle Fire HD, we found ourselves turning the tablet over to find the power button, instead of instinctively reaching for the controls like one tends to do after spending some time with a device. This was our biggest gripe with an otherwise very well designed tablet.
Display
Kindle Fire HD comes with a 7-inch 1280x800 LCD display. The display is amongst the best we've seen on a tablet this size. The text appears crisp, the colours are sharp and accurate, and the viewing angles are excellent. Outdoors visibility is not a problem either.
Software/ UIKindle Fire HD runs a customised version of Android 4.0 Ice Cream Sandwich, though it looks nothing like other Android devices you may have come across. Instead of multiple home screens with small icons you can click to launch applications, you are greeted by a carousel with giant icons that take up the entire screen. The carousel houses everything that's installed on your Fire HD, from Books and Apps to Movies and Music. It starts off looking pretty bare but it can get rather cumbersome to navigate using just the carousel once you start accumulating stuff.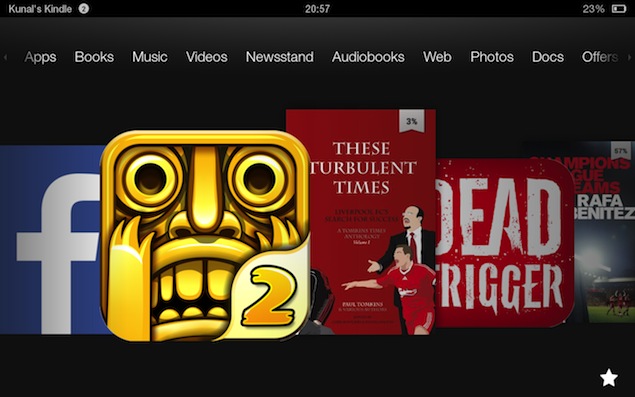 Thankfully, you can switch to viewing just your Apps or Music or any other type of content, by selecting the category from the top of the screen. Items inside a particular category are listed as a grid of icons, with an option to switch to list view if desired. You can also use the favourites feature to quickly get to your most frequently accessed apps, books, movies, or other types of content. However, there's no app-switcher as seen in Android or iOS.
Though the Kindle Fire HD runs a variant of Android 4.0, you do not have the option to install apps from Google Play. Instead, you get access to Amazon's own Appstore that features a curated set of apps. Unlike Google Play, that can resemble Wild West at times, apps need to be approved by Amazon before they get into Appstore, similar to the policy that Apple follows with its App Store, so discovering quality apps is a little bit easier.
However, unlike Apple, which does not officially support jailbreaking your iOS devices, Amazon lets you install apps from other sources (also called side loading) by simply enabling the relevant preference. This lets you install apps like Dropbox and Firefox that are not available in Amazon's Appstore by visiting the respective websites, or by getting the APK file from other sources.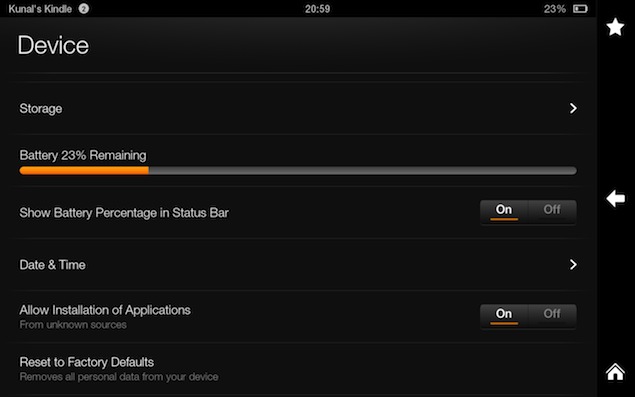 Built-in apps like the Silk browser and the Email client are pretty basic, but get the job done. Silk features Amazon's compression techniques that are supposed to speed up browsing under low bandwidth conditions. However, given the Kindle Fire released in India is a Wi-Fi only tablet, you are probably better off disabling compression.
Kindle Fire HD comes with a notification centre and the top left corner of your screen displays the number of pending notifications, adjacent to the name of your device. However, there are no pop-up notifications to give, for example, a preview of the email you just received. What you get instead is an indicator that you've received one or more new emails. You can pull down the notifications drawer, and even then, you'll just get to see the number of new emails in each account, but no information about the emails themselves. This can be a bit of a problem if you wish to stay on top of your emails while, say, reading a book.
The pull-down notification centre also provides quick access to settings like orientation lock, volume, brightness, wireless and more.
You can buy books from Amazon's massive library of books and read them on the tablet. The overall experience, including the navigation, is quite similar to that of the Kindle e-reader. You can tap towards the bottom right to turn the next page or bottom left to go back to the previous page, designed to mirror the actions of turning the page forward/ back in a real book. The books are displayed in full screen, so if you need to display the menu to search within the book, change font size, or just go back to home screen, you need to tap the top part of the screen. This, too, is similar to the Kindle e-reader interface, so experienced users will feel right at home. However, it is not the most intuitive way for new users and can be a bit confusing at first.
Performance/ Camera/ Battery life
Kindle Fire HD is powered by a 1.2GHz dual-core processor alongside 1GB RAM, and while they may not sound impressive in this era of quad- and octa-core processors, the tablet performs admirably in all departments. We did not experience any lag in the considerable amount of time we spent using the Kindle Fire HD. Casual games like Temple Run work without any hiccups and other games like Dead Trigger run flawlessly. However, some popular games and apps are not available on Amazon's Appstore and you may have to resort to side loading to acquire them.
As mentioned earlier, users can purchase books from Amazon's online store. However, movies, music and TV shows are not available for purchase in India yet. In an environment where Apple now offers music and movies in India via its iTunes Store users have the option to buy music from Google Play as well, Amazon needs to make sure that its content story is in place at the earliest.
Kindle Fire HD comes with dual-speakers that are quite loud and the sound quality is good, even at high volumes, which makes watching videos and listening to music quite pleasurable.
You can, of course, transfer your (non-DRM protected) content obtained from other sources to the Kindle Fire HD by connecting it to your computer. The tablet appears as a mass-storage device on Windows machines, with a sub-directory for every type of content. Mac users will need to use a utility called Android File Transfer for the same result, similar to other Android devices.
The tablet's lock screen displays Special Offers (ads) when the screen is switched on. You can ignore the ads and simply unlock your tablet or swipe to view more details about the offer. The ads typically feature ongoing deals on Amazon's various stores, and we didn't mind them one bit. However, if you wish to opt out of these special offers, you can do so by spending an extra 15 dollars.
Kindle Fire HD comes with just a front camera that is good enough for video conferencing and grainy-looking self-portraits, but nothing more.
Battery life on the tablet is pretty impressive and we got over 6 hours of continuous video playback on full brightness and the volume turned all the way up. Auto-brightness, Wi-Fi and Bluetooth were all turned off; your mileage may vary by toggling one or more of those settings. Even with heavy usage, that involves a mix of browsing the Web, emails, reading, and watching videos, the tablet should last you a full day, and more, on a single charge.
That brings us to our other big complaint with the Kindle Fire HD - the lack of 3G connectivity. In a country where Wi-Fi availability is limited, a Wi-Fi-only tablet will only get you so far, especially when you are on the move. Yes, you can enable hotspot on your phone or use a portable router, but we are big fan of integrated solutions, and we wish Amazon had bundled 3G support on the tablet. It's worth noting that Amazon sells a 4G LTE variant of the bigger Kindle Fire HD 8.9 tablet in US and other markets, but there's no Kindle Fire HD 7-inch variant with cellular connectivity.
Verdict
Amazon has priced the Kindle Fire HD at Rs. 15,999 that puts it directly in competition with the likes of Google's Nexus 7 and Asus's FonePad that carry identical price tags. All three tablets sport similar specs, but bring something different to the tablet.
While Google's tablet offers you the core Android experience and promises quick software updates thanks to its 'Nexus' status, the FonePad comes with support for voice calling and 3G connectivity, as well as a 3-megapixel rear camera. Amazon has taken a completely different approach, putting user experience at the forefront and opting for a radically different interface, that is likely to appeal to the non-tech savvy users. Experienced Android users may scoff at what Amazon's done to their beloved operating system and they'll perhaps be better off picking either the Nexus 7 or the FonePad at the price.
With that out of the way, let's talk about the Kindle Fire HD. While the placement of the power button is irksome and the lack of cellular connectivity is a downer, the tablet ticks a lot of other boxes. It comes with a nice display, has excellent build quality, boasts good performance and is great for consuming all kinds of media as well as reading. If you are looking for your first tablet and do not have the budget to buy the iPad mini (Rs. 21,900), which remains our top pick in this segment, we recommend you give the Kindle Fire HD a look.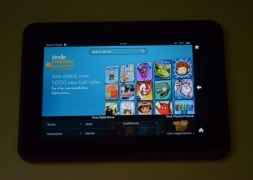 Kindle Fire HD in pictures
Price: Rs. 15,999
Pros
Great build quality
Good display
Solid performance
Above average battery life
Cons
No cellular connectivity
Awkward placement of power button
Ratings (Out of 5)
Design: 3.5
Display: 4
Performance: 3.5
Software: 3.5
Battery Life: 4
Value for Money: 3.5
Camera: 2.5
Overall: 3.5