The budget PC market has always been highly competitive, and pretty much every manufacturer is in a race to the bottom in terms of pricing. Surprisingly, though, that hasn't stopped them from trying out all kinds of designs and throwing in popular features to tempt users. Touchscreens and 2-in-1 tablet designs have trickled down from the high-end to the budget segment, giving customers more choices than ever.
However there has to be some give and take. You can't expect to have every possible feature at this price level. Most of what we've seen are basically tablets with flimsy keyboard stands, such as the Notion Ink Cain, Swipe Ultimate and Croma 1177. While these are portable and affordable, they use slow processors and aren't easy to use in many situations.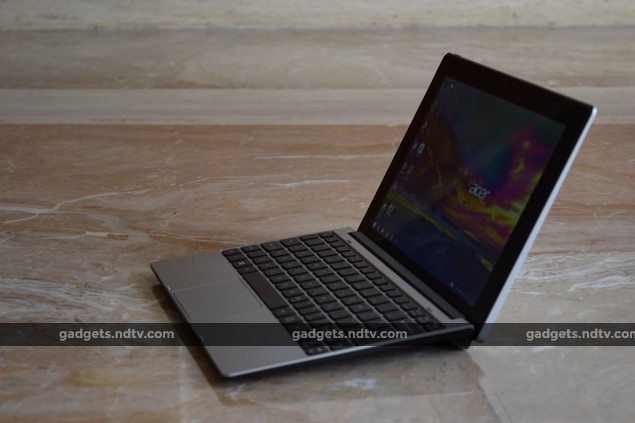 Acer has a slightly different take on the idea. The new Acer One, which the company says was designed especially for Indian buyers, costs around the same as the aforementioned products but looks a lot more like a complete laptop, with a solid yet detachable base and some interesting specifications. We were intrigued by the Acer One, because it at first glance it looks like it could destroy all its competition at the Rs. 20,000 mark.
Look and feel
The Acer One is a chunky little device that reminds us most of the netbooks that used to be popular a few years ago. It weighs 1.2kg with its base which puts it in between today's tablets and laptops in terms of portability. The lid is pretty blank apart from a cutout for a rear-facing camera. You'll also see small speaker grilles on each side.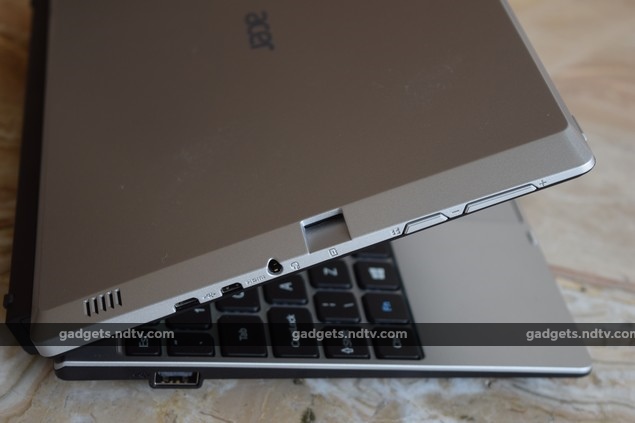 Most of the device's ports and buttons are in a row down the left. Starting from the bottom there's a Micro-USB port for charging (which also supports full USB functionality with compatible devices or an OTG adapter), a Micro-HDMI port, 3.5mm audio jack, microSD slot, Start button and volume buttons. The microSD slot is unfortunately exposed - we would have liked to have seen at least a rubber flap. The power button is just around the corner on the top edge.
Clearly, the screen portion contains all the guts of the Acer One and can work as a self-contained unit. It detaches smoothly from the keyboard base with a slight tug. There are magnets to keep it in place, and a single strip of contact points in the middle. One of the key attractions of the Acer One is that you can flip the screen over and reinsert it so it faces upwards with the lid closed. Of course if you want to use it screen up, it's more comfortable just to use the tablet half on its own.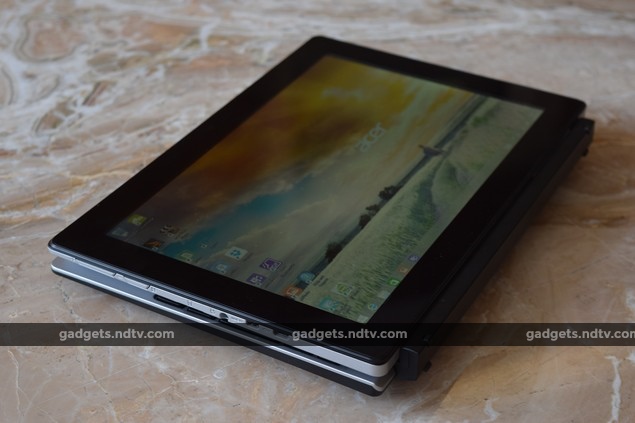 We really like the fact that Acer managed to build a solid keyboard base, which we've seen with far more expensive products such as the Asus Transformer series before now. This should allow the Acer One to be far more useful as a laptop than its competition, giving it a different balance of capabilities than we've seen before. Unfortunately, Acer has made some truly bizarre decisions which pretty much wipe out all that potential. The keyboard is an ergonomic minefield, with tiny, shallow keys and a horrific layout. For starters, it has a mostly British layout with an inverted Enter key and a second Slash/Pipe key where the left Shift should be. The bottom row is difficult to use thanks to the lip of the wrist rest. The M is compressed and the punctuation marks are shifted to make room for a second Tilde key - for no apparent reason. It isn't all terrible though - we like that Acer didn't leave off keys such as Pause/Break, and for those who need it, there's an old-style virtual number pad which can be used via Fn key combos.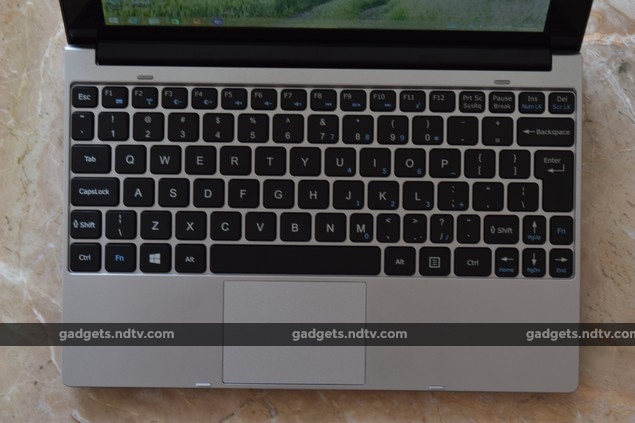 The trackpad is small and a bit too rough for our liking, but at least it isn't flimsy and has a very satisfying click action. Because there's room for it, you get a lone full-sized USB 2.0 port on the keyboard base. Of course we would have liked this on the tablet itself, but it's better than nothing.
The most notable feature of the base though is that there's a built in 500GB hard drive. The tablet is limited to a tiny amount of Flash storage, so this is a fantastic idea that adds a whole new dimension to the Acer One's capabilities. Of course there are pitfalls - you have to keep track of what's running if you want to pull the device's two halves apart or flip the screen around, as even a moment's interruption will kill power to the hard drive. You also don't want to be caught without your files if you ever decide just to take the tablet with you.
Specifications and software
The Acer One has a 10-inch touchscreen, which is unfortunately one of the worst we've ever seen on a consumer PC. It's okay in terms of resolution - 1280x800 is standard for tablets and because of its 16:10 ratio, it's actually better than common 1366x768 laptop screens in some regards. But the screen itself is of a very low quality, and this is made worse because the touch digitizer is plainly visible on top of it. You can see the grid, with very prominent streaks running from top to bottom at roughly 1cm intervals that catch your eye with every slight motion and constantly distract you.
Colours are reproduced poorly, especially black which just looks like a glassy mess. Viewing angles are absolutely atrocious - so bad in fact that if you're focusing on the centre of the screen, you won't be able to see accurate colours at the edges.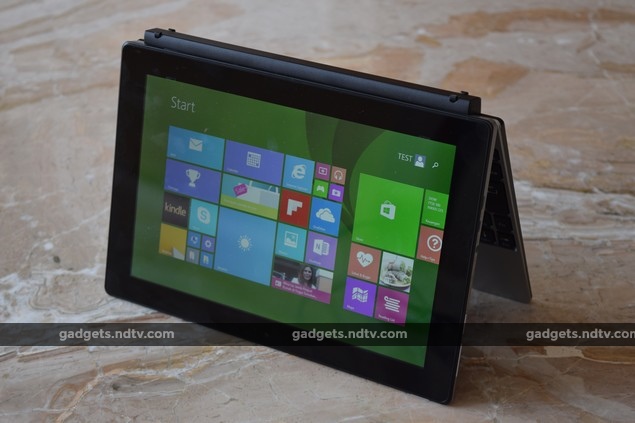 The processor is an Intel Atom Z3735F, which is a Bay Trail-generation quad-core part running at between 1.33 and 1.88GHz with integrated basic Intel HD graphics - pretty much the same as what we've seen in the other 2-in-1s at this price level. Acer has launched the One with 1GB of RAM, a 32GB SSD and a 500GB hard drive (in the base) though there might be options for doubling the amount of RAM and the HDD capacity later.
The battery is rated at 6,000mAh and can be charged through the Micro-USB port, just like any other tablet. The charger that comes along with the Acer One is a standard 2A Micro-USB one, barely larger than an iPad charger.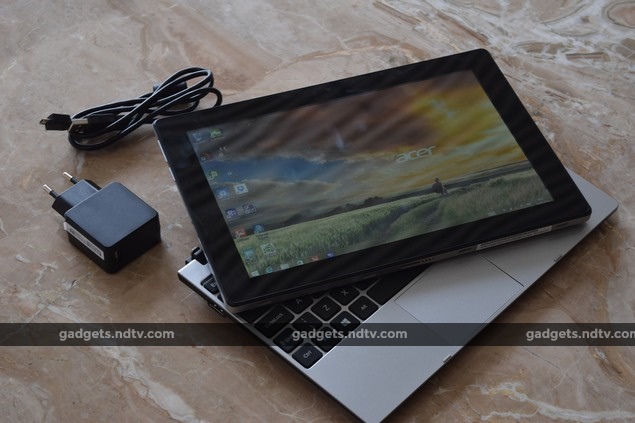 You also get Bluetooth 4.0 and Wi-Fi b/g/n, but no cellular data connectivity. The 2-megapixel rear camera and VGA webcam in front are both mostly useless in terms of photo quality, though will suffice for video calls. You get a 32-bit version of Windows 8.1 which should qualify for a free update to Windows 10 later this year. Microsoft includes an Office trial and 1TB of OneDrive space for a year.
You also get a whole lot of preinstalled software, much of it not very useful. Acer has its own apps called abDocs, abFiles, abMedia and abPhoto, which require you to create an Acer ID. There's a separate Acer Video Player, multiple links to different online support pages, Foxit PhantomPDF, Dropbox, Kindle, Skype, Evernote, Zinio, Fresh Paint, Amazon, and McAfee LiveSafe.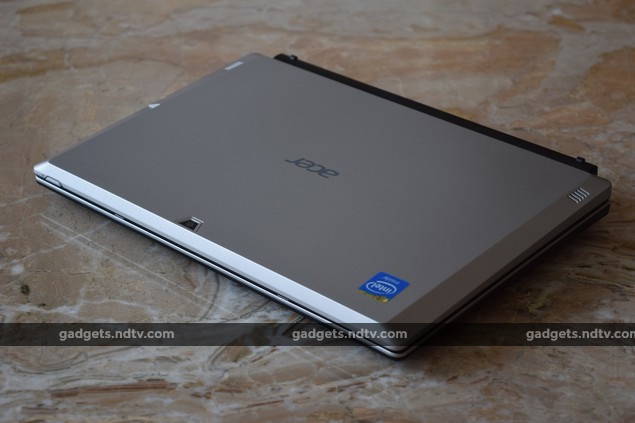 Performance
First of all, the Acer One is a very versatile product. The detachable design lets you use it as a laptop, tablet or as a tablet with the HDD base attached. You can also prop it up like a stand or like a tent - though doing so makes the device's weight rest on its power button, and we wound up turning the device off inadvertently a few times.
If you don't need to do a lot of typing, the keyboard is a vast improvement over the flimsy cloth-backed ones common to the Acer One's competitors. We're mainly disappointed by the loss of potential here due to the ridiculous layout. It's also really nice to have a 500GB hard drive built in. As much as we would have liked it, there's no additional battery in the base - but that really isn't a complaint considering what we're getting for our money.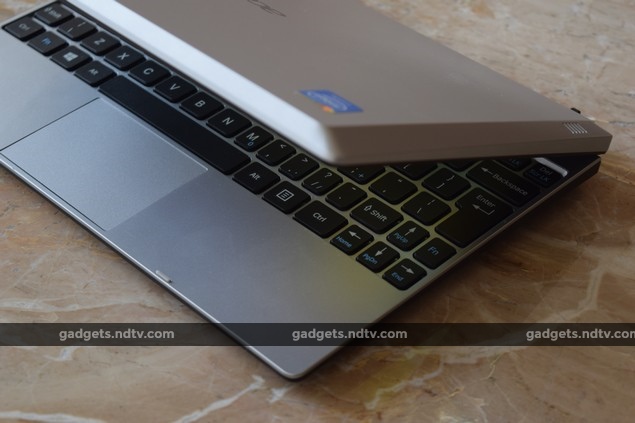 We found the Acer One to be fairly responsive and usable for day-to-day tasks when used as a laptop. It isn't a speed demon, but there's enough power to run a few browser tabs, play YouTube videos and get basic tasks done. Things were less easy when using the touchscreen, which was sometimes inaccurate. We found ourselves wishing for a stylus, because finger selection was never quicker or easier than using the trackpad.
Benchmark tests returned predictable results, at par with those of the Notion Ink Cain, Swipe Ultimate and Croma 1177. The PCMark Home (Accelerated) and Work scores were 1390 and 2512 respectively. 3DMark Fire Strike failed to run, but POVRay completed its internal benchmark in 40 minutes and 2 seconds. SiSoft SANDRA measured consistent CPU and memory subsystem performance, revealing the low-end processor's weakness in demanding tasks such as encryption, but otherwise normal characteristics.
The speakers are incredibly weak, and it doesn't help that they fire outwards from the rear of the lid. We got 3 hours, 9 minutes of runtime from the Acer One using Battery Eater Pro's standard test. That should translate to around 5-6 hours of light usage with Wi-Fi on and a reasonable screen brightness level. However, note that charging is a bit slower than usual because of the Micro-USB solution.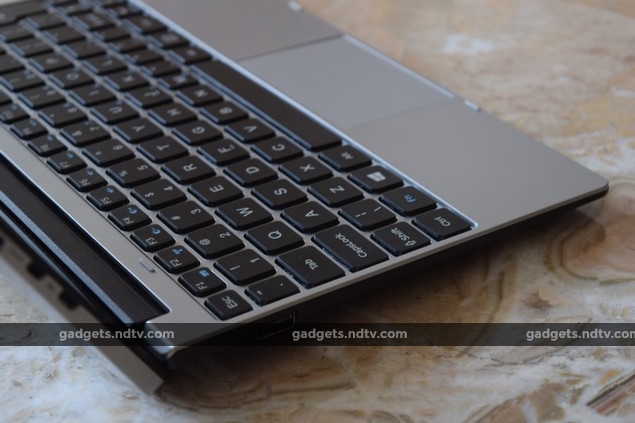 Verdict
In many ways, this is a current-day netbook. It serves its purpose and has a very reasonable price tag, but it isn't entirely satisfying to use. You cannot really enjoy videos on this screen and even basic tasks require some adjustment. The keyboard is handy, but you can forget about typing long documents on it unless you're a hunt-and-peck two-finger typist anyway.
We aren't sure how many people value a touchscreen and detachable tablet design over basic performance, and we would much rather spend this amount of money on a vanilla laptop with a better screen and more productive hardware.
Those who are tempted by the low price really should really consider their needs, and then look around the market to see what else they can get. If you're sure you want a touch-capable 2-in-1, the Acer One is an interesting option that does things differently in order to be more of a laptop than just a tablet with a keyboard attachment.