With Windows 8, Microsoft turned its focus to touchscreen devices as the new operating system featured swipe gestures and charms that could be best experienced on touch-enabled devices. While we've been seeing ultrabooks, hybrids and 10-inch tablets running Windows 8, it was not ported to a device with a smaller form factor, until now. This is primarily because the OS has been majorly seen as a platform focusing on 'productivity' (Microsoft is also to be partially blamed for that), and not on content consumption. The other reason being that anything less than 10-inch would make the experience of using legacy apps cumbersome and OEMs wanted to market their devices as a PC substitute.
The Acer W3 changes all that, becoming the first 8-inch (8.1-inch to be precise) tablet to run Windows 8 and not Windows RT, which Microsoft created specially keeping tablets into consideration. The 8-inch form factor is really good when it comes to using a tablet for consuming content - reading, watching videos and movies or playing games. But would an 8-inch Windows 8 tablet be able to offer a good experience? We try to find out in our review.
Build/ Design
The Acer Iconia W3 tablet doesn't exude a premium feel. It looks plasticky and feels bulky due to its thickness and weight. The front of the tablet features the 8.1-inch screen surrounded by a rather broad Black bezel. The bezel makes the tablet look really unpleasant. The display panel with the bezel fits into White coloured plastic frame, which also sports a Windows hardware key at the right side of the tablet (in landscape mode). There's a 2-megapixel front facing camera located at the left side (top if you hold the tablet in portrait mode).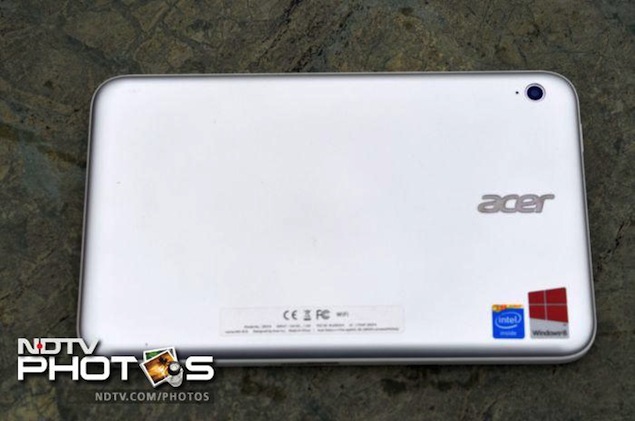 The right side of the tablet features a proprietary charging port connector, a 3.5mm headset jack and two speaker grills. A Micro-USB port and a micro-HDMI port are placed at the left hand side of the tablet, along with the Power/ Screen lock key. The microSD card slot and the Volume rocker key sit at the top of the tablet.
The back of the tablet is made of plastic with a Silver-Grey matte finish. There's a 2-megapixel rear camera located at the top right corner (looking at the tablet in landscape mode). There's also some Acer branding and Windows and Intel stickers.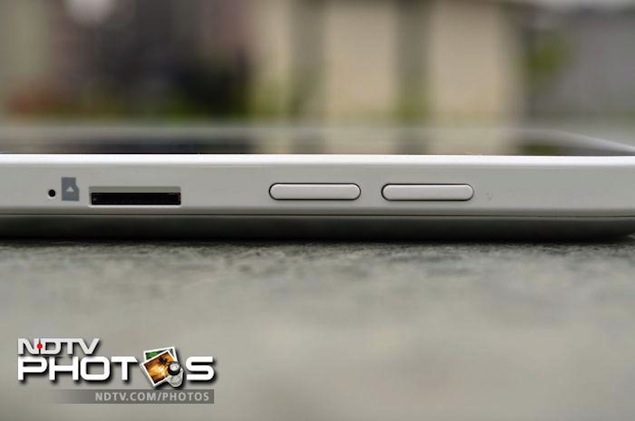 As we pointed out earlier, the tablet doesn't feel premium and its design is to be majorly blamed for this.
Display
The Acer Iconia W3 has an 8.1-inch Active Matrix TFT Color LCD, which sports a resolution of 1280x800 pixels. We have to say that the tablet sports one of the worst screens we've seen, and that affects the experience of using the tablet adversely. Colours look washed out and viewing angles are terrible. This means that not looking at the screen directly from a certain angle affects visibility and colour rendering.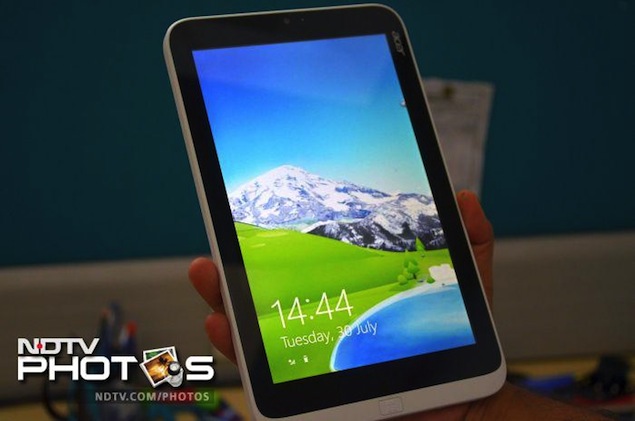 The screen looks terribly grainy, as if someone's put a screen protector on it, and there's moisture between the two. (Be assured that there was no screen protector and we removed the one that came with the tablet). Even after cleaning the screen rigorously, you won't be able to remove the grains.
Other than this, text and images appear decent and videos look above average. We also observed that the screen was very reflective and under-sun visibility was not that good.
Another downside of the display is the resolution as Windows 8 requires a minimum resolution of 1366x768 pixels if you want to 'snap' apps. The snap mode allows users to run and view two apps simultaneously. There are reports that Microsoft plans to change the requirement with the Windows Blue update but for now you'd not be able to use this functionality with the Acer Iconia W3 tablet.
Touch was pretty responsive, however, desktop apps with small buttons are a little difficult to use and we recommend a stylus (not included) for that.
Camera
The tablet sports a 2-megapixel rear camera and a front-facing camera sporting the same resolution. The cameras take average quality photos in both daylight and artificial light. The rear camera doesn't feature a flash so you can't really click pictures in low light conditions. Even with decent light, pictures appeared to be grainy. The awkward placement of the front camera makes it difficult to use the tablet for video calling in landscape mode. Even the rear camera is located at the extreme right, which makes taking photos a bit cumbersome. We wish Acer had placed both cameras at the centre.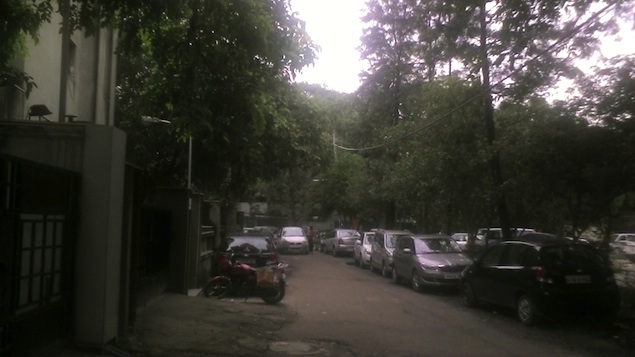 The bundled Camera app doesn't offer too many options except settings for brightness, contrast and exposure and a timer feature. The cameras support shooting up to 1080p resolution videos. Acer also offers its own camera app, Acer Crystal Eye, which offers a more intuitive UI.
Videos shot through the cameras were just about average in terms of quality, though.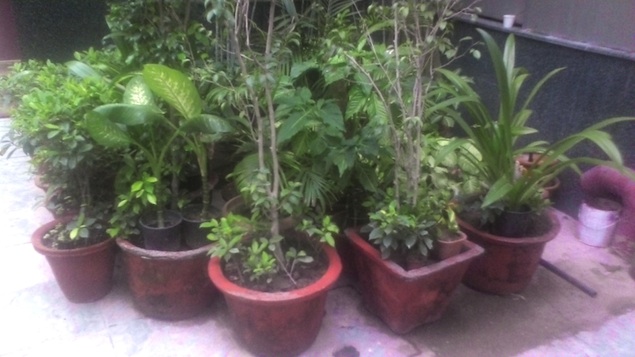 While, we're not sure if a lot of users would click pictures with a tablet, it's nice to have a good quality option to fall back upon.
Software
The tablet comes with Windows 8 Pro, which is the most touch-friendly version of the OS. Mind you, it doesn't run Windows RT, which is Microsoft's OS for tablets that leaves out the ability to run legacy Windows desktop apps (or programs in Windows terms). This means you can run anything from Adobe's Photoshop to Apple's iTunes on the tablet, in addition to Microsoft's Modern UI apps that can be downloaded from the Store.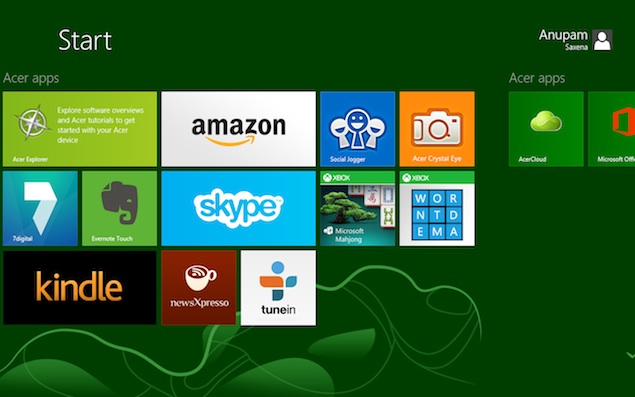 The tablet comes with some pre-installed apps including Acer Explorer (a services, apps and information destination), 7digital music store, Evernote Touch, Amazon, Kindle, newsXpresso, TuneIn radio, Skype, Acer Crystal Eye, AcerCloud and Social Jogger. The tablet also offers Office Home and Student 2013 edition but that needs to be activated through a code that comes with the box. This is a big add-on as Office doesn't come preinstalled on most Windows 8 tablets.
Performance/ Battery life
The Acer Iconia W3 is powered by a 1.8GHz dual-core Intel Atom (Z2760) Clover Trail Processor. The tablet has 2GB of RAM and features Intel Graphics Media Accelerator GPU. In our usage we found that the tablet performed well in daily tasks including browsing the Web, playing some casual Windows 8 games, using a text editor, and watching HD videos. Casual games that are available on the Windows Store including Jetpack Joyride, Angry Birds and Cut the Rope run fine.
The tablet offers a good Windows 8 experience except missing the Snap view functionality. With casual use the tablet delivers close to 7 hours of battery backup though Acer claims that it offers a usage time of 8 hours. It's worth mentioning that we used the tablet with the screen brightness set to the highest level, and some third-party apps sending push notifications, so your mileage may vary.
The tablet only offers Wi-Fi connectivity though you can use a 3G dongle with a Micro-USB to USB converter.
With Windows 8 Pro you can also download legacy Windows app along with Metro/ Modern UI apps that are only available through the Windows store. It's a little cumbersome to use legacy/ desktop apps and even the regular Windows settings through the touch screen. Mind you, the touch-enabled 'PC settings' menu doesn't feature a lot of advanced settings for which you still need to fire up the control panel.
Verdict
So is the Iconia W3 a usable 8-inch Windows 8 tablet? Well software wise, Microsoft has made the operating system touch-friendly with the Modern UI layer. We didn't face any problems with Modern apps that are optimised for touch devices. Even though there are apps that only run in landscape mode (Music app is one), the OS is now a fit for small-screen touch devices.
You can browse the Web with Internet Explorer, read ebooks on Kindle or just play casual games. Even India-focused apps like Zomato, NDTV or BookMyShow are available on the Windows 8 store. We do have to mention that app selection and the quality of apps still lags behind the iPad, though.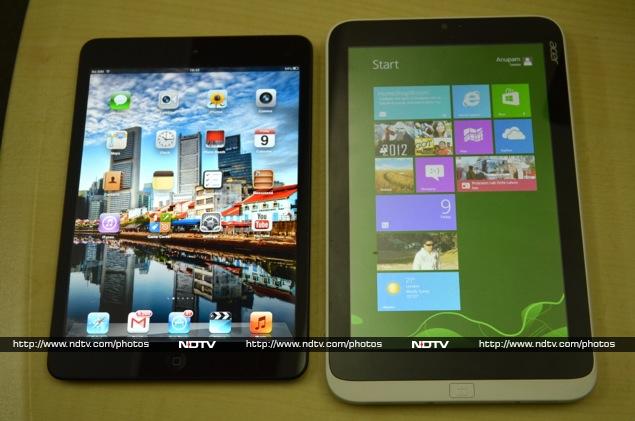 Coming to the tablet's hardware, we'd say that it's not ready to hit prime time, majorly due to its poor screen and bulky form factor. At a price of Rs. 27,999 (MRP is Rs. 30,499, we feel that the tablet is steeply priced, especially considering the quality of the hardware. At this price, you'd be better off buying an iPad. Having said that, we can safely say that Windows 8 has the potential to be a good tablet OS. With Windows 8.1 set to release later this year, the OS would see more refinements. We just wish Acer and other OEMs make hardware that does justice to it.
Price:
Rs.27,999


Acer Iconia W3: In pictures
Pros
Good battery life
Microsoft Office bundled
Cons
Poor screen quality
Not exactly a value for money proposition
No snap mode due to low resolution
Ratings (out of 5)
Design: 3
Display: 2.5
Camera: 2.5
Performance: 3.5
Software: 3.5
Battery Life: 3.5
Value for Money: 2.5
Overall: 3