Samsung has launched two new Galaxy S2 tablets featuring 8-inch and 9.7-inch displays. Both the tablets will be available in global markets starting August, according to Samsung. The company, as of now, has not revealed pricing of the tablets.
The Samsung Galaxy Tab S2 8 (see above) and Samsung Galaxy Tab S2 9.7 will come in variants based on connectivity and storage options. Both the Galaxy Tab S2 tablets (9.7-inch and 8.0-inch versions) with Wi-Fi, or Wi-Fi and LTE, will come in 32GB or 64GB storage variants with microSD card support (up to 128GB).
Samsung touts that the Galaxy Tab S2 is its "thinnest and lightest" tablet of the size. Both the Galaxy Tab S2 8 and Samsung Galaxy Tab S2 9.7 (see below) tablets measure just 5.6mm thin, which is a highlight of the tablets. At just 5.6mm thickness, both the Galaxy Tab S2 tablets are slimmer than Apple's iPad Air 2, which measures at 6.1mm. Another notable feature of the new Galaxy Tab S2 tablets is it comes with built-in touch-enabled fingerprint scanner.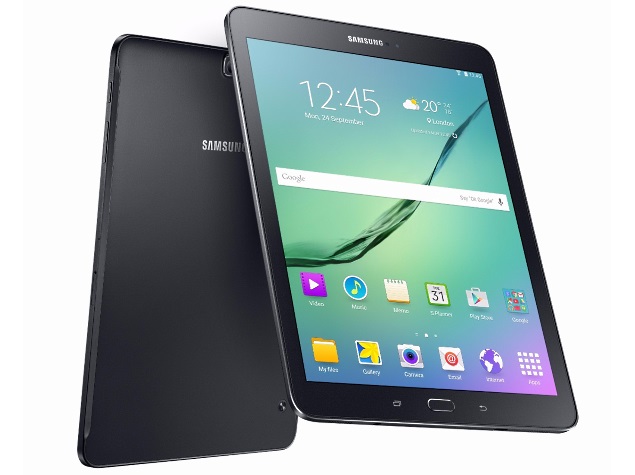 The Galaxy Tab S2 tablets come preloaded with Microsoft Office Solutions creating and editing documents. The tablets also get free storage of up to 100GB on the cloud via Microsoft's OneDrive for two years.
Both the tablets sport Super AMOLED displays; the Galaxy Tab S2 8 features an 8-inch display with a resolution of 2048x1536 pixels while the Galaxy Tab S2 9.7 features a 9.7-inch with the same resolution. In terms of other specifications, both the Android 5.0 Lollipop-based Galaxy Tab S2 tablets feature an octa-core processor (quad-core 1.9GHz plus quad-core 1.3GHz); 3GB of RAM; 8-megapixel rear camera; 2.1-megapixel front camera, and support connectivity options Wi-Fi 802.11 a/b/g/n/ac, Wi-Fi Direct, GPS, GLONASS, and Bluetooth 4.1 BLE.
The Galaxy Tab S2 8 measures 134.8x198.6x5.6mm and weighs 265 grams for Wi-Fi and 272 grams for the LTE model. It packs a 4000mAh battery. The Galaxy Tab S2 9.7, on the other hand, measures 169x237.3x5.6mm and weighs 389 grams for Wi-Fi model and 392 grams for the LTE. It packs a 5870mAh battery.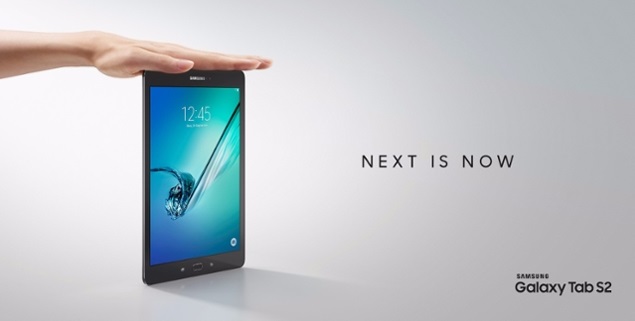 Commenting on the launch, JK Shin, CEO and President of IT and Mobile Division at Samsung Electronics said, "The Galaxy Tab S2 is not only our thinnest and lightest tablet of its size ever, it also gives users quick, easy access to a wealth of superior viewing and productivity features. We believe the Samsung Galaxy Tab S2 is the most complete personal visual device designed for consumers to carry and use anywhere."