Panasonic has expanded its rugged tablet offering in India with launch of the new Toughpad FZ-E1 and Toughpad FZ-X1 tablets. The company has alongside also unveiled the Toughbook CF-54 touted as the thinnest and lightest semi-rugged PC in its category.
The Panasonic Toughpad FZ-E1 runs Windows Embedded 8.1 Handheld and will be available at Rs. 1,19,000. The Panasonic Toughpad FZ-X1, on the other hand, runs Android 4.2.2 Jelly Bean and is priced at Rs. 1,09,000. Both Toughpad FZ-E1 and FZ-X1 tablets were launched at MWC this year.

The semi-rugged Toughbook CF-54 PC will be available at Rs. 1,39,000. Both the Toughpad FZ-E1 and FZ-X1 tablets are being marketed as enterprise-focused tablets.
The company has revealed that it aims to reach 65 percent market share by end of this year in the rugged IT devices category; though was unclear whether the figures represent India or global targets.
Both the Toughpad FZ-E1 and FZ-X1 tablets meet the MIL-STD-810G standard, feature an IP65/IP68 rating for dust and water resistance, and have been drop-tested from a height of 10 feet.
The Toughpad FZ-E1 is powered by a 2.3GHz quad-core Snapdragon 800 (MSM8974AB) processor while the Toughpad FZ-X1 features a 1.7GHz quad-core Qualcomm S4 Pro (APQ8064T) processor.
Rest of the specifications of the new Panasonic Toughpads are identical. Both feature a 5-inch HD (1280x720 pixels) display; an 8-megapixel rear camera with flash; 1.3-megapixel front-facing camera; 2GB of RAM; 32GB of built-in storage; supports expandable storage via microSD card; 4G LTE; 3G; Wi-Fi; Bluetooth; GPS, HDMI, and a 6200mAh battery.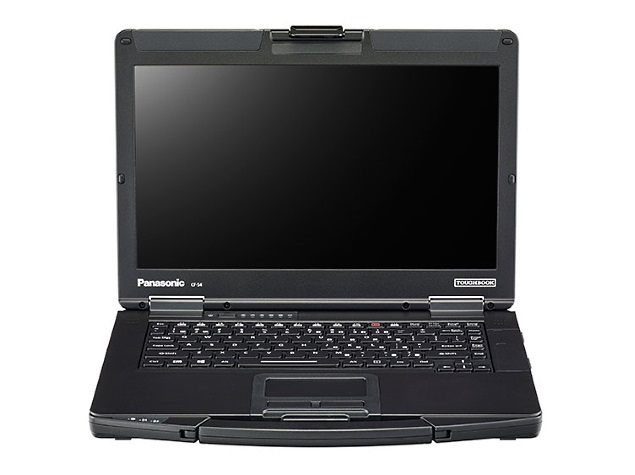 The semi-rugged Toughbook CF-54 (see above) will be offered in various models including gloved multi-touch model, performance model, and prime and lite models. It features 14-inch full-HD (1080x1920 pixels) IPS display and is powered by fifth generation Intel Core i5-5300U vPro Processor (3 MB cache, 2.3GHz up to 2.9GHz with Intel Turbo Boost Technology). It will be available with 4GB, 8GB, and 16GB RAM configurations and will pack 500GB of hard disk.
The Windows 8.1 Pro-based Toughbook CF-54 offers a range of integrated options such as dedicated GPS, 4G LTE mobile broadband with satellite GPS, antenna pass-through, and insert-able and contactless SmartCard readers. It offers an optional second battery with hot-swap without the need to shut down or hibernate. The new Toughbook also offers dual drives. Much like the new Toughpads, the Toughbook CF-54 meets the MIL-STD-810G standard.