One of the most interesting announcements from Panasonic was the huge 20-inch Windows 8 tablet touting a whopping 4K resolution offering ultra sharp and crisp images. The 4K resolution until now was restricted only to televisions (
Also see
:
Panasonic showcases its new TV line up headed by 56-inch 4K OLED TV
)
Measuring 18.7x13.1x0.4 inches, the tablet is very light and incredibly thin and is mainly targeted at industry and business professionals. The tablet also comes with a stylus that can serve as an excellent tool for photographers, graphic designers and even video editors to multitask on-the-go.
The tablet makes use of Anoto's digital writing technology. Panasonic is looking forward to implementing this technology in in the development of its various next generation products. The technology can turn virtually any surface, including large formats, into a "live digital surface" in which the dot pattern is read by a digital pen and converted into computer-usable data.
Details on the tablet's hardware specifications seem to be minimal at this point, considering it is just a prototype and a pretty good one at that.
What is known, courtesy
Engadget
, is that it packs in an Intel Core i5 and includes Micro-USB, microSD and Wi-Fi. As of now, the tablet promises two hours of battery on-the-go, which may not sound like much right now, but we expect it to improve.
Mashable
reports that the prototype features a 1.8GHz Intel Core i5 34207U vPro processor with 4GB RAM and a 128GB solid-state drive. Screen resolution stood at 3840x2560 translating to a 230ppi density. Panasonic didn't reveal much details on the GPU, only saying that it will be Nvidia GeForce.
The tablet doesn't have a name yet and even pricing and availability details currently remain unknown, which is no surprise given Panasonic is just showcasing it as a prototype.
Image Courtesy: Engadget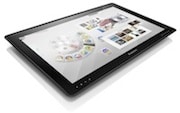 In pics: Best of CES 2013
For the latest tech news and reviews, follow Gadgets 360 on Twitter, Facebook, and Google News. For the latest videos on gadgets and tech, subscribe to our YouTube channel.
Related Stories