Chipmaker Nvidia has started taking pre-orders for the recently unveiled Nvidia Shield Tablet LTE (32GB) at $399 (approximately Rs. 24,000).
The new Nvidia Shield Tablet LTE is now available for pre-order in the US and Europe, while the tablet will ship starting September 30. The company notes that the LTE version of the tablet is a "fully unlocked device" and has the capability to support up to 70 carriers worldwide.
While launching the Nvidia Shield Tablet (16GB) Wi-Fi only tablet in July, the company had promised that a 32GB variant with 4G LTE support will be launched later in the year.
Additionally, Nvidia also announced three new Android games optimised for the Shield Tablet - Beach Buggy Racing, BombSquad, and Broadsword.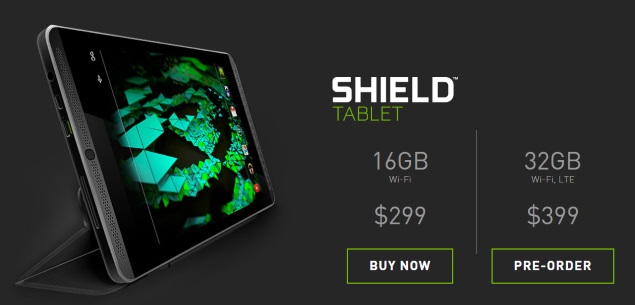 The Nvidia Shield Tablet is touted as a "high-performance tablet", and has been "built specifically for gamers," according to the company. The tablet features an 8-inch 1920x1200 pixels display. Both the 16GB and 32GB variants support expandable storage up to 128GB (via microSD card).
The Shield Tablet is powered by an Nvidia Tegra K1 chipset, featuring a 192-core Kepler GPU, and a 4+1 quad-core ARM Cortex A15 CPU clocked at 2.2GHz. It comes with 2GB of RAM. The tablet sports dual cameras - 5-megapixel camera at the back and front.
The tablet is based on Android 4.4 KitKat to allow users to play Android games (with access to the Google Play store), browse the Web, and enjoy other tablet features along with a stylus for drawing on the tablet surface. The device also allows streaming of games from a PC desktop or notebook computer, or from the Nvidia cloud.
The tablet comes preloaded with the company's Shield Hub app, which lists over 400 optimised games. In July, Nvidia, alongside its ShadowPlay gameplay recording technology, also announced Twitch integration that let players record or broadcast gameplay to the streaming service.
The company announced the pre-order availability of the Nvidia Shield Tablet LTE on its official blog post and said, "The new 32GB Shield tablet with 4G LTE gives you even more ways to game. And it can be yours for only $100 more than the basic version of Shield tablet. In July, we introduced the Shield Tablet, the ultimate tablet for gamers, with 16GB of storage and Wi-Fi. The result was a tremendous response from gamers, consumers and the media alike. Now we're offering twice the storage, so you'll be able to enjoy more games, more movies, music and photos, and more of your favourite apps."