A refreshed version to the Nexus 10 tablet could be launching soon, with reports of the Play Store showing the original Nexus 10 tablet as "out of inventory". Notably, the Nexus 10, which only got listed on the
Indian Play Store in November last year
, is now no longer listed on the site.
Android Authority spotted the updated listing first and reports that Google's 32GB Nexus 10 tablet's listing page on the Play Store showed it as not available, with a suggestion for users to 'please check back soon'. It's worth pointing out that the Nexus 10 16GB tablet went out of stock globally in October last year.
Notably, the news comes alongside a new leak surfacing on the Internet related to the rumoured Nexus 10 tablet sequel. Popular tipster, @evleaks has revealed some of the specifications of the alleged Nexus 10 refresh tablet and has also posted an image of the alleged tablet. As per @evleaks, the alleged Nexus 10 refresh tablet will be again manufactured by Samsung, much like the original Nexus 10.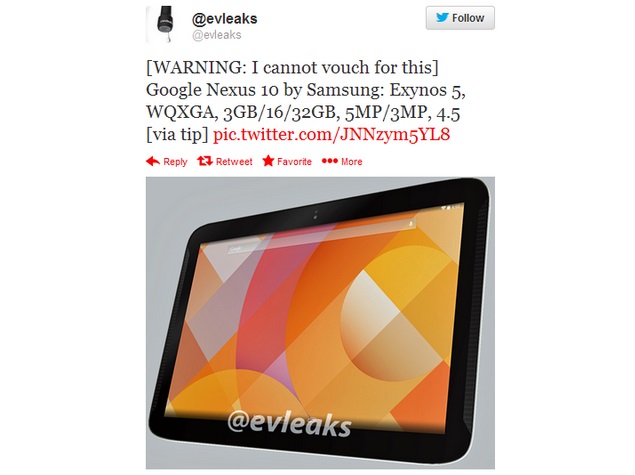 As per the leaked specifications, the alleged Nexus 10 tablet will come with a 10-inch display with a resolution of 2560x1600 (WQXGA) pixels; 3GB of RAM; 16GB and 32GB inbuilt storage; 5-megapixel rear camera and a 3-megapixel front-facing camera. Interestingly, the tipster claims that the Nexus 10 would run Android's next iteration dubbed Android 4.5; this is the first time since Android KitKat's release that we have heard of the next Android version. The tipster also said, "Warning: I cannot vouch for this," which might seem as a fake leak after all.
Further, @evleaks also posted an image that shows the alleged refreshed Nexus 10 tablet. According to the leaked image, the alleged new tablet will boast dual front speakers, while the overall design seems to be inspired by the original Nexus 10 tablet.
However, as of now @evleaks has deleted the tweet on the alleged Nexus 10 successor and said, "Pulled the "Nexus 10" tweet. Was sent to multiple publications, along with slightly differing "corroborating evidence." Signs of a hoax."
For the latest tech news and reviews, follow Gadgets 360 on Twitter, Facebook, and Google News. For the latest videos on gadgets and tech, subscribe to our YouTube channel.
Related Stories