Ahead of Microsoft's expected launch of the long-rumoured Surface Mini tablet, an accessory manufacturer named Vostrostone (VSTN) has listed its smart cover and Bluetooth keyboard for the device on Amazon. Interestingly, both listings are still live at the time of writing this article.
Looking at the listings, we understand the Surface Mini could be an eight-inch tablet, as the description for the VSTN Bluetooth Keyboard Portfolio case states, "Bluetooth Keyboard Stand Case / Cover, only fit Microsoft Surface Mini 8-inch tablet". The smart cover is listed as an ultra-thin offering.
Vostrostone claims on the website that both the accessories will be in stock on May 18. We can only speculate at the moment that this would indicate Microsoft might unveil the tablet before May 18.
If the pictures of the tablet shown in the VSTN accessory listing pages are to be believed, the Microsoft Surface Mini tablet has also been pictured by VSTN (seen above and below).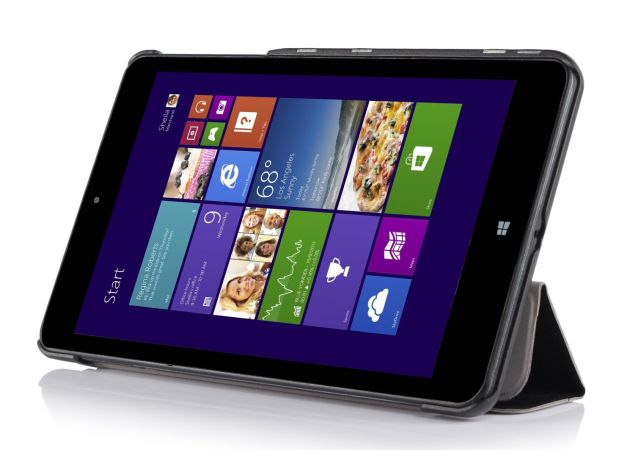 The Amazon listing of the Microsoft Surface Mini accessories was spotted by a Twitter user named @akipekka via Techcrunch. Techcrunch also notes that Microsoft watcher Mary Jo Foley had predicted an early 2014 launch of the Surface Mini, which is roughly in line with the May launch now expected.
Microsoft's plans of building a 'mini' version of the Surface to supplement the existing line up of Surface 2 and Surface Pro 2 Windows-powered tablets have been a part of the rumour mill for some time now.
The Surface Mini could help the company gain some leverage in the tablet market considering the sluggish sales of the Surface Pro 2 and the Surface 2, and the popularity of 7-inch and 8-inch Android-powered tablets and Apple's iPad mini.
We reported earlier that a series of tweets indicated that the Surface 3 tablet might be available by the end of this year, and might be powered by the newly introduced chipset, the Nvidia Tegra K1.

Affiliate links may be automatically generated - see our ethics statement for details.
For the latest tech news and reviews, follow Gadgets 360 on Twitter, Facebook, and Google News. For the latest videos on gadgets and tech, subscribe to our YouTube channel.
Related Stories