The much anticipated, second iteration of the iPad mini was unveiled by Apple at a special event on Tuesday. The Cupertino giant did not disappoint consumers as it
upgraded its popular compact tablet
with a high resolution Retina display. The tablet has been priced at $399, and will be available starting November, though India is not in the list of countries where it will be launched initially.
Here's a look at the top-5 features of the new iPad mini with Retina display:
1. Upgraded Retina display:
The iPad mini had hit all the right notes when it comes to the pricing and form factor, but the low resolution display was a bit of a disappointment. Apple has taken the feedback into consideration and has put a new 7.9-inch Retina display with a resolution of 2048x1536 pixels and pixel density of 326ppi on par with the iPad. The headline feature now makes the iPad mini an even more attractive proposition.
2. New A7 chip:
The new iPad mini with Retina display features a 64-bit A7 chip which also powers the new iPhone 5s. According to Apple, the new chip offers up to four times faster CPU and up to eight times faster graphics performance than the previous generation one. The tablet runs a 64-bit version of iOS 7, designed to take advantage of the A7 chip. The A7 chip supports OpenGL ES version 3.0 to deliver gaming console-level detailed graphics and complex visual effects.
3. M7 Coprocessor:
Just like the iPhone 5s, the new iPad mini with Retina display also sports the M7 motion coprocessor. It takes care of measuring motion data from the accelerometer, gyroscope, and compass sensors, sending them to apps without waking up the A7 processor, leading to improved battery life. It also recognises different types of motion.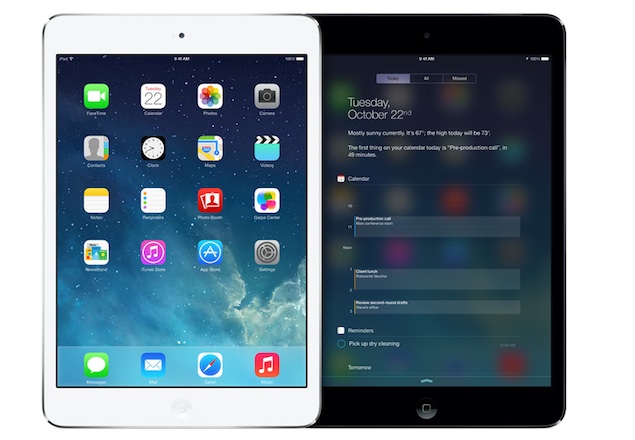 4. Better Wi-Fi reception:
The new iPad mini comes with two antennas to support MIMO (multiple-input multiple-output) for up to twice as fast 802.11n Wi-Fi, according to Apple. The Wi-Fi + Cellular model comes with more LTE bands to support more 4G LTE networks.
5. Dual-microphones:
Unlike the original iPad mini, the new iPad mini with Retina display features two microphones - one at the top edge and the other one at the back. According to Apple, the two microphones work together to capture better sound by suppressing audio from the source the user is not focused on, improving the quality of FaceTime calls, making video recordings better and enhancing Siri's voice recognition capabilities.
Bonus:
New Space Gray colour option: Apple has replaced the Black and Slate colour option with a new Space Gray colour variant. The space tray colour was recently introduced with the new iPhone 5s, and looks elegant.

Apple unveils iPad Air, iPad mini with Retina and new MacBooks