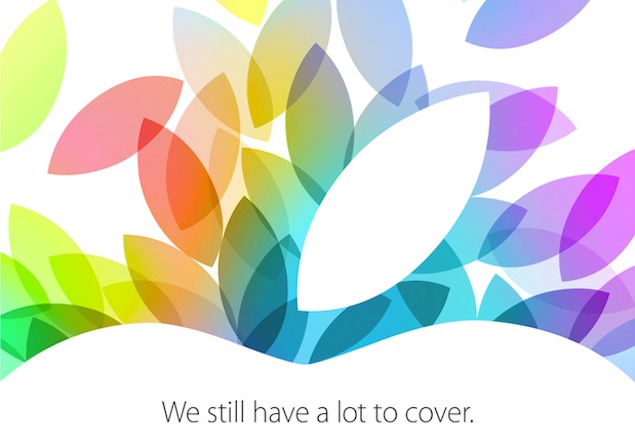 iPad mini second-generation and iPad fifth-generation are expected to make their debut at a media event that Apple is hosting at Yerba Buena Center for the Arts in San Francisco starting 10:00 AM Pacific Time (10:30 PM India Time, 1:00 PM EST, 6:00 PM in London) on Tuesday.
Apple is expected to unveil a new iPad, modelled on the iPad mini in terms of design and form factor. The new iPad is expected to feature the same touch-panel technology that's seen in the iPad mini, making it thin and light.
The iPad mini's expected to also get an upgrade, though there have been conflicting reports on whether it will sport a high-resolution Retina display. However, recent reports suggest that Apple's likely to include a Retina display.
The new iPads are also rumoured to sport an improved 8-megapixel rear camera sensor and to be powered by new upgraded processors. The fifth-generation iPad and the second-generation iPad are likely to be powered by the 64-bit A7 chip that also powers the new iPhone 5S.
Apple is also expected to announce a refresh for its MacBook Pro and Retina MacBook Pro laptops, updating them with a new Haswell chip (fourth-generation Intel Core processor), faster 802.11ac Wi-Fi and an improved front camera. The Cupertino giant is also expected to announce the availability details of its new Mac Pro systems, that it teased at the WWDC event in June, and an upgraded Mac Mini.
The public availability of Apple's OS X Mavericks OS is also expected this week, and it's possible that the company starts seeding it after the event.
The OS brings new features like Finder Tabs; Tags; enhanced multiple display support; updated native apps like Maps, iBooks, and Safari browser; and iCloud keychain, among others. It also brings under the hood changes for faster performance and longer battery life, including Timer Coalescing that groups low-level operations together so that the processor doesn't use more power and battery is conserved, App Nap that saves power while working on multiple apps by slowing down the apps that are in the background, and compressed memory that frees up memory space for faster performance.
Apple's also expected to release new versions of its iWork productivity suite for Mac and iOS, and perhaps the iLife suite of apps which includes iPhoto, iMovie and GarageBand.
While an Apple TV refresh was also rumoured, it's not clear if Apple would also refresh its Internet media player. We've also not heard any new rumours related to an iPod touch refresh.