Apple's
slated event on Thursday
is widely expected to see the launch of the much-anticipated next generation iPad Air. The rumour mill has already churned out multiple leaks about Apple's new tablet, expected to be called the iPad Air 2, and now a Taiwanese site has posted few purported images of the tablet's internal components.
The purported images were leaked by Apple.club.tw on Saturday, and are claimed to show a logic board with new A8X chip, a cable for the Touch ID home button, a cable for the volume buttons, and the front panel assembly. The report adds that the A8X chip on the tablet is a faster upgrade, as expected, to the existing A8 chip on iPhone 6 and iPhone 6 Plus.
Additionally, the report mentions that Apple is using 2GB of RAM instead of the 1GB seen on the iPad Air, in-line with several earlier leaks for the anticipated iPad Air 2.
According to Slashgear, the logic board layout also differs slightly from the existing iPad Air with a dedicated space for the SIM card slot instead of a separate compartment.
Other than that, the image of the volume buttons also includes what appears to be a microphone. The front panel assembly and the Touch ID cable suggests that the alleged iPad Air 2 might also integrate the functionality just like the iPhone. The fingerprint sensor has been rumoured to arrive on Apple's iPad tablets for a while now, ever since it was introduced on the iPhone 5s in fact.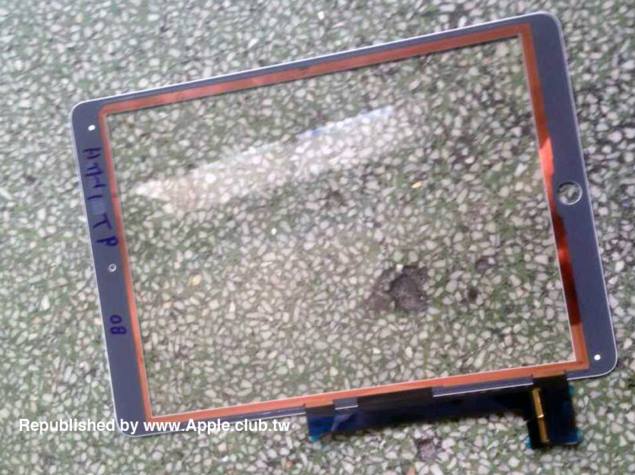 Meanwhile, in a separate leak via Macrumors, it is speculated that after the iPad Air 2 announcement on Thursday, Apple may also announce the launch of Apple Pay on this Saturday, October 18, as seen on a leaked memo out of Walgreens.
The alleged Walgreens memo appears to be prepping workers to be able to handle customer questions when they first attempt to use Apple Pay. Walgreens is one of Apple Pay's major launch partners
announced on September 9
along with other companies like Disney, McDonalds, Macy's, Staples, and more.