So far we'd only known that the new
iPad Air 2
packs an advanced 64-bit Apple A8X SoC, but a teardown has now revealed much more about the device. Repair and teardown specialist iFixit revealed that the iPad Air 2 comes with 2GB RAM, the most for any
iOS
device yet.
According to iFixit, the iPad Air 2 mostly includes minor changes on the inside, such as repositioned display cables, tweaks to Wi-Fi antennas and more. But one major detail that the teardown reveals is the presence of 2GB RAM instead of 1GB used by Apple on recent flagship smartphones and tablets.
Earlier, a benchmark test by Primate Labs showed that the iPad Air 2 is up to 55 percent faster than iPhone 6, and up to 68 percent faster than last year's iPad Air.

Other than that, the teardown confirms an approximately 15 percent smaller battery compared to the last year's iPad Air. The new iPad Air 2 packs a 7340mAh battery (27.62 watt hour) instead of 8827mAh (32.9 watt hour) found on the iPad Air. The rear camera is an 8-megapixel iSight camera and front FaceTime HD camera is of 1.2 megapixel.
Interestingly, the teardown also reveals the presence of the NXP 65V10 NFC Controller, the one found in iPhone 6 and iPhone 6 Plus, though the iPad Air 2 does not officially support NFC.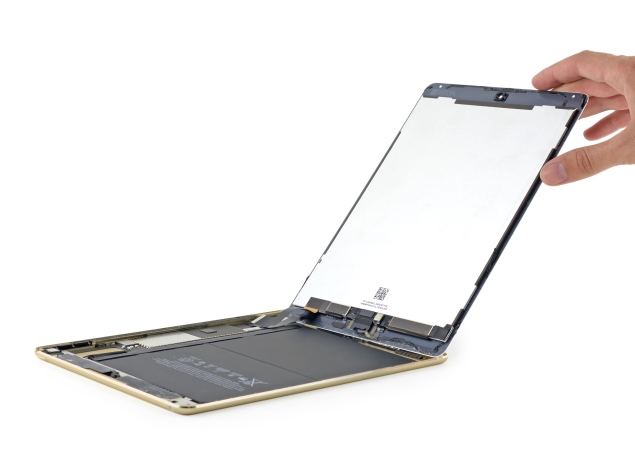 Overall, the Apple iPad Air 2 is similarly glued like its predecessor. Apple has also kept the Lightning connector port on the logic board, which means if the port is damaged and needs to be replaced, the entire logic board will need to be replaced.
Along with iPad Air 2, iFixit team also took down the iPad mini 3. The teardown for mini tablet doesn't include any surprises. The rear camera is a 5-megapixel iSight camera and front FaceTime HD camera is of 1.2 megapixel. Just like its predecessor, the iPad mini 3 packs an Apple A7 processor and 1GB LPDDR3 DRAM. Apple had added the support for its fingerprint sensor Touch ID and NFC controller, even though the iPad mini 3 does not officially include NFC support.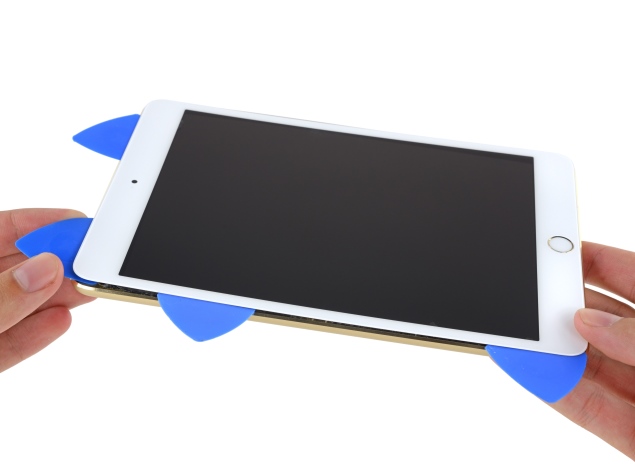 The iFixit team, which also rates the devices based on ease of repairability, gave the iPad Air 2 and iPad mini 3 an identical 2 out of 10, which means both devices are quite difficult to repair.