Amidst reports indicating that Google might be preparing to dump its
Nexus programme
in favour of Project Silver, details about a possible last Nexus tablet have hit the Internet.
Android Police has received details about a HTC-made tablet codenamed Volantis or Flounder, which is believed to be the next Nexus tablet.
In a report, the site claims that the alleged HTC Volantis will see light of the day in Q4 2014. As for the price of the next Nexus tablet, the report suggests that the 16GB version will come at a price of $399, and $499 for the 32GB version. The alleged Nexus tablet with LTE connectivity is likely to be priced around the $600 range. However, the report notes that the price can change at launch.
The report claims that the HTC Volantis is referred as Nexus 9 internally, and also has obtained some specifications of the rumoured tablet. The alleged HTC Volantis aka Nexus 9 will come with 8.9-inch (2048x1440 pixels) display with a 281ppi pixel density; 2GB of RAM; 16GB and 32GB inbuilt storage; 8-megapixel rear camera; 3-megapixel front camera, and 418 grams weight.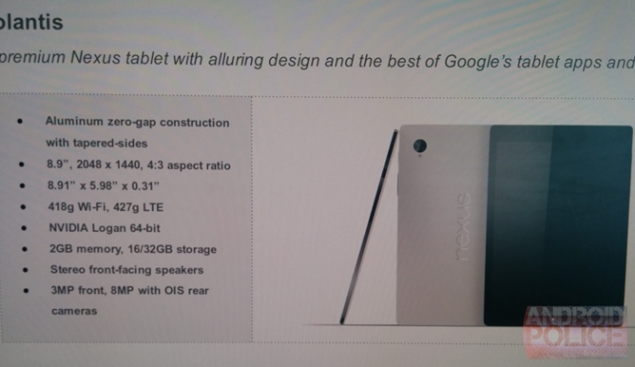 In line with an earlier report, the HTC Volantis is said to be powered by a 64-bit Tegra K1 processor.
Reports had been tipping that the next Nexus might pack a 'high performance' 8.9-inch display, citing the competition from Amazon's Kindle range and Apple's iPad Mini; though we are yet to hear anything official regarding this.
Further, reports had indicated the alleged next Nexus tablet is likely to sport an aluminium zero-gap construction and also feature front-facing stereo speakers. However, the leaked image of the HTC Volantis aka Nexus 9 is not seen housing any front speakers.
The leaked image posted by Android Police looks a cross between the LG's Nexus 5 and Asus' Nexus 7 (2013) tablet. Reports had also indicated that Google's next Nexus tablet could be introduced with Android's newer version and KitKat's successor, expected to be version 4.5.
However, all these leaks should be taken with a pinch of salt as Google has not mentioned anything about the upcoming Nexus tablet, and the leak's legitimacy remains questionable.