Asus announced two new variants of its refreshed Fonepad 7 voice-calling tablet at the Mobile World Congress event in Barcelona. One variant features LTE connectivity, while the other is a dual-SIM variant with 3G+Wi-Fi connectivity. Asus however failed to announce the pricing and the availability of both the new Fonepad 7 variants.
Most of the specifications are the same between the new devices and the refreshed Fonepad 7 tablet, which featured a single-SIM card slot, and 3G+Wi-Fi connectivity.
Some of the key specifications of the next-generation Fonepad 7, launched in September 2013, include a 7-inch IPS LCD display with an 800x1280 pixel resolution, a 1.6GHz dual-core Intel Atom Z2560 processor with 1GB of RAM, 5-megapixel rear camera, 1.3-megapixel front-facing camera, and 16GB of inbuilt storage.
Launched at MWC 2014, the Fonepad 7 LTE variant (ME372CL) supports 4G LTE networks, while the rest of its specifications identical to the refreshed Fonepad 7.
The second variant of the refreshed Asus Fonepad 7 launched at MWC 2014, is the ME175CG variant that features dual-SIM support apart from 3G+Wi-Fi connectivity, as reported by Phonearena. The 7-inch dual-SIM voice-calling tablet, unlike the 4G LTE and 3G+Wi-Fi single-SIM variants, houses a 1.2GHz dual-core Intel Atom Z2520 processor, with the rest of the specifications remaining the same.
The Taiwanese firm earlier in February expanded its PadFone smartphone-tablet hybrid line-up with the launch of PadFone Infinity Lite.
Much like its predecessor the Padfone Infinity, the PadFone Infinity Lite comes with a tablet docking station, which in this case features a 10.1-inch full-HD (720x1280) Super IPS display, which offers 224ppi pixel density. Like previous iterations, the smartphone fits into the tablet dock, powering the tablet with its hardware. The tablet dock packs a huge 5000mAh battery.
The PadFone Infinity Lite features a 5-inch full-HD (540x960 pixel) display which boasts a pixel density of 441ppi. Internally, the PadFone Infinity Lite packs a 1.7GHz quad-core Snapdragon 600 processor along with 2GB of RAM. It sports a 13-megapixel rear camera with LED flash and also includes a 2-megapixel front-facing camera.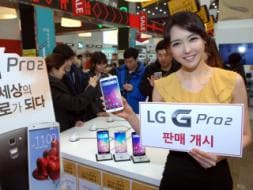 MWC 2014 in pictures