Apple has finally dropped the iPad 2 from its lineup of tablets. The second-generation iPad was entry-level 'full-size' offering from Apple until Monday, over three years after the tablet was unveiled. Apple has brought back the fourth-generation iPad with Retina display as the new entry-level 'full-size' tablet at $399 (approximately Rs. 24,000) for the Wi-Fi only tablet, with the variant with cellular connectivity priced at $529 (approximately Rs. 32,000). As with the iPad 2, the fourth-generation iPad with be available only in 16GB storage option.
With the move, Apple has dropped the only tablet that still featured the old 30-pin connector, as the fourth-generation iPad comes with a Lightning connector. Apple still sells the iPhone 4s and iPhone 4 (in some markets) that feature the 30-pin connector, so its shift to the new connector is not complete in that respect.
Apple has dropped the iPad 2 from its lineup in India as well, though not yet revealed the price of the fourth-generation iPad in India (listed as iPad with Retina display on the Apple India site).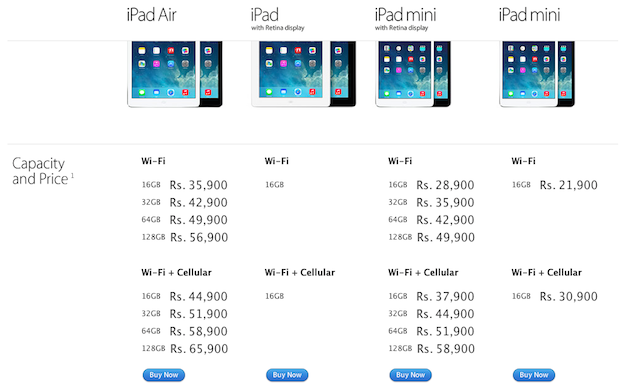 Till Monday, the 16GB iPad 2 was selling for Rs. 28,900 and Rs. 37,900 for the Wi-Fi and cellular models respectively, and we expect the fourth-generation iPad to take over the same price tag.
Apple also introduced the 8GB iPhone 5c model on Tuesday, in a bid to boost sales of the colourful iPhone. There's no word yet on when the phone will come to India or its expected pricing.
For the latest tech news and reviews, follow Gadgets 360 on Twitter, Facebook, and Google News. For the latest videos on gadgets and tech, subscribe to our YouTube channel.
Related Stories