Jeff Bezos, the founder and CEO of Amazon, last week tweeted that a new Kindle device will be launching this week. Although the device has not yet seen the light of the day officially, it has been listed in a website in China by the moniker - Amazon Kindle Oasis. The e-commerce website listing not only reveals the ebook reader's name, but also shows it in images alongside partial specifications. From all indications, we can expect a lightweight product suitable for one-handed use and offering great battery life.
As seen in a Tmall website product listing page (which now directs users to the main website homepage) via Motherboard website, the Kindle Oasis will measure 3.4mm at its thinnest point and 8.5mm at its thickest and will weigh 131 grams - said to be 20 percent lighter than previous Kindle devices. It will feature a display with pixel density of 300ppi that includes 60 percent additional LEDs to provide more uniform backlighting. It is worth mentioning that the display's pixel density matches that of the Kindle Voyage ebook reader.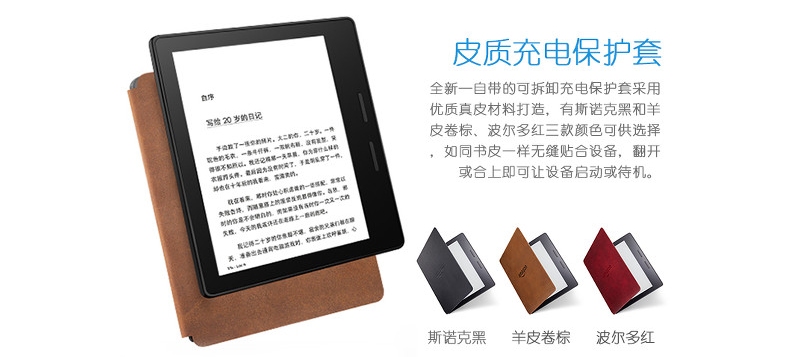 As for the design, the Amazon Kindle Oasis is seen to include big page turning buttons on one side for a better grip on the device. This means the same side will have a broader bezel as well. Thanks to its inbuilt accelerometer, the screen will also be rotational so no matter from which side the users will hold the ebook reader they would not have to struggle.
The Kindle Oasis is also expected to ship with a leather rechargeable battery case, as rumoured before. Once connected via the pogo pin connector, the ebook reader's standby time will reportedly go up to 20 months. The battery case will come in Black, Brown and Red colour variants.
Eagle-eyed Reddit users (via The Verge), translate the Tmall listing to note it is being called a 'dual-battery system', with the Kindle's battery and the leather case charging simultaneously when connected to an power source, and case's battery being used before the ebook reader's when unplugged. The Kindle Oasis will also feature a 'Kindle sleep mode' that will help conserve battery life. Unfortunately, no details about water resistance could be gleaned, while the price was also conspicuously absent.
For the biggest CES 2021 stories and latest updates, visit our CES hub.
Related Stories