The 12.9-inch iPad Pro, which was launched by Apple last year, scored miserably in terms of repairability. Gadget repair website iFixit noted that things were packed very closely by adhesive, making it difficult to access a particular component. So it shouldn't come as a surprise that, the 9.7-inch iPad Pro, which packs many same innards as its bigger sibling in a more compact form-factor, takes the repair difficulty to a whole new level.
In its teardown, iFixit has laid bare the exact innards Apple has placed inside its new iPad Pro, while also revealing how difficult it is going to be for one to crack open the device and replace a component without Apple's assistance.
The 9.7-inch iPad Pro packs an LED-backlit, Oxide TFT "True Tone" display with a screen resolution of 2048x1536 pixels (which is lower than what we saw in 12.9-inch iPad Pro). As for the processor, we are looking at the third-generation A9X custom SoC, which coupled with M9 motion coprocessor, and Samsung K3RG1G1 2GB of RAM (as was reported in a recent benchmark). There's a 12-megapixel iSight camera and a 5-megapixel FaceTime shooter as well. The Nand Flash memory is built by SK Hynix.
Other innards include dual-Broadcom BCM15900B0, Apple 339S00109 Wi-Fi module, NXP 66V10 NFC Controller, and 1610A3 Charging IC (as also seen in iPhone SE/6s/6s Plus), InvenSense EMS-A 6-axis Gyroscope and Accelerometer Combo, and Maxim Integrated MAX98721BEWV Boosted Class Amplifier.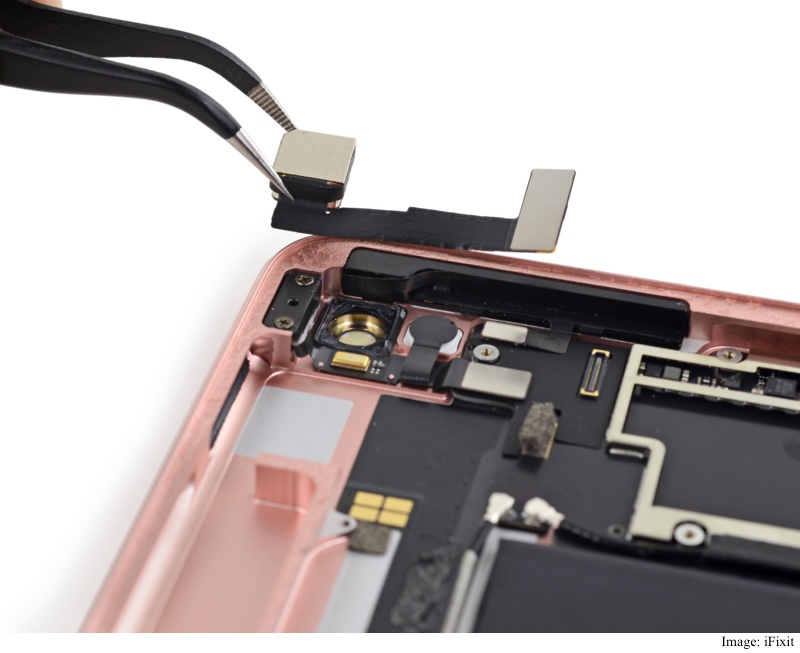 One of the most remarkable components in the iPad Pro is the four-speaker setup. But unlike with last year's iPad Pro, Apple had to pack the speakers closer in the 9.7-inch iPad Pro because of reduced real estate. iFixit says the speakers are squeezed into fit with logic board and battery. There's a battery of the following rating, 3.82V, 27.81Whr, and 7306mAh (down from 38.8Whr in last year's iPad Pro).
As for repairability, the iFixit says that the battery has been "solidly adhered," which makes it pretty touch to take out, though not as tough had it been soldered on the board. If you somehow manage to get the Smart Connector port broken, iFixit says it is "virtually impossible to replace." But for what it's worth, Apple is not utilising moving parts for the port, which makes it more resilient to damage.
As it has become a trend, the LCD and front panel glass are fused together, which while make the opening procedure a tad bit easier, also increase the cost of screen repair. For these reasons, the new iPad Pro has received a repairability score of 2 out of 10.