Zurich is considered the financial and cultural capital of Switzerland - Bern is the official capital - and the city is full of charming sights, friendly people, and great food. But when this correspondent decided to go there on a holiday, it was with a mixture of excitement, and trepidation, because of the decision to go with only a Wi-Fi iPad Air and free, public Wi-Fi in most places in Zurich required confirming your identity via SMS - impossible if you're not carrying your phone.
Traveling with no phone, no laptop, and no data connection wasn't that unheard of even a few years ago, but these days, it seems like madness, particularly when you think of the huge array of useful apps and gadgets that make travel easier. Still, a decision to (mostly) disconnect from technology had been reached, and with a little planning, it turned out to be pretty easy to do.
(Also see: Seven must-have gadgets for every frequent traveller)
From the air, Zurich looks tiny, and the airport (or Flughafen, as it's called there) does nothing to dispel this impression. You barely walk for ten minutes before you're blinking in the sunlight, enjoying the clean Swiss atmosphere. And thanks to an excellent transport system that includes trains, trams and buses, it's easy to get to your hotel from the airport in minutes, without having to take a taxi.
Getting around is pretty easy - you can buy a single pass for six day's travel and use it on all of the different transport networks. Finding the stations and getting around is even easier, since they are so plentiful, and heavily interconnected.
Make use of the free Wi-Fi at the airport to start Google Maps, and figure out where you need to go from the airport. Google Maps doesn't just show the driving routes, but if you tap the bus icon above the results, then you can switch directions to public transport as well. The large screen of the iPad makes it particularly well suited for use as a digital map - you can zoom in to see details and still get a sense of the whole surrounding area, something that wouldn't be possible on a small phone screen.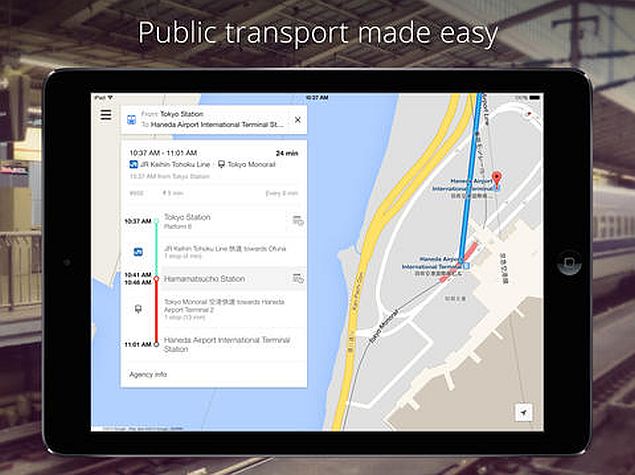 (Also see: How to download Google Maps for offline use)
If you're only used to the Delhi Metro, then the tram network is a little confusing. Instead of having dedicated lines on which all trains run in the same direction, in Zurich the same line is used by multiple trams - so from the same stop, we could have gotten either the number 9 or 10, and still reached our destination - the two lines diverge further down the route.
For this reason, we recommend the ZVV-Timetable app, made by the Zurich Transport Authority. The ZVV app also has an offline mode for Windows PCs which would have been a very welcome feature for their other apps as well, but even without it, the ZVV app has some advantages over Google Maps - it has real time traffic updates, which help you plan your route better, and in case you're planning on catching a connection, then it helps you to see how much time you'll get to wait at each station. You can also look up the connections in advance, and work out the best alternatives - this is really important when you can't rely on an Internet connection to look up directions on the go.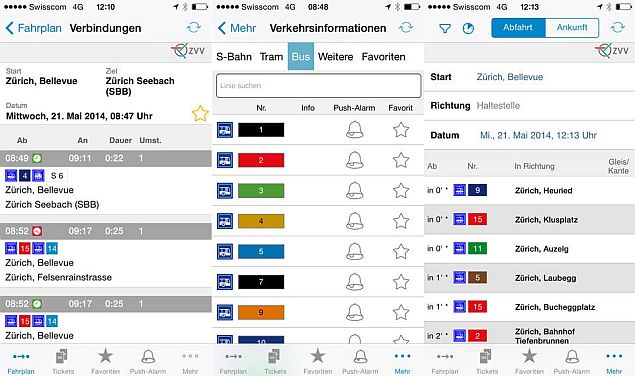 Some restaurants and cafes do offer free Wi-Fi, but if you've got meetings and can't afford to stop for a coffee when you're trying to decide which tram you need to get on, then planning ahead is the only sensible option. We had to spend a few hours at the University of Zurich, and logged into the Wi-Fi there to check the ZVV-Timetable to plan trips. This is one of those cases where, aside from the iPad, you also end up relying on the most useful pair of gadgets invented - pen and paper, to write down which trams to catch. You could note all this down on the iPad, of course, but it's a lot easier to keep pulling out a notepad from your pocket to look up small details, than it is to remove an iPad from your backpack!
The Google Search app on the iPad also includes Google Now. It is able to scan your Gmail account for tickets, and can tell you when it is time to catch your flight, and since Google knew that a trip to Switzerland was coming up, the app had already started to show the exchange rate, and the weather information, so packing appropriately becomes even easier.
We forgot about the umbrella though - luckily, asking Google Now about where to get umbrellas took us to the nearest Kiosk on Google Maps, and then it was just a matter of following the directions.
While the mountains of Switzerland are the most famous aspect of tourism in the country, the city of Zurich actually has a lot to see. One app that all visitors to Zurich should download beforehand is the City-Guide Zurich, by Switzerland Tourism. The app is free, and doesn't need an Internet connection. It has information about the city that is invaluable - what to see, where to eat, and even maps of city walks you can take.
Just across the road from the central train station you'll see the Swiss National Museum - it looks a little like a fairytale castle, and on the inside, you'll see whole floors given over to the history of Switzerland, fashion and furniture through the ages, and an enormous collection of weaponry from all eras of Swiss history.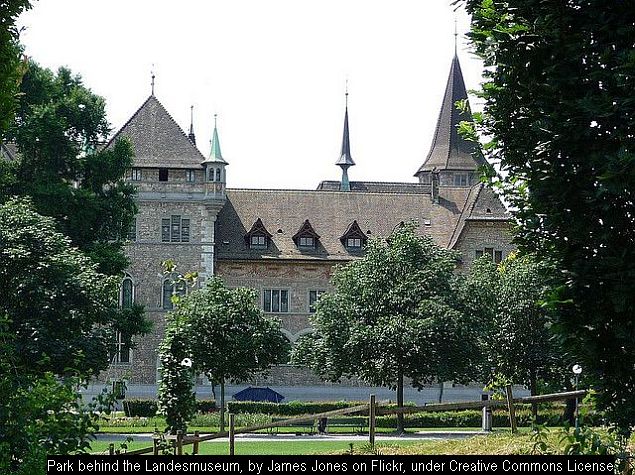 It's a wonderfully preserved collection, and in some of the rooms you'll see collections of heraldry which is so well kept you might think it came from a Game of Thrones set; the sword of a Pope looks equally cinematic.
It's easy to spend a couple of hours in there, and the visit is well worth the 10CHF entry fee. In case you don't understand French or German, you might want to rent the English iPad guide. The city actually has a lot of wonderful museums and galleries - some hidden away in corners, like the Anthropology Museum - which is near the entrance to the University of Zurich - and the Ethnography Museum (the Volkerkunde Museum) - which is hidden inside a large park, near several Swiss banks. Many of these are free or very reasonably priced, and well worth the visit, but most have explanations of exhibits given in only German and French, the two most spoken languages in Switzerland.
If you're a little cheap, or a little gadget addicted, you could instead use the Word Lens app. The language packs in the app used to be paid, until Google bought the company behind the app, and if you're going to Zurich, then you should definitely get the app, and also the English-German pack. It's completely free now, and works offline too.
To use the app, you need to point your camera at text in the foreign language - on your device's screen, you'll see the automatically translated text instead. It looks a little like magic, to be honest, the urge to show off the app can be a little overwhelming. On an iPhone you can fit fewer lines of text on screen at one go, so this was one case where the iPad wasn't just managing to carry out the job, but was indeed the better option.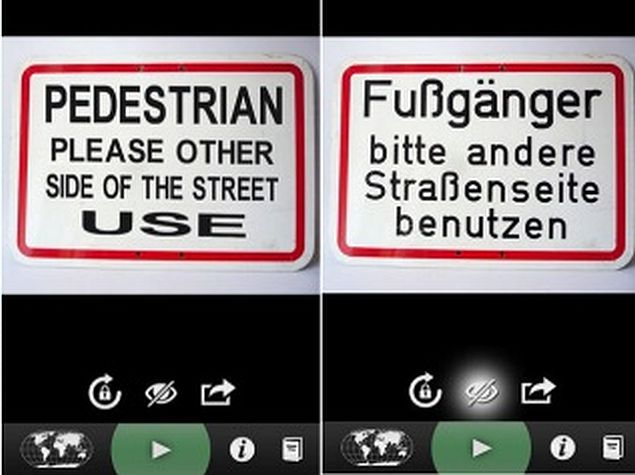 All visitors to the city should also see the old city - the Altstadt. In Zurich, it is the part of the city that lies just at the start of the enormous, banana shaped Lake Zurich. The Swiss banks, the Lindt building, Bahnhofstrasse (Zurich's version of Fifth Avenue in New York, or Bond Street in London) and of course, famous landmarks like the Grossmunster and Fraumunster churches, and the Rathaus (City Hall), all fall in this area.
It's a small space rich in history and with all the Swiss banks in there, just generally rich as well. There's a lot to take in, and you'll want to walk around the zone - the roads don't have too much traffic and you can get around without much difficulty, and side lanes like Niederdorfstrasse, which runs parallel to the Limmatquai, are cobbled and for pedestrians only.
This is where Google Maps' offline mode comes in really handy. Before traveling to Zurich (or leaving your hotel with Wi-Fi), just follow the tips in our how-to and save the city on your device. The next step you want to take is to save (favourite) the different places you want to visit.
That's because, Google Maps can't carry out a search in offline mode, but it still shows your location on the map, and even the direction you're looking at. This means that even offline, if you've marked out the various tourist destinations you want to walk to, then you can use the map to bring your blue dot to the saved stars! We had marked all the places while still in Delhi, and walking around the cobbled streets of old Zurich, didn't need an Internet connection at all.
The churches are well preserved - Grossmunster has an impressive statue of Karl Der Grosse (Charlemagne) in the crypt, and if you are willing to pay a small fee - and more importantly, climb 158 very steep steps - then you can head to the top of the the tower in the church, and soak in a stunning aerial view of the old city.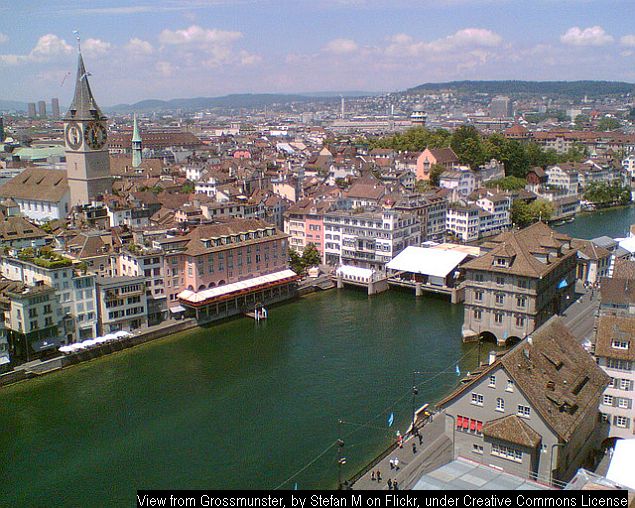 If all that walking around has built up an appetite, then you're in luck because Zurich also has a great range of food on offer - it's not a cheap city, but meals can start at around 15-20CHF per person, and go up to 100CHF each if you have a bigger budget.
And while traditional Swiss food involves a lot of fried things, with plenty of meat and potatoes and cheese, modern Zurich is a global city, and on the same street you'll get Cambodian, Chinese, Thai, Indian, Turkish, Italian, Spanish and Swiss food. There's a huge immigrant population in Switzerland, and one in every four people you see there is a foreigner.
Walking around Josefstrasse, to the west of the train station, you'll come across Tibetan restaurants with volunteers distributing pamphlets, Sri Lankan cafes with pictures of martyrs on the walls, and you'll find Palestinian and Israeli restaurants side by side, just a few streets further along.
Finding what you want is no problem either - the Yelp app has a great function that lets you search near your location, or (in our case we had Internet only at a conference venue) you can select a map area where you'll be going later, and then search for restaurants or bars in that area with the criteria that you want - cheap drinks, or Swiss food, or vegetarian, whatever you want. Much like the tram timetable, this was also something that required us to pull out pen and paper as well - a little advance planning, and we checked four different neighbourhoods as per our schedules, and listed the top choices for eating in each area in the notepad. For good measure, making use of the hotel Wi-Fi, we also marked these restaurants in Google Maps, so that we would be able to find them on foot without difficulty, later.
Most of the menus tend to be in German - the predominant language in Zurich - and although most people in the hospitality business, and indeed most Swiss people - can speak some English, not being able to read German at all can be a bit of a problem.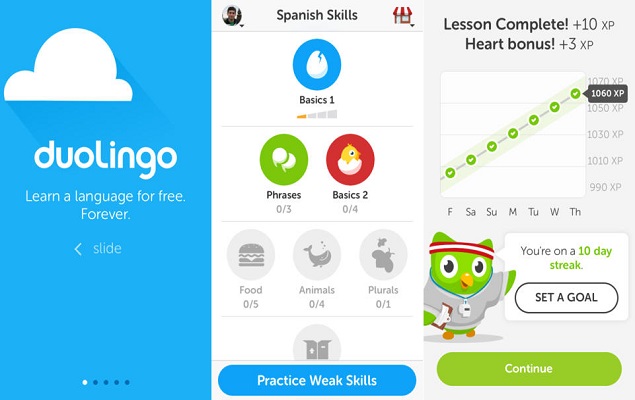 That's why we installed Duolingo a month in advance, and ran the app for half an hour a day. The app is well structured and lets you learn things quickly. There are badges and powerups, and you lose lives when you do badly on tests - the gamification of the experience makes learning a lot of fun, and the lessons stuck. Just half an hour a month is certainly not enough to manage in a conversation, but the basics of ordering food or asking simple questions is possible. And if you are ever really stuck with the menu, then there's always Word Lens.
Given how expensive Switzerland is, keeping track of your finances obviously makes sense. A Swiss Franc is close to Rs.70, while a Euro is around Rs. 80. It's easy to lose track of just how much money you're actually spending because the numbers you're dealing with are a lot smaller than what you're used to - a Snickers bar might seem cheap at 2CHF, but that's actually nearly six times more than its price in India.
That's why it's handy to keep your accounts in a budget app that keeps track of multiple currencies. Toshl Finance lets you enter prices in multiple currencies (including Euros, Swiss Francs, and Indian Rupees) and lets you display the total prices in your home currency. Since you can spend both Euros and Francs in Switzerland, this is a useful feature, as you don't have to convert between the currencies to see how much you've been spending, in Rupees. There is also a pro version of the app with more features, but for tracking holiday expenses, this free version was more than up to the task. This app can work entirely offline, though it does in fact use the Internet to sync your expenses with its website. Traveling offline, you'll see a small warning notification every time you start the app, but that's the only issue.
The app also has some other very useful features - making an entry is simple, and you can tag entries according to the type of expense, or add a description. The entries can be sorted, and are searchable as well, making it easy to track down your spending. For a multi-day holiday, you could also set a daily budget, and measure how much you've been spending on a day to day basis to understand if you're on track for an emergency visit to the ATM!