Apple
on Thursday
launched the much-awaited refresh to the iPad Air, the iPad Air 2
, along with the next generation of the iPad mini, the iPad mini 3. While Apple believes that its iPad Air 2 is best in the class, some analysts consider it a modest upgrade.
The iPad Air 2 and iPad mini 3 will be available in select countries starting next week and if you are also planning to buy the new iPad Air 2, then this comparison with the current rivals of the new Apple tablet may help you take a better decision. We have compared the new iPad Air 2 on paper to the alternatives in the market, but reserve our final judgement till we put the iPad Air 2 through our comprehensive review process.
When comparing the 9.7-inch iPad Air 2 with the latest Nexus tablet, the 8.9-inch Google Nexus 9, we aren't hesitating to put the two tablet head to head despite the slight difference in screen size. The two tablets offer the exactly same 2048x1536 pixels display resolution. The Google Nexus 9 with its comparatively smaller display offers a pixel density of roughly 288ppi, while the iPad Air 2 has a pixel density of roughly 264ppi because of its bigger screen.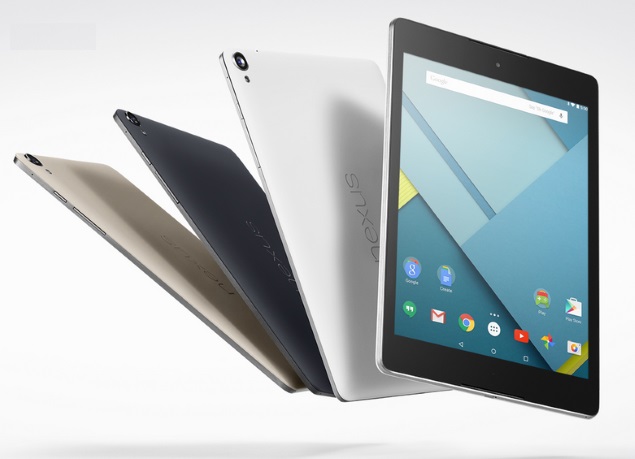 The Google Nexus 9 and the Apple iPad Air 2 are quite comparable in terms of resolution and pixel density. They both also feature IPS LCD displays. On the other hand, the
Samsung Galaxy Tab S 10.5
(
Review
) features a Super AMOLED display that is considered amongst the most vivid of the current generation of tablets. Bearing a 10.5-inch display with a resolution of 2560x1600 pixels, the Galaxy Tab S 10.5 has a pixel density of roughly 288ppi, pegging it right around the Nexus 9.
Sony's Xperia Z2 Tablet on the other hand, features a 10.1-inch 1920x1200 pixel IPS LCD display and a pixel density of 224ppi. Comparing the displays of all four tablets, we'd be hard-pressed to pick a winner, though the Galaxy Tab S 10.5's display does stand out as the highest resolution of the lot, while tying for first place in terms of pixel density with the Nexus 9.

(
Also see
:
Apple iPad Air 2 vs Google Nexus 9 vs Samsung Galaxy Tab S 10.5 vs Sony Xperia Z2 Tablet
)
Coming to form factor, we see the iPad Air 2 is just 6.1mm-thick, but weighs a hefty 437 grams. Next up in terms of thickness, comes Xperia Z2 Tablet, which is 6.4mm thick and weighs 426 grams. Of course, the biggest highlight of the Xperia Z2 Tablet is its dust-proof and water-resistant build with IP58 certification, and it can be immersed in up to 1 metre of water for 30 minutes. On the other hand, the Samsung Galaxy Tab S 10.5 is 6.6mm-thick and weighs 465 grams. While the Google Nexus 9, with its smaller display, is the lightest at 425 grams, it is also the thickest, at 7.9mm. The iPad Air 2 certainly stands out in terms of form factor as it is the thinnest tablet in this comparison (and Apple's touting it as the thinnest tablet in the world), and has a very acceptable weight considering its metal-build.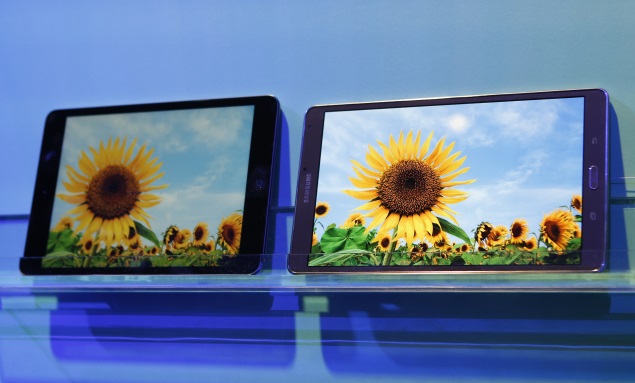 Coming to camera hardware, all four tablet computers sport 8-megapixel primary cameras, except the Xperia Z2 Tablet, which differs slightly with a 8.1-megapixel camera. While the iPad Air 2 comes with a 1.2-megapixel front-facing camera, the Nexus 9 houses a 1.6-megapixel camera, the Galaxy Tab S 10.5 a 2.1-megapixel camera, and the Xperia Z2 Tablet leads with 2.2-megapixel front-facing shooter.
As we've seen in the past, it is almost impossible to compare cameras based purely on pixel count, and the output quality is all that matters. Most end-users never actually use their captured images at full-resolution, and simply share their photos on social media, or apply them as wallpapers. Only professional photographers need to worry about pixel count, that too when blowing up the image for specific purposes. Of course, until we put the iPad Air 2 (and Google Nexus 9) through our camera performance test, we will not be able to tell you the qualitative winner.
On the processor front, there can't be one winner until the iPad Air 2 is torn down and put through a gamut of tests. It runs on the Apple A8X SoC, and the company hasn't yet revealed (and probably will never) the clock speed, number of cores, or system memory, although some reports suggest that it is a dual-core 1.3GHz Cyclone (ARMv8-based) SoC with 1GB of RAM.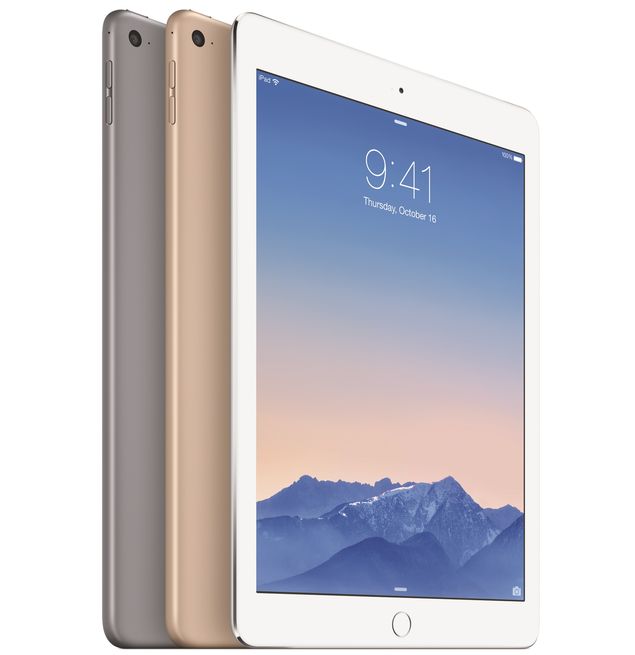 The Google Nexus 9 is powered by a 64-bit dual-core 2.3GHz Nvidia Tegra K1 processor coupled with a 192-core Kepler GPU and 2GB of RAM. The Samsung Galaxy Tab S 10.5 packs an Exynos 5 octa-core (quad-core 1.9GHz Cortex-A15 and quad-core 1.3GHz Cortex-A7) SoC with 3GB of RAM. The Sony Z2 Tablet comes with quad-core 2.3GHz Krait 400 SoC with 3GB of RAM. On paper, it looks like the iPad Air 2 with its dual-core processor is possibly the slowest of the lot, however, the company has an excellent record of hardware-software optimisation - in the past delivering industry-leading performance with meagre specifications. Notably, it is also hard to compare iOS device performance with Android devices, because of the paucity of common benchmarks.
For the pricing, Apple's new iPad Air 2 Wi-Fi model starts at $499 (India launch price Rs. 35,900, 16GB Wi-Fi), Samsung's Galaxy Tab S 10.5 (16GB Wi-Fi) price starts at $500 (India launch price Rs. 44,800), Sony's Xperia Z2 Tablet (16GB Wi-Fi) price starts at $499.99 (India launch price Rs. 44,800). Google's Nexus 9 has been priced at $399 (16GB Wi-Fi) in the US, which is roughly Rs. 24,500. It will be available for pre-order starting Friday, October 17, while it is expected to hit the stores on November 9. In terms of pricing, the clear winner is the Nexus 9, maintaining the Nexus philosophy of top-end specifications with a few caveats at an affordable price.