Twitter is said to be testing a new, more informative homepage to attract new users - something the company has been looking to do for a while with a stagnating user base.
Unlike the existing homepage for new users (or users not logged-in) which shows a slideshow of random old tweets with photos alongside login and sign-up fields, Twitter's new homepage is seen as more interactive. It shows user tweets from multiple curated streams. The revamped homepage has notably been spotted as far back as February (via Re/ code).
A more recent report however, claims the new Twitter homepage will be rolled out to logged-out visitors in the coming days. Slate says it will be initially available for English language users on the desktop, and it will be very similar to what has been tested so far.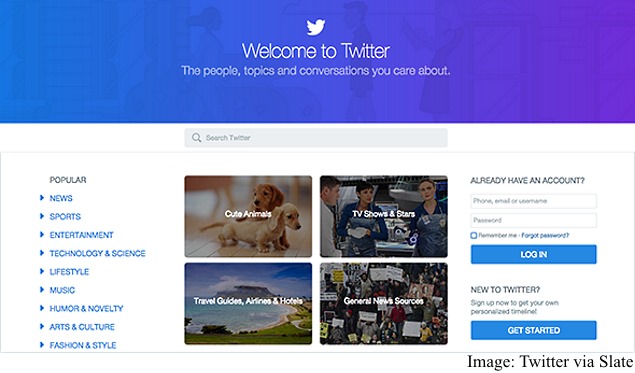 The in-testing Twitter homepage for logged-out or new visitors has been divided into three columns, with a header saying 'Welcome to Twitter - the people, topics and conversations you care about'. The extreme left column of the Twitter login/ sign-up homepage includes categories like News, Sports, Entertainment, Lifestyle and more divided further into more sub-categories.
The central column is of clickable thumbnail images with titles like "Business news, people, & sites", "Politicians, pundits, & parties", "Country artists", "TV shows & stars", and more. Users can click these, to be taken to another login/ sign-up page highlighting tweets from that category. The third/ right-side column is for log-in or sign-up.
Created in 2006, Twitter has grown rapidly and went public in September 2013. At Twitter's analyst day in November, CEO Dick Costolo claimed that Twitter has 264 million regular users and another 500 million who do not sign in to visit the site. It seems as if the company came up with the new landing page keeping those non-Twitter user numbers in mind.
Last week, Twitter started rolling out an improved quote tweet feature to iPhone and Web users alongside a promise to make it available to Android users soon. On Tuesday, the company rolled out the feature for Android users as well.
With the revamped quote tweet feature, Twitter now essentially embeds the tweet below the text, instead of just quoting it as text.